OAKRIDGE FOOTBALL: Welcome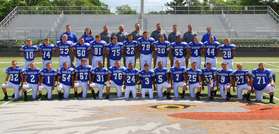 Team #49
Oakridge Football 2013
Oakridge Football welcomes you to our 2013 web site. The OAKRIDGE FOOTBALL family is where there is care, discipline, shared responsibility, and an absence of special privilege.

OAKRIDGE FOOTBALL MISSION STATEMENT

Our mission is to take the high school student athlete where he cannot take himself.
We will foster an environment that teaches young men to:
1. Relentlessly pursue and win the WEST MICHIGAN CONFERENCE CHAMPIONSHIP!
2. Relentlessly pursue the MHSAA playoffs and win at every level!
3. Achieve an exemplary foundation of leadership and academic success.
4. Achieve a foundation to become a successful individual throughout life.

OUR PROGRAM IS BASED ON THE VALUES OF FAMILY,
SUCCESSFUL ATTITUDES, AND TEAM CHEMISTRY.


Please check out the FOOTBALL LINKS page to see how the Oakridge Football Family has done over the years.
Thursday, December 12
2013 Football Season Awards Banquet
To the 2013 football players, cheerleaders, and parents,
You are formally invited to the 2013 football awards banquet for varsity and junior varsity players and cheerleaders. This event will be held on Sunday, December 15th at 6:00 p.m. in the middle school auditorium. Cake, coffee, and punch will follow in the high school cafeteria. Individual awards and honors will be given as well as recognition of team accomplishments. Please mark your calendars to attend this special night.
Sunday, December 1
Thank You!
This message is a sincere THANK YOU to the Eagle Nation and other fans that followed the 2013 Eagles through this season. It was a very special 13 games for the team, coaches, and support staff. We all greatly appreciate your attendance and support! It is an honor to work to continue the Oakridge Football Tradition and help these boys become young men.
Football and playoff merchandise is still available for sale in the high school office, and soon at E&A.
Thursday, November 21
Oakridge semi-final game on UP radio station
For those unable to make the trip
this Saturday
to the Superior Dome in Marquette to watch the Eagles play, you can listen to it by going to:
baycitiesonline.com
from there you must click the "Live Sports" button
then click the "Broadcast of Menominee Maroons Sports" link.
WARNING! This broadcast might be just a tiny bit slanted toward the Menominee faithful.
Thursday, November 21
GVSU's Student-athlete of the week - Jamie Potts
Here is a link for another article and video on Jamie Potts.
http://www.mlive.com/lakers/index.ssf/2013/11/grand_valley_states_two-sport.html#incart_river_default
Saturday, November 16
Oakridge over Millington
The Oakridge Eagles beat the Millington Cardinals on Saturday, 31-12, to win the Division 5 Region 2 Championship! The 2013 Eagles are only the 7th team in Oakridge Football history to win a Regional Title! The semifinals will take place at NMU's Superior Dome on Saturday, November 23rd. Time is TBD.
New playoff gear (t-shirts, long sleeve shirts, and hoodies) is available in the high school office during regular school hours.
Thursday, November 14
Oakridge Hosts Regional Finals
The Oakridge Eagles will host the Millington Cardinals in Division 5 Regional Final action on Jack Schugars Field at Erickson Stadium. The game is set for Saturday, November 16th with a 1 pm kickoff. Tickets are available in the high school office during office hours. All tickets are $5. Football and playoff apparel are also available.
Saturday, November 2
The Eagles travel to Reed City for Districts
The Eagles football team will hit the road to play the Reed City Coyotes for the Region 2 District 1 Championship. The game will take place at Reed City on this Friday (Nov. 8th) at 7pm.
New playoff gear (t-shirts, long sleeve shirts, and hoodies) is available in the high school office during regular school hours.
Wednesday, September 12
Ludington's Todd "Scoop" Hansen - Football Helmet Guy
WZZM 13 coverage
Wednesday, October 23
Oakridge DVDs of Freak Athletics online videos and uncut/unseen footage
The OAKRIDGE FOOTBALL/Freak Athletics DVD'S will be finished by
Friday
. We can start compiling numbers of how many you want to order. Orders can be made online at
www.freak-athletics.com
, or in person at the high school. DVDs will be made available on the Freak athletics website for $30, but anybody who orders through the high school will pay only $20.
The DVD will contain all of the videos Freak Athletics put up thus far INCLUDING a ton of UNCUT and UNSEEN footage during their time here.

Honestly, for these players, it's a PRICELESS DVD. Trust me, it's a MUST HAVE for ALL BLUE EAGLES.

Spread the word!
Wednesday, October 16
Friday is Senior Night
With the last home game of the regular season, the Seniors of the football, band, and cheerleaders, along with their family representatives, will be recognized. They will be honored before the start of the game with visiting Mason County Central.
Friday, October 18
Eagle Nation
Freak Athletics' promo video of the Eagle Nation
Thursday, October 3
Oakridge Football/Freak Athletics shirts still available
If you missed out on last week's limited edition Oakridge Football/Freak Athletics shirts, you have another chance. There will be a limited selection of each style available soon at the high school office. Don't miss out again! All proceeds go directly back to Oakridge Football.
Monday, February 20
Great article for players and parents
Click on the heading for the link to the article
Source: thepostgame.com
Saturday, October 5
Thank You Football Alumni!
At Friday's Homecoming Game, there were several football alumni that represented many different years of Oakridge Football History. It was great to see the former players cheer on the 2013 team as they ran through the tunnel. Thank you Eagles! Keep an eye out for the 2014 Homecoming game, and we'll do it again!
Wednesday, October 2
Photo from 2013 Homecoming Bon Fire
Tuesday, October 1
Homecoming is this Friday against Shelby!
Calling all Oakridge Football alumni:
This Friday is Homecoming! Those football alumni attending the game are invited to the field to form the tunnel with the band as the 2013 players take the field. We want to make this a tradition at Homecoming.
Thanks for your support! Go Eagles!
Tuesday, October 1
Fox 17's Week 6 Game of the Week
Fox 17 will feature the Eagles and the Tigers as their Week 6 Game of the Week! They will be here with their satellite truck for pre- and postgame coverage.
Thursday, September 26
A GREAT Oakridge sample of Freak Athletics' work
Freak Athletics video, "Oakridge Football"
Thursday, September 19
Freak Athletics is coming to Oakridge Football
Freak Athletics is touring Michigan's high school football programs, and their week 5 stop is Oakridge Football. They will be here next week filming practice, player and coach interviews, and at the game. They will then produce a video which tells the story of a few days in the season of Oakridge Football.
Click on the title link above for Freak Athletics' website.
Saturday, July 27
Muskegon Mustang website/schedule
(click on the link)
Wednesday, July 10
Football workouts continue
After a good 3 week start to the summer workouts, the Eagles returned this week, from the MHSAA mandatory dead period, to continue the hard work they started. The "Mornings with Mike" workouts have been well attended twice a week since we started. The weight room has also been busy on Monday, Wednesday, and Friday, used by the Varity, JV, and Middle School Eagles!
There have been a couple of 7-on-7s so far versus team such as Cedar Springs, Fremont, and Muskegon Catholic Central, with our Big Saturday competition coming up July 13th. Teams participating are Muskegon Catholic Central, Ravenna, Grant, Reeths-Puffer, Traverse City St. Francis, Muskegon, and Spring Lake.
Team Camp is coming up at the end of the month. Conditioning week is the following week, August 5-8. The "Mornings with Mike" workouts finalize August 8 with the final testing period to check on the Eagles improvements over the summer. Practice for the Varsity and JV teams begins Monday, August 12. The Middle School team begins practice Monday, August 26.
Thursday, April 25
2013 Eagle Open Golf Registration
Reserve your spot early and save on Registration fees!
Thursday, April 25
Golf Sponsors for the 2013 Eagle Open
Become a marketing partner for the 13th Annual Eagle open and help support the 2013 edition of the "Oakridge Football Family"
Thursday, April 25
2013 Oakridge Eagles Football Golf Classic
Oakridge golfers save the date!

Saturday, June 22, 2009, 8AM at Chase Hammond
Details will be coming soon.