Oakland Youth Baseball: Welcome
Wednesday, November 9
2017 OYBL Senior Division for players 13-16yrs old
In 2017, OYBL will be bringing back a Senior Division for players 13-16yrs old (as of 4/30/17). We are hoping to have 5-6 teams and will be drawing kids from Garrett County and the neighboring WV counties of Grant and Preston.
Dink Bennett, who has been a huge part of Oakland baseball for 20+ years, will oversee the Senior Division. Former Southern High Head Coach Jim Bosley is also going to help with the division. He will coach a league sponsored travel team in a tournament in Bridgeport, WV next summer. Current Southern High Head Coach/ former President of OYBL, Danny Holler, and Southern High School Coach/ former President of OYBL, Bill Bittinger, will also be helping to run the league.
As an organization, we feel a local league serves our area better than being part of Hot Stove which is centralized around the Cumberland area. All games will be played in Oakland at Broadford Park. No regular season games will be scheduled on the weekends (make up games may be played on the weekend if necessary). 2 games will be played per evening with a 2h15m time limit with a minimum playing time of 2 innings/1 at bat per game not per week as it is in Hot Stove.
OYBL will also be putting in a separate batting cage near the Senior Division field in the Spring of 2017 dedicated to the Senior Division. We will also be purchasing new gear.
The main goal of transitioning from Hot Stove to a local league is to make baseball more accessible for more kids ages 13-16 in our local area eliminating the time and financial strain of traveling over an hour to play, sometimes where 2 teams from Oakland would be scheduled to play each other in Cumberland at the Hot Stove Complex.
Sign ups for the Senior Division will be held the first weekend of March 2017 at the Oakland Armory. We will be putting an ad in the paper and handing out flyers at the schools in February as a reminder. The registration fee will be the same as the rest of our divisions, $60.
If you would like more information, please contact Dink Bennett at 301-616-1424. Also, there will be a new draft for all the teams. If you would like to manage one of the new teams, please contact Dink Bennett as well.
Sincerely,
Oakland Youth Baseball League, Board of Directors
Wednesday, November 9
2017 OYBL Board Elections
OAKLAND YOUTH BASEBALL LEAGUE'S
ELECTION OF BOARD MEMBERS
OAKLAND YOUTH BASEBALL'S ELECTION FOR 5 BOARD MEMBERS IS SCHEDULED FOR DECEMBER 18, 2016 FROM 5PM-7PM IN THE SOUTHERN HIGH SCHOOL GYM LOBBY
BOARD NOMINATIONS CAN BE SUBMITTED TO jhealy1414@yahoo.com OR CALL JOE HEALY@301-616-9053
THERE IS A $2 OYBL MEMBERSHIP FEE REQUIRED TO VOTE

DEADLINE FOR NOMINATIONS IS 12/16/2016
Friday, July 1
Future Major Leaguers?
What a fantastic group picture of both teams taken by Dave Lebon after last night's 11-12 all star game. It was a perfect end to another great season. Just a bunch of boys smiling after a baseball game. Doesn't get any better than that. Have a great summer from OYBL!
Tuesday, June 28
Back to Back to Back! Lions 2016 11-12 Champs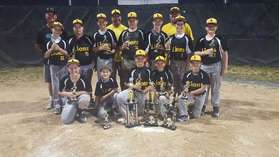 2016 Lions 11-12 Champs
2016 American Legion 11-12 Runner Up
Tuesday, June 28
Brownings over FOP for 9-10 Championship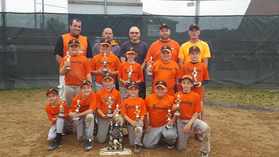 2016 Brownings 9-10 Champs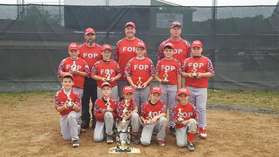 2016 FOP 9-10 Runner Up
Tuesday, June 28
Team One over Mettiki to win Coach Pitch Championship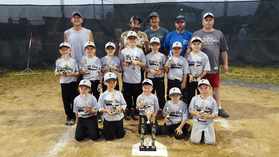 2016 Team One Coach Pitch Champs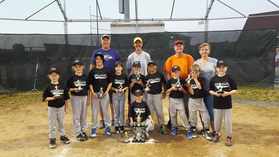 2016 Mettiki Coach Pitch Runner Up
Tuesday, June 28
Raffle Ticket Winners
$500- Chuck Barnard
IPAD- Sam Wright
Pirate Tix- Michele McBride
Load of gravel courtesy of Fairfax- Alexx Grady
Thanks to all who purchased tickets. All of the money we raise 100% goes to support OYBL and it's players. OYBL is a self sufficient non profit organization that is not subsidized by any town or goverment agency or school system. We are 100% responsible for the maintainence, repairs and improvements for our 3 fields and grounds. This year we were able to put $4000 into new fencing at the hot stove field. That wouldn't be possible without our gracious sponsors, volunteeers and parents hard work and fundraising.
Sincerely,
Joe Healy, OYBL President
301-616-9053
Monday, June 13
Playoff Results Thread
11-12 Division-
Back to Back to Back! Lions defeat American Legion in Championship series, 5-0 & 19-3.
Lions vs American Legion, best of 3 series has been postponed until Monday, June 27 at 5:15p & 7p
Game 7: American Legion beats Elks
Game 6: Elks 16 Glotfeltys 3
Game 5: Lions 14 American Legion 1
Game 4: Elks 12 WOW 2
Game 3: Lions 12 Glotfeltys 2
Game 2: American Legion 10 Elks 3
Game 1: Glotfeltys 14 WOW 4
9-10 Division-
Championship Game: Browning's 8 FOP 2
Brownings vs FOP, Thursday 6/23 5:15, 7:00 if necessary. FOP must beat Brownings twice
Game 7: FOP 14 AW 2
Game 6: FOP 6 First United 3
Game 5: Brownings 12 AW 8
Game 4: FOP 9 GMS 6
Game 3: Brownings 7 First United 1
Game 2: AW 11 GMS 10
Game 1: First United 6 FOP 5
Coach Pitch Division-
Championship Game: Team One 9 Mettiki 5
Team One vs Mettiki, Saturay 6/25, 7:30 on Little League Field
Game 5: Mettiki 18 Wepco 12
Game 4: Team One 14 Precision painting 2
Game 3: Wepco 19 Beitzels 7
Game 2: Mettiki 12 C&S Fredlock 2
Game 1: Precision Painting 10 Southern Auto 0
Monday, June 13
Little League Regular Season Home Run Leaders!!!
"Back, back, back, back...Gone!" ESPN's Chris Berman
Isaac Upole 12
Chris "Pork Chop" Mersing 9
Ethan Newcomb 5
Jordan Ashby 4
Landen Tasker 4
Nick Butina 3
Evan Germain 3
Caleb Campbell 1
Will Moon 1
Chandler Wolfe 1
New Scoreboard!
Thanks to First United Bank & Trust for their $2500 donation towards the purchase of a new scoreboard for the Little League Field. Thanks to all who came out to the clean up day as well.
Monday, March 28
2016 Schedules
Handout:
2016 Schedules
Sign up for RainedOut Notifications
For all notifications including rainouts and league news...
Join Oakland Youth Baseball text alerts on RainedOut
or Text OAKLANDBASEBALL to 84483 to receive RainedOut Alerts.
Coaches, Parents and Players- Please sign up for this service. All important baseball announcements are made through this service including game delays, game cancellations and also league news including registration dates and times.