Softball: Welcome
Welcome to the Home of

Oakland Recreation Softball
and the
Oakland Braves
2012 - It's Going to Be a GREAT YEAR!
Sunday, June 10
Champions!
Congratulations to the Oakland Braves 3rd and 4th Grade Girls Travel Softball Team.
Our girls won the 2012 Midland Park Blast Off Tournament with a perfect 4 - 0 record.
Saturday, May 5
Another Great Day for Oakland Recreation - Softball Baseball Parade 2012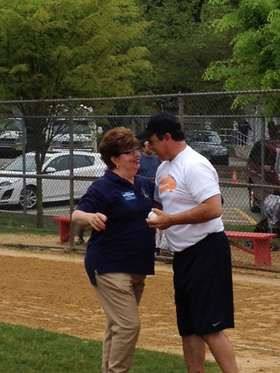 Mayor Congratulating Commission Logatto After 1st Pitch
Recreation Softball News!
.
Summer Softball Camp: IHHS Varsity Coach Joe Leicht is once again holding an instructional Summer camp for girls in grades 4 though 9 (as of Sept 2012) at IHHS. There will be two sessions:
1 - June 25th - June 29th
2 - July 2nd, 3rd, 5th & 6th
Download the Registration form in the Handouts section (see left side menu).
.
We're Having a GREAT YEAR!
Saturday, April 21
Great Day For a Clinic
The IHHS varsity softball team held a clinic for girls in 3rd through 8th grade that are playing Rec softball today, Great fun and some great tips were shared.
Thanks to Coach Leicht for sharing his varsity team and their knowledge in helping the youth of Oakland in softball.
2012 - We're Having a Great Year!
Sunday, March 25
Thank You Coach Fuhrman
On a cold rainy Sunday afternoon, Coach Jim Fuhrman spent his time assembling the Brand NEW Softball Pitching Machine. This new piece of equipment will be used to help train our girls to become even better softball players.
Thanks to volunteers like Coach Fuhrman, who spend their time volunteering for Oakland, our Recreation Program was rated as one of the top in the country.
Coach Fuhrman not only donates his time for a sport he has NO children participating in, he is also Oakland's Umpire Coordinator. Oakland softball, as well as the Borough of Oakland says THANK YOU!!!
All Coaches must be SAFTEY Certified
Rutgers S.A.F.E.T.Y Coaches Certification Clinic - The next session will be on Saturday, March 3, 2012 - 8:00a.m.-11:00a.m. in the Oakland Senior Center. Go to Coach Certification page (left side menu on Main Rec webpage) for additional details.