Oakland Cal Ripken Babe Ruth League: Welcome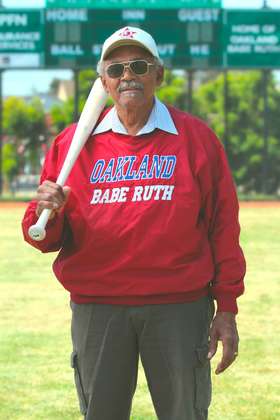 PRESIDENT'S WELCOME LETTER
DEAR OAKLAND CAL RIPKEN BABE RUTH LEAGUE PARTICIPANTS AND FAMILIES;
AS PRESIDENT, I AM HONORED TO WELCOME THE PLAYERS, PARENTS
COACHES, SUPPORTERS, AND LEAGUE OFFICIALS, FOR THE 2013 SEASON.
AS WE EMBARK, ON ANOTHER YEAR OF BASEBALL, WE WELCOME PLAYERS,
AGE FOUR, THROUGH EIGHTEEN YEARS OF AGE.
OUR LEAGUE BELIEVES IN HELPING YOUTH TO PREPARE FOR THEIR FUTURE,
BY INSTILLING IN THEM IMPORTANT VALUES, SUCH AS; GOOD SPORTSMANSHIP,
RESPONSIBILITY, TEAM WORK, HONESTY, FAIR PLAY, RESPECT FOR OTHERS,
AND ACADEMIC ACHIEVEMENT.
THE COACHES WHO VOLUNTEER, ARE HERE TO INSTILL IN OUR YOUTH,
BOYS AND GIRLS, ALL OF THESE VALUES, THAT THE OAKLAND CAL RIPKEN
BABE RUTH LEAGUE BELIEVES IN.
IT IS MY FUNDAMENTAL BELIEF, THAT EVERY CHILD, WITH THE DESIRE
TO PLAY BASEBALL, BE AFFORDED THAT OPPORTUNITY.
SINCERELY; LOUIE BUTLER
PRESIDENT OF OAKLAND CAL RIPKEN BABE RUTH LEAGUE
Thursday, April 25
Cal Ripken/Babe Ruth League games
Cal Ripken/Babe Ruth league
April 6 through June 15, 2013
Greenman field (66th & International )
(T-Ball, Rookies, Minors, Majors)
Upcoming Events
Every Monday Players Development Clinics all levels (with Coaches)
All Star tryouts (Rookies, Minors, Majors)
Hosting 12-70U Cal Ripken/Babe Ruth Northern California State Tournament @Greenman Field June 29-July 7 ( if interested in volunteering contact Mr. Butler)
Look for MLB (RBI) starting in June and Summer Baseball Clinics and Camps June thru August
Thursday, April 25
fundraiser
Fundraising Raffle June 15, 2013
1st place prize: Laptop Processor
2nd place prize: 40' TV
3rd place prize: iPad
4th place prize: Kindle book reader
5th place prize: Dinner for two
TICKETS $2.00 Purchase from player parents, team parents and league President Mr. Louie Butler