NYSA: Welcome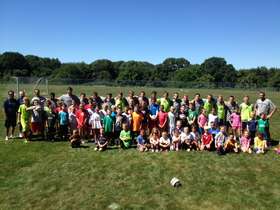 URI Soccer Clinic 8/24
Welcome to the Narragansett Youth Soccer Association Web Site
2014 NYSA Spring Travel Soccer
Spring travel soccer sign-ups/try-outs have already occurred. Teams have been formed for the following age brackets:
U-10 Boys - 2 teams
U-10 Girls - 1 team
U-14 Boys- 1 team
U-16 Boys - 1 team
All members of these teams should have submitted to your child's coach:
1" by 1" photo
Copy of child's birth certificate
Check made out to NYSA for $150.00
Coaches will be in contact with you regarding practice times. Outdoor practices begin in late March or early April

We would like every player to wear shin guards and cleats and bring a soccer ball to every practice!!
All home games and practices take place at Christofaro Park.
April Vacation Soccer Camp: offered through the URI Men's Soccer Team.
Please see the link below if you are interested!!!
http://www.garethelliottsocceracademy.com/2014-goals-4-ramsbr-april-break-camp.cfm

If you have any questions you can email us @ narragansettsoccer@yahoo.com
Sincerely,
NYSA