NYSA: Welcome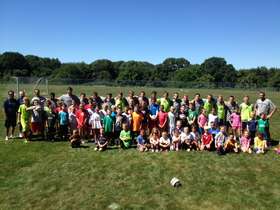 URI Soccer Clinic 8/24
Welcome to the Narragansett Youth Soccer Association Web Site
2014 Fall Soccer Sign-ups - Register Now!
https://www.gotsport.com/asp/application/reg/?ProgramID=29798&Type=PLAYER
Cost: $80.00 for the first child/$65.00 for each additional child
Season will run from September 6th - November 1st(excluding Columbus Day weekend)
Please sign up ASAP!!! We want to begin to form teams by the end of this month!
Please send payment to
NYSA
P.O. BOX 559
Narragansett, RI 02882
**An informational email will be sent out(about a week before the season starts) to all registered players regarding opening day!**
Some important information:
*Coaches will decide what day practice will be on for your childs' team.
*All games are on Saturday mornings.
*All players should bring their own ball to every practice!!!
U6 & U8 players - size 3 ball
U10 & U12 players - size 4 ball
U14 & up - size 5 ball
*All players will need shin guards and cleats. Please make sure your child comes prepared also with a water bottle as well!
NYSA now has a Facebook page - Please like our page on Facebook to receive updates and announcements that way as well:)
WE ARE IN NEED OF NEW BOARD MEMBERS IF YOU ARE INTERESTED IN HELPING PLEASE EMAIL US AT narragansettsoccer@yahoo.com.
If you are interested in coaching a team(we always need volunteers), please email us at narragansettsoccer@yahoo.com and let us know what age bracket your child is in. For example U8, U10 or U12. Thank you!!!
WE ARE ALSO IN NEED OF REFEREES FOR THE FALL AND SPRING SEASON NEXT YEAR - IF INTERESTED PLEASE EMAIL PAUL ZUCHOWSKI AT p.zuchowski98@gmail.com
If you have any questions you can email us @ narragansettsoccer@yahoo.com
Sincerely,
NYSA