NYSA: Welcome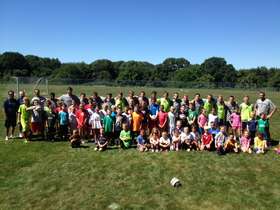 URI Soccer Clinic 8/24
Welcome to the Narragansett Youth Soccer Association Web Site
Reminder: No games Columbus Day weekend!!!!!
Important Info!!!!!!!
Travel Try-outs will be held on Saturday, October 25th at Christofaro Park
1st-4th grade @ 1pm
5th-8th grade @2:15pm
Tryouts are mandatory to play for our Travel Team this Spring!
Travel season runs from March -June 2015 with four home and four away games. Travel time to asway games are less than an hour. There will be 1-2 practices/week with professional coaching once a week.
Season will run from September 6th - November 1st(excluding Columbus Day weekend)
Don't forget to send in your payment!!!! If you havn't sent payment please do so ASAP!!!!
Cost: $80.00 for the first child/ $65.00 for each additional child
Please send payment to
NYSA
PO Box 559
Narragansett, RI 02882
Other important information:
*Coaches will decide what day practice will be on for your childs' team.
*All games are on Saturday mornings.
U6 & U8 play on the lower fields
U10 &U12 play on the upper fields
*All players should bring their own ball with their name on it to every practice!!!
U6 & U8 players - size 3 ball
U10 & U12 players - size 4 ball
U14 & up - size 5 ball
All players should be wearing cleats and shin guards and bring a water bottle to all games & practices.
NYSA now has a Facebook page - Please like our page on Facebook to receive updates and announcements that way as well:)
If you have any questions you can email us @ narragansettsoccer@yahoo.com
Sincerely,
NYSA