NYSA: Welcome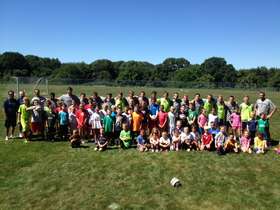 URI Soccer Clinic 8/24
Welcome to the Narragansett Youth Soccer Association Web Site
2013 NYSA Fall REC SOCCER (House League)
REMINDER: This Saturday, 11/2 at Christofaro Park - Spring Travel Try-outs for ages U10, U12 and U14
U10: 10:00am
U12 : 11:00am
U14: 12:00pm
Please arrive 15 minutes prior to the start of your try-out and wait for your try-out session up by the clubhouse and wait until you are told where to go.

**If you have not sent in your payment, please send a check made to NYSA at P.O. Box 559 Narragansett, RI 02882**
We would like every player to wear shin guards and cleats and bring a soccer ball to every practice!!
All games and practices take place at Christofaro Park.
All Game schedules can be found under the Events tab!!!!!
If your child is interested in playing Spring Travel Soccer, please email Maria Rocchio as soon as possible at pmrocchio@aol.com
If you have any questions you can email us @ narragansettsoccer@yahoo.com
Sincerely,
NYSA