Northwestern Wildcats Softball: Welcome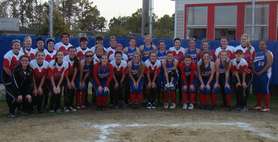 2014 NW & W CARTERET SOFTBALL
Saturday, July 19
Mid Summer Bash Softball Tournament
12U and 16U July 18, 19, 20
TOURNAMENT SCHEDULE FOR SUNDAY
POOL PLAY
STARS H VS FROST 8:00 F1
THUNDER VS AMHERST 8:15 F2
STARS D VS STRIKERS 9:15 F1
CRUSH VS FROST 9:30 F2
STARS H VS MENACE 10:30 F1
ELIMINATION BRACKET
12U # 4 SEED VS #5 CRUSH 10:45 F2
16U #3 SEED VS #6 SEED 11:45 F1
12U #3 SEED VS #2 SEED 12:00 F2
16U #4 SEED VS #5 SEED 1:00 F1
12U #1 SEED VS WINNER #4 / #5 SEED 1:15 F2
16U #2 SEED VS WINNER #3 / #6 SEED 2:15 F1
16U #1 SEED VS WINNER #4 / #5 SEED 2:30 F2
12U CHAMPIONSHIP GAME 3:30 F1
16U CHAMPIONSHIP GAME 5:00 F1
1 HOUR TIME, FINISH THE INNING
70 MIN DROP DEAD, GO BACK TO PREVIOUS INNING
IF AFTER ABOVE IS COMPLETE AND SCORE IS TIED IN ELIMINATION BRACKET
INTERNATIONAL TIE BREAKER WILL BE USED
CHAMPIONSHIP GAME WILL NOT BE TIMED, BUT WILL USE "ITB" AFTER 7 INNINGS
I CANNOT PERDICT YOUR SEEDING, YOU MUST BE READY TO PLAY AT THE TIME LISTED.
GOOD LUCK!
Welcome to the new site, you can now receive updates on your facebook page by clicking on the facebook icon in the upper left of this page.
"Like" us now to stay up to date!!
centerfield