Northern Vermont Youth Football League: Welcome
Saturday, March 25
Welcome to the NVYFL Web Site!
-Update's from March 2017 NVYFL League Meeting
Hello all. Football in Vermont is alive and well! After the NVYFL league meeting Thursday night, representatives from all around the league voted unanimously on continue TACKLE football in the NVYFL. The VPA will pursue their flag football format to affiliated programs. The NVYFL is a separate entity in which we operate as a governing body. Please feel free to spread the word to all current and potential athletes that the NVYFL is a tackle football league starting in grade 5 through grade 8. The NVYFL will continue endless effort to teach players within the guidelines of USA Football.
We also voted as a league with unanimous decision that, as a league, the 7 and 8 grade format will continue to have kickoff's and kick returns. With an injury report submitted by all coaching staffs through out the 2016, there was not enough evidence of injury to remove the play from the game at the most competitive level in our youth league. We will continue to monitor injuries on those specific plays of the game.
NVYFL Secretary.
The Northern Vermont Youth Football League is an association of 15 teams in the northern half of Vermont. Team geography ranges from the Barre area in the south of the region to areas from Burlington to North Country west to east. Each team represents a specific geographic area, and is operated independently. The Northern Vermont Youth Football League (NVYFL) is the governing body for NVYFL operations. Each team has representation on the board of the NVYFL, and the board works together to develop schedule, rules and generally manage operation of the league.


The NVYFL season begins in mid-August, and ends with the championship game on the first weekend in November. Each team has varying practice schedules, and interested players/parents are encouraged to contact the team in their area for more details regarding signups, practices, etc.

There are three levels of play in the NVYFL. The lowest level is a flag football program for children in grades 1-4 (note that not all teams have flag programs, but we add more each year!). Tackle football begins in an instructional program for grades 5-6, and a more competitive tackle program for grades 7-8 represents the highest level. Typically, practices are 3-5 days a week, held after school, and games are held on Saturday mornings. Flag games, and additional scrimmages may occur during the week as well.
The following individuals are members of the league executive board:

Chad Cioffi, President - 802-752-7331
Tony Arcovitch, Vice President - 802-881-4727
Nick Michaud, Secretary - 802-999-8543
Chadde Wolf, Treasurer - 802-489-3044
George Maille Jr, Head Official, 802-318-8100 (contact regarding interest in becoming an official)
TO VIEW CONTACT INFORMATION FOR TEAMS IN NORTHERN VERMONT PLEASE VISIT THE HANDOUTS PAGE AND SEE THE COACHES' DIRECTORY.
Please go to the Handouts area to obtain various documents of interest for coaches, parents and players. The Locations page lists maps to all team fields.
OFFICIALS ARE ALWAYS NEEDED! We need VFOE high school officials for as many games as possible. If you would like to become a high school official please contact George Maille Jr at 802-862-0310 or 802-318-8100. These officials are paid for all games they officiate and may accept or decline games.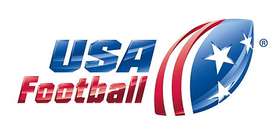 Click for link