Northville Rowing: Welcome
Quick Alerts - Updated Wednesday, May 22, 2013
Absences
Any time a rower will miss practice she/he MUST notify all coaches by email ASAP with the date(s) & reason for the absence. Clicking the link will send one email to all coaches.


Learn To Row Camp
Northville Rowing Club is offering 2 Learn To Row Camps designed for Northville Public School middle school students, grades 6 - 8.


- Session 1: June 3 through June 8
- Session 2: June 10 through June 15
Both sessions are Monday through Friday 4:30 - 6:30pm and Saturday 9:30 - 11:30am



Go to our Forms page to download the Learn To Row packet for registration instructions and other important information. Deadline for all forms & payment is June 1, 2013.

REMINDER: ** Get your Sign Up Form turned in! ** Payment should be included to ensure a student is registered.


-> Seats are filling fast! Even if you are waiting for a physical or the swim test, please turn in your Sign Up Form now to reserve your rower's spot in their preferred camp.

Due to limited seating in each boat, we can only accept the first 14 registrants per week. Registration is first come, first serve.


Western Ontario Championship
(Doug & Sam Wells)
Sat. May 25
Please complete this Participation Survey ASAP.
Arrival time TBA



BORDER CROSSING:

Persons

age 15 and under

may cross the border with their U.S. Birth Certificate.

Persons

age 16 and older

must have one of the following: passport, passport card, enhanced drivers license, enhanced state ID card or Trusted Traveler cards (NEXUS, SENTRI or FAST)

REGATTA FOOD:

For this Regatta we will

not

be serving any hot food including coffee!! For breakfast we will serve only bagels and muffins. For lunch we will be ordering sandwiches and have them delivered to the regatta. Cheryl Moore has graciously agreed to coordinate the ordering of the sandwiches, please pay her at the regatta. Sandwiches are $8.00 per person and there are several choices.

Please sign up ASAP for the sandwiches

as the order needs to be placed by Thursday.

TENTS:

•

TRANSPORT:

We also need people with larger vehicles to transport the tents to the Ontario Regatta. If you are willing to transport a tent to Ontario

please sign-up

& try to pick it up today (5/21) at the High School between 6 - 630pm. If you are willing to take the tent, but are unable to pick it up from the school,

contact Monique Ulman

& arrangements will be made to get it to you.

•

SET-UP:

Anyone arriving on Friday evening, please watch for a signup genius to help set up our tents.




Open Board Position
It is critical that we have a volunteer fill the "Equipment Manager" position by June 6th.

At the spring banquet on June 6th, we will be electing board members for the 2013-14 year. Our officers are elected for a two-year term. Any rowing parent is welcome to run for a seat on the board. Board meetings are held once per month, year-round. Attendance is important - although work and travel schedules can be accommodated.

We are still in need of a volunteer for Equipment Manager - this person will work with the coaches and other parent volunteers to ensure that NRC's equipment is maintained properly and ready for each season. All expenses are covered by NRC and we have plenty of notes and directions from past seasons.

Please contact Karen Heiser, NRC nominations chair, to volunteer or for more information.
Your Photos Wanted
We've got great pictures in our Photo Albums! If you take photos at practice, regatta or any rowing activity, please share them with us! We'd like to have as many as possible for this website, banquet and public relations. Please email full size images to Kim Brock.
---
Join Us - Everyone Can Row!


"Coming together is a beginning. Keeping together is progress. Working together is success." ~ Henry Ford

Northville Rowing Club (NRC), also called Crew, is a high school co-ed club sport consisting of both men's and women's teams. No prior experience is necessary, all you need is a willingness to learn and a desire to compete!

Rowing is a three season sport with two competitive seasons; Fall and Spring. Fall Season consists of longer races, against the clock and ends in early November. Pracices begin at the end of August. Spring Season is head-to-head competition and runs March through early June. Our main season is spring, but we actively row in the fall and train indoors during winter. Rowers typically join in the fall to learn to row and gain experience, then participate in Winter Conditioning on ergometer (rowing) machines to prepare for spring.

For students who are interested in joining Northville Rowing Club in the fall, but have no rowing experience, we strongly recommend participation in the summer Learn to Row program offered by Ann Arbor Rowing Club. Many of our current rowers started in this program which was very helpful in acclimating them to the sport. Ann Arbor also offers summer programs at more advanced levels for experienced rowers and current team members, including Learn to Scull and Sculling Camp. More information on all AARC programs can be found at a2crew.com.

Goals and Guidelines
• NRC will promote the sport of rowing at Northville High School and will encourage participation of all students.
• NRC will encourage and support the academic achievement of its student athletes.
• NRC coaches will teach teamwork, responsibility, self-discipline and physical well-being.
• NRC coaches will make every effort to ensure that all rowers participate in as many regattas as possible.
• NRC will provide the opportunity for rowers to excel in the sport and be competitive.
- Boats will be composed of rowers that are similar in experience and skill. Rowers will earn their position through dedication, hard work and ability.
- Some regattas will require a minimum qualification to participate: Midwest Championship Regatta and the Michigan Scholastic State Championship Regatta are two examples.

For more information on joining Northville Rowing Club please contact our Membership Coordinator, Karen Butler.

Congratulations!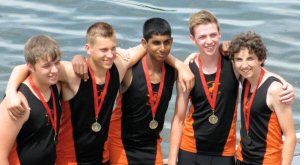 2012 Western Ontario Championship
• Mens Jr Varsity 8 - Gold • Mens Varsity 4+ - Gold
• Mens Jr Ltwt 4+ - Bronze • Womens Ltwt 4+ - Gold
2012 State Championship (SRAM)
• Mens Varsity 1x - Silver • Mens Varsity 2x - Silver • Mens Jr 4+ - Bronze
2012 Midwest States Championship • Mens Varsity 2x - Bronze
2011 Columbus Fall Classic • Mens JV 4+ - Bronze
2011 State Championship (SRAM)
• Mens Varsity 1x - Bronze • Mens Varsity 2x - Gold
2010 State Championship (SRAM) • Mens Varsity 2x - Gold




---
This site is maintained for the purpose of providing pertinent information regarding the operations and activities of Northville Rowing Club.
For questions, comments or problems with this site, please contact the
webmaster
.