North Park Little League: Welcome
---
2013 Fall Ball Announcement

I know we are in the middle of the Spring baseball season, but I wanted to send a reminder about Fall Ball. Fall Ball is a terrific part of the North Park Little League experience. It is a low-key atmosphere, where the emphasis is on skill building. It is a good place to get your feet wet if you are considering moving up to the next level or just want to continue to improve your skills. I highly recommend playing Fall Ball in 2013.

If interested, please make sure you leave the following info at npllfallball@gmail.com:


Phone number

Player(s) name

Age

Division last played

Fall Ball division you wish to play

(Note: If you are interested in coaching send me the corresponding info as well).

General Info: Fall Ball usually begins in early September and runs 10 weeks to mid November. There is one game per week played on Sundays and the registration fee is less than the Spring fees. There are usually teams fielded for the Caps, Minors, Majors, and Juniors levels. NPLL doesn't have access to a home field for Fall Ball so each game will be played at another Little League Field within our District (a great experience). As we get closer and have Coaches assigned to each level of play you will be contacted by your coach who will distribute the registration paperwork and give you further information.

Thanks and Play Ball,

Mark Sobolewski - NPLL Fall Ball Coordinator
---
Welcome to North Park Little League

Serving Our Community Since 1957
Baseball and softball embody the discipline of teamwork. They challenge players toward perfection of physical skills and bring into play the excitement of tactics and strategy. The very nature of baseball and softball also teach that while every player eventually strikes out or is on the losing team, there is always another chance for success in the next at-bat or game.
---
Tuesday, March 19
Joe Schloss is a big man in Little League
Longtime Little League coach Joe Schloss watches as a throw comes home as his team took infield practice on Tuesday. Schloss, who is in his 80s, starts to prepare his team as Little League in North Park begins another season. — Don Boomer
The baseball penetrates the air, the outfielders retreat, the voice goes up and my how things haven't changed.
"It's the same as when I played,' said Mark Sobolewski, and it's obvious he's been idle lately. "He'll say, 'Go get the ball and get it in – don't hold it!'"
The real boys of summer are back, even if spring just introduced itself. San Diego County's Little League fields are jammed with wide-eyed children and willing adults, but one coach stands above the rest.
Hey, aren't you Joe Schloss?
Schloss is no kid and his are long gone from North Park Little League. But Schloss, 86 in April, remains in his fifth decade of molding the next generation of citizens – with a dash of baseball sprinkled in.
"He's still out there,' said Bob Cluck, who played on Schloss' first teams in 1956-57. "And he's teaching a lot more than baseball.'
If Tony Gwynn is Mr. Padre then Schloss is Mr. Little League. Schloss has dedicated his life instructing tykes in how to bat, catch and conquer the bases.
"It's fun going to the ballpark,' Schloss said. "Even if I don't get to play.'
Schloss is a North Park icon. His A-B Sporting Goods store has been an anchor for new gear and old stories since 1946.
Entering A-B is a step back in time, with Little League team pictures on the wall and a dated cash register on the counter.
It's as if stumbling upon a "Leave it to Beaver" set, a black-and-white slice of San Diego in contrast to the fast-moving, multicolor world we live in.
But really, it's Schloss' world, which leans toward Little League, and we're just visiting. Nowhere is Schloss' mischievous grin more prominent than when he's coaching at Morley Field, near a field which respectably bears his name.
"When I look back, I think of just how lucky I was to have such a wonderful coach,' said Sobolewski, who played for Schloss from 1974-76.
Not because Schloss taught Sobolewski the hit-and-run, but the please-and-thank-you.
Not because Schloss taught him to move the runner over, but to step aside if a woman was approaching the door.
Schloss' tips stretch beyond chalked lines and are as prevalent today as decades earlier.
"My father had died the previous year before I joined his team,' Sobolewski said. "So to me, Joe was my father then. I love that man and there is no better person on the planet as far as I'm concerned.'
Schloss' orbit revolves around baseball, but not the leagues requiring big-boy pants. He prefers working with the game's youngsters, but really he's planting seeds to make the community improve in ways that go beyond the final score.
Schloss, whose Yankees prevailed in Saturday's opener, has produced countless winning squads. Others gained victories in ways that didn't show up in the score book.
"Some of the teams that weren't very good, I enjoyed them the most,' he said.
Not sure if the players get more from Schloss or it's the other way around. What's clear is Schloss' touch on the diamond is a gem, and it has spanned generations.
"It's because he's honest,' said Cluck, who become a Major League pitching coach. "And he knows when they need discipline and when they need encouragement.'
One requires a long list to note Schloss' highlights: coached some 1,400 games, thrown out the Little League World Series first pitch and been named California's Little League coach of the year.
All dandy, but the modest Schloss isn't one to expand his chest. Instead Schloss distributes the credit, in another lesson which isn't lost on others.
"I need to thank all the coaches who have helped me,' Schloss said. "Without those people, I couldn't have done this for so many years.'
How many more seasons for Schloss? His team sponsor, Cluck, predicts Schloss is merely getting warmed up.
"I gave him a 50-year extension 15 years ago,' Cluck said. "So he still has a few more years left.'
San Diego could only be so lucky.
---
Thursday, January 10
2013 Important Dates
Download this file and keep it handy to help navigate through the 2013 season.
Handout:
2013 Season Important Dates
---

Congratulations To Our NP Softball Majors and Juniors Teams For Bringing Home Two TOC Flags
If you haven't heard already North Park Little League Softball is a dominating force in District 33.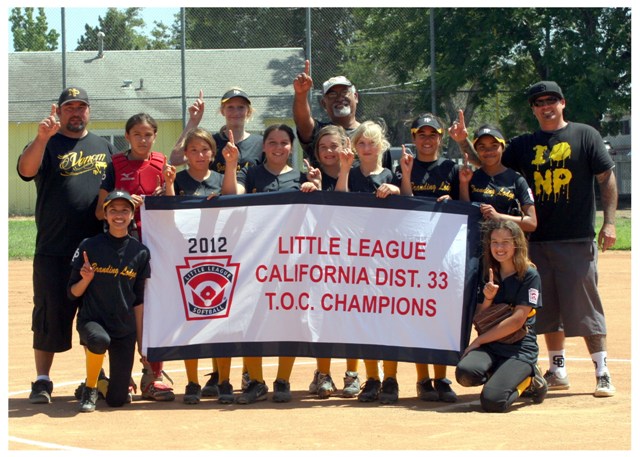 Congratulations to the North Park Venom for winning the 2012 District 33 TOC Little League Softball Flag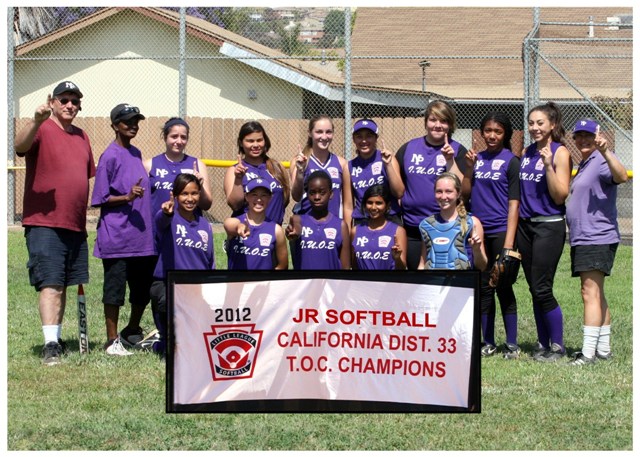 Congratulations to the North Park Purple Thunder for winning the 2012 District 33 TOC Junior Softball Flag
---