Northern Lights Little League Inc.: Welcome
Registration open at Northern Lights Little League new website - tsqh.bluesombrero.com/northernlightslittleleague
Monday, March 16
Welcome to Northern Lights Little League. We've been serving the Thornton community since 1966!
For registration information, please visit us at our new website - tshq.bluesombrero.com/northernlightslittleleague
If the link does not work, copy and paste into your internet URL address.
Join Northern Lights Little League Inc text alerts on RainedOut
Our fields are located at 13950 York Street. Constructed in partnership with the City of Thornton, The McCormick Foundation, Colorado Rockies Baseball Club, Colorado Rockies player Larry Walker and Northern Lights Little League! Member League of Colorado District Two Little League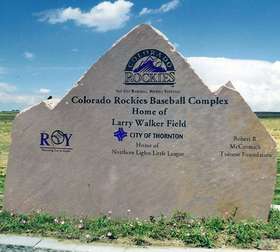 Home of Northern Lights Little League
2016 Registration Fees
Age Division Price Price After April 19th
4-7 T-ball $120 $130.00
6-8 AA Coach Pitch Baseball $140 $150.00
9-11 AAA Player Pitch Baseball & Softball $145 $155.00
10-12 Major Baseball $170 $180.00
11-13 Intermediate 50/70 Baseball $170 $180.00
13-14 Junior Baseball $170 $180.00
15-16 Senior Baseball $170 $180.00
8-11 Minor Girls' Softball $140 $150.00
10-12 Major Girls' Softball $170 $180.00
13-14 Junior Girls' Softball $170 $180.00
Sunday, October 12
Volunteer Applications
ALL volunteers of the Little League program MUST fill out the attached 2016 Volunteer Application form and MUST provide a social security number. The is a requirement of Little League International and Northern Lights Little League. We look out for the complete safety of all our kids! The link is Volunteer Applications above (headline) and can be printed, filled out and brought with you to registration, mailed to us at PO Box 201, Eastlake, CO 80614 or e-mailed to us at cathy8558@aol.com.
http://www.littleleague.org/Assets/forms_pubs/VolunteerApplication16.pdf
Concession Volunteers Needed
Northern Lights Little League is looking for volunteers for the concession stands! Ideally, we would love to have 2 volunteers for each of the shifts alongside one of our board members. You must be 18 years of age or older (no children in concession allowed due to the many burn hazards). We also ask that you fill out a Volunteer Application which can be found under the Handouts section of this site. Just click on the link, print, fill out and turn into a board member. If you have trouble printing it, a board member can supply one for you the first time you volunteer. This is asked of any Coach, Manager, Board Member, Volunteer, etc... that is associated with Little League per Little League for the safety of our kids. So, if you are associated with Northern Lights Little League; be it mom, dad, aunt, uncle, grandma, grandpa, cousin... you name it and are over the age of 18 we would LOVE to hear from you and would greatly appreciate your help!! The shifts are as follows...
Mondays - Fridays: 5:30pm-7:45pm
Saturdays - 8:30am-10:45am
10:45am-1:00pm
1:00pm-3:15pm
3:15pm-5:30pm