WWW.NRLL.ORG: Welcome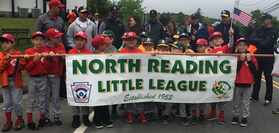 MEMORIAL DAY MARCH
NRLL teams will march in the annual North Reading Memorial Day Parade on Monday, May 28. Players should meet with their teammates and coaches at 9:30 am outside the Senior Center on the Town Common. If players/parents have any questions, please contact your coach.
"VARSITY DAY" NOW ON JUNE 2
The North Reading HS baseball team's "Varsity Day," when it welcomes members of North Reading Little League for a day of instruction and fun, will now take place Saturday, June 2, at Carey Park. It will run from 10 am - 12 noon, giving all NRLL players the opportunity to attend. (The event, originally scheduled for May 19, was postponed due to predicted inclement weather.)
JIMMY FUND SUMMER LEAGUE SIGNUPS
Signups are now being accepted for the 2018 Jimmy Fund Summer League for players ages 8-12. North Reading Little League fields teams in three divisions – ages 8/9, 9/10, and 10-12 – that compete against area towns in an 8-10 game schedule running from early July through early August. Most games are on weeknights and home games are played at Benevento Park. This is a league open to all interested players. The price is $110 and covers a donation to the Jimmy Fund as well as the North Reading Parks & Recreation user fee, and the cost of uniforms, equipment, and umpires. Those interested in coaching – either as a head coach or an assistant – can also use the link to sign up. Send questions about the Jimmy Fund program and other summer baseball opportunities available to NRLL players to
nrll1952@hotmail.com
. If you have any questions or problems with registration, email Mike Correale at
mcorreal@comcast.net
. Click on the link below to register your child and if you want to coach.
https://northreadinglittleleague.siplay.com
2019 MAJOR LEAGUE TRYOUTS: JUNE 9
All NRLL ballplayers who will be baseball ages 10-12 in 2019 and are NOT currently on a Major League roster must attend the 2019 Major League tryouts that will take place Saturday, June 9, at 9 a.m. at Benevento Park.
NRLL/CHALOUX GAME: JUNE 17
The sixth annual North Reading Little League/Tim Chaloux 12-Year-Old Appreciation Game will take place on Father's Day, June 17, at 12 noon at Benevento Park. This is not an all-star game; all 12-year-olds are invited to take part as NRLL thanks players for their years on the small diamond with one final game with their friends and classmates. More information about registration and the game will be coming in early June.
FOLLOW YOUR FAVORITE TEAMS
Fans and families can keep up with the latest on their favorite teams by going to their league's news/recaps link on the left side of the page to read game recaps sent in by coaches. The latest scores, standings, and schedules can also be found in links on the left side of the page. Good luck to all North Reading Little League teams this spring!!!
Saturday, May 19
NRHS Baseball-NRLL 'Varsity Day' Postponed
NRHS head coach Eric Archambault will address players at "Varsity Day."
INCLEMENT WEATHER HAS FORCED "VARSITY DAY" TO BE POSTPONED. EVENT NOW SCHEDULED FOR SATURDAY, JUNE 2.
On a day certain to bring back memories for older ballplayers and that will serve to inspire younger ones, the North Reading High School varsity baseball team and North Reading Little League are teaming up for an afternoon of learning and fun on Saturday, May 19.
Following the varsity's home game that day against Pentucket (10 a.m., Carey Park), team members will conduct a clinic for NRLL players of all ages that will include instruction, contests, and a pep talk from Hornets head coach Eric Archambault. There will also be complimentary hot dogs, popcorn, and drinks for all players and their parents.
"Varsity Day" is scheduled to run from approximately 12:30 p.m. through 2:30 p.m., but players are invited to come early to watch some or all of the varsity game and cheer on the Hornets as they battle toward a state tournament bid. NRLL players do not need to register for the event, but are encouraged to coordinate attendance through their coaches.
"This has fast become another North Reading baseball tradition," said Archambault. "It's a day that, as a program, we really look forward to – the opportunity to teach and engage the town's youth players in a fun, positive way.
"What makes this event so special is that our varsity players can see a bit of themselves in these youngsters," Archambault added. "They were these kids four, five, or 10 years ago, and really looked up to the older players to show them how to play the game right. Now it's their turn to pass it on to the next generation of ballplayers."
"Varsity Day" has become a staple on the North Reading Little League calendar as well. NRLL president Eddie Madden has been thrilled to see how the event has grown since it began in 2016.
"Because of the interest and response we've seen the past two years, this year we're opening up 'Varsity Day' to all levels of NRLL players," Madden said. "We've worked closely with Coach Archambault to build on the strong relationship that's long existed between North Reading Little League and the high school program, and 'Varsity Day' is a wonderful example of that.
"We hope to see several dozen Little Leaguers at Carey Park to take part in this free and fun event," Madden added.
Tuesday, April 17
NRLL Challenger Division Ready For 2018
North Reading Little League is proud to announce that its Challenger Division will return for the fifth straight year.
Challenger is most easily described as adaptive baseball for kids with special needs. It was established in 1989 as a separate division of Little League to enable boys and girls with physical and intellectual challenges, ages 4-18 (or up to age 22 if still enrolled in high school), to enjoy the game of baseball along with the millions of other children who participate in the sport worldwide. Today, more than 30,000 children participate in more than 900 Challenger Divisions worldwide.
Since its inception in 2014, the NRLL Challenger Division has grown to include nearly four dozen players, serving families in North Reading and attracting youngsters from area communities that include Reading, Peabody, and Lynnfield. Coaches and volunteers – known as "buddies" – take a clinic-style approach that combines skills and drills, followed by modified games for the players. The emphasis is on fun and learning in a safe environment.
Sessions will run on Sundays from 9-10:30 a.m. starting April 29 at Benevento Fields, with a "road game" or two mixed in against some of the Challenger Divisions in surrounding communities. The program runs through mid-June, ending with a Jamboree hosted by Weston Little League, which is always a big hit with families and volunteers.
NRLL President Eddie Madden has seen the impact of the Challenger Division firsthand.
"It's wonderful to see so many kids out on the field having fun and being able to enjoy the great game of baseball," he said.
"Challenger is one of the best things we do as a league because of how it positively affects lives, and that goes beyond the players," added Madden, who thanked Braga Landscaping for sponsoring team jerseys and equipment for this year's program. "The volunteers, many of them Little League players or parents themselves, find it an incredibly rewarding experience."
Those interested in learning more about the program may contact NRLL Challenger Division director Chris Hanson at chrishanson2925@gmail.com or by calling (781) 439-9031.
Monday, July 17
ROAD TO LITTLE LEAGUE GLORY GOES THROUGH NORTH READING
Massachusetts State Finals Take Place Next Week at Benevento Park
Playing in the Little League World Series is the dream of every youngster who puts on a baseball cap and glove, and winning the Massachusetts State Tournament is another step toward that dream coming true.
North Reading's Benevento Park will host the 2017 State Finals on July 27-30, bringing together the top four teams in the Commonwealth. They'll be vying for the right to advance to the New England Regional Tournament in Bristol, Conn., to face the champions from Connecticut, Maine, New Hampshire, Rhode Island, and Vermont. The regional winner will then represent New England in the Little League World Series, scheduled for Aug. 17-27 in South Williamsport, Pa.
In preparation for the State Finals, North Reading Little League has performed a host of renovations to the Benevento Complex, including new lights, new dugouts, field improvements, a 20' x 40' pavilion, and an expanded snack shack. The goal is not only for NRLL to be able to put its best foot forward next week, but that the improvements will benefit the program and the town's youth ball players for many years to come.
"We're on target and ready to go," said North Reading Little League president Eddie Madden, who keyed North Reading's successful bid to host the Finals and has overseen the preparations for the past 18 months. "The new lights were completed last week and they alone make a huge difference, but they're just one of many projects we've undertaken."
The games begin next Thursday, July 27, at 3:30 p.m. when the champions from Section 1 and Section 2 meet. Opening ceremonies take place after that game, starting at 6:30 p.m., and the nightcap features Section 3 vs. Section 4 at 7:30 p.m. Pool play continues Friday, July 28 (4 p.m. and 7 p.m.), and Saturday, July 29 (12 noon and 3 p.m.), with the championship game on Sunday, July 30 (1 p.m.). Admission is free.
In addition to the games, the Red Sox Showcase will be on display at Benevento Park on July 29. The Showcase is a transportable Fenway Park featuring an interactive baseball program so that kids and families can experience baseball like the pros. The centerpiece is a 15-foot panel truck with interactive games and activities, allowing fans to test their baseball skills, all under the backdrop of a replica Green Monster scoreboard. The truck also includes a batting cage, a Red Sox virtual reality experience, pitching accuracy stations, "Steal 2nd Base" challenge, a Green Monster selfie station, and a Giant Jenga.
While the Showcase will be fun for the fans, the players will be focused on the games – and the dream of reaching the Little League World Series. A total of 16 teams – eight from the United States and eight International – will compete in this year's World Series. In addition to New England, the U.S. teams will come from the following regions: Great Lakes, Mid-Atlantic, Midwest, Northwest, Southeast, Southwest, and West. The International field comprises Asia-Pacific/Middle East, Australia, Canada, Caribbean, Europe/Africa, Japan, Latin America, and Mexico.
Overall, 10 Massachusetts teams have participated in the Little League World Series, most recently Peabody Western in 2009. Other Massachusetts teams to win the New England Regional include Jesse Burkett (Worcester) in 2002, Saugus American in 2003, and Walpole American in 2007.
At the World Series, attendance is normally well over 20,000, with crowds of 30,000 or more for the championship game. Millions more see the games on the ESPN Family of Networks and ABC. There is never any admission charge to attend a Little League Baseball World Series game and all team expenses – from food to travel to lodging – are covered.
Little League was founded in 1938 by Carl E. Stotz and play began the following season. In 1947, Stotz and the first local Little League Board of Directors brought together all Little League programs (there were just 17) and called it the National Little League Tournament. The champion was the Maynard Midget League of Williamsport, who defeated the Lock Haven All-Stars, 16-7.
Aided by the publicity from that first tournament, a rush of excitement suddenly surrounded Little League, both across the country and even pouring over our national borders. By 1950, the first international Little Leagues had been established at either end of the Panama Canal and in Canada, prompting the National Tournament to be renamed the Little League Baseball World Series.
Before the 20th century was complete, the brainchild of Stotz had grown to include nearly 7,500 leagues in more than 100 countries with nearly three million children playing Little League Baseball or Little League Softball.
To serve the public interest, Little League has added several divisions of play through the years. Teenage baseball divisions (Intermediate 50/70, Junior, Senior, and Big League) and Challenger Division for physically and developmentally challenged children have extended the program's outreach even further. There are now seven Little League World Series tournaments played every year.
Thursday, July 13
Red Sox Showcase Part of State Championships at Benevento
Reprinted from the North Reading Patch
By Bob Holmes, Patch Staff
Great baseball isn't the only thing coming to North Reading for the Little League state finals on Saturday, July 29.
Back again for the 2017 season, The Red Sox Showcase will be hitting the road this summer bringing a free Fenway Park and Red Sox baseball experience to fans throughout New England. And from 3-6 p.m. on July 29, the Showcase will be at Benevento Complex on Central Street in North Reading for the Massachusetts Little League state finals. (The state finals take place July 27-30 at Benevento. Admission to the games and the Red Sox Showcase is free of charge.)
The Red Sox Showcase is a transportable Fenway Park featuring an interactive baseball program that will let kids and families get into the game, and experience baseball like the pros. The centerpiece of the Showcase is a customized 15-foot panel truck that transforms into a massive Red Sox experience with interactive games and activities, allowing fans to test their baseball skills, all under the backdrop of a replica Green Monster scoreboard, Fenway Park's iconic left field wall. The truck includes a batting cage, the Red Sox virtual reality experience, pitching accuracy stations, steal 2nd base challenge, Green Monster selfie station and a Giant Jenga.
The Red Sox Showcase, powered by T-Mobile is a part of the Red Sox Calling All Kids initiative, which aims to provide greater access to Red Sox games, enhance kids experiences at Fenway Park, and celebrate and strengthen the game of baseball in the community.
The Red Sox Showcase will be touring New England all summer long featuring fun games and challenges that bring Fenway Park to your local community! A special truck opens to feauture pitching accuracy stations, a Green Monster selfie station, Giant Jenga and the Red Sox Virtual Reality.
Monday, July 10
State Championship Tournament Schedule Set
Preparations continue for the 2017 State Little League Championships, which will bring Massachusetts' top four 12-year-old baseball teams to North Reading's Benevento Park to determine who will take the next step toward the Little League World Series. The seven-game tournament will be held July 27-30, and admission is free to all games.
The Tournament schedule has been set. On Thursday, July 27, games will be played at 3:30 p.m. and 7:30 p.m. The Opening Ceremonies are set for 6:30 p.m. that night and will include former Red Sox pitcher Tim Wakefield and Red Sox mascot Wally the Green Monster.
Games on Friday, July 28, will be played at 4 p.m. and 7 p.m., and the games on Saturday, July 29, are scheduled for 12 noon and 3 p.m. The championship game will be held Sunday, July 30, at 1 p.m.
"We still have some work to do, but we're excited for the tournament and we'll be ready," said North Reading Little League president Eddie Madden. "I've been so impressed by how the community has come together – our volunteers, local businesses, the great people at Parks & Rec and Town Hall, and so many others – to see that this is a success.
"When all is said and done, we want this to be remembered as the best State Championship ever held."
Massachusetts Little League is divided into 16 districts, which each crowning a champion that then plays in one of the four sectional tournaments. These sectional champions then compete for the state title.
While North Reading has hosted numerous District and Sectional tournaments in recent years (including the 2015 12-year-old Sectional Championships), this is the first time it has hosted the State Championships. The state champion will advance to the New England Regional in Bristol, Conn., with that winner earning one of eight U.S. bids to the Little League World Series, scheduled for Aug. 17-27 in Williamsport, Pa.
In addition to the games at Benevento Park, there will be several activities for fans and an opportunity to see the Red Sox World Series trophies from 2004, 2007, and 2013 on display.