Newport News Youth Wrestling Association: Welcome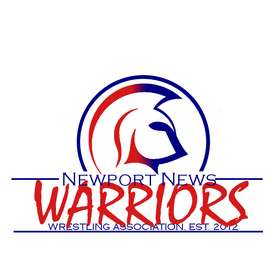 Warriors Wrestling
Where Warriors Train and Champions are Made!
WELCOME TO WARRIORS WRESTLING!!
Thank you for supporting us to become the largest wrestling club on the Peninsula and our first Championship as the 2013 Spartan Wrestling Champions!!
Our 2013-2014 Folkstyle Season is here!!
REGISTRATION IS CURRENTLY CLOSED!!
Practice is on Mondays and Wednesdays
at the War Room (Gynasium) of
Denbigh Early Childhood Center (formerly Reservoir Middle School)
15638 Warwick Boulevard
Newport News, VA 23608
and
Tuesdays and Thursdays
at Denbigh High School's Wrestling Room
258 Denbigh Boulevard
Newport News, VA 23608
Our first practice will take place on Monday, November 4, 2013 in the War Room. We will practice at DECC and DHS this year! Woodside High School will be our match site.
We are now officially associated with Denbigh High School and Woodside High School. Thank you Coach Hill, AD Bryan Weaver, Assistant Principal Ford, Prinicipal Vladu, Coach Camp, AD Todd Price, and Principal Callendar respectively.
2013-2014 Events: 2013 SouthEastern VA Sant Slam Tournament and the War on the Mat Classic Tournament of Champions Qualifier at Woodside High School. Also, we are proud to host the 2014 AAU Elementary and Middle School Championships. Stay tuned for the Warriors County Fair - A celebration of all things wrestling!
We welcome to our club the Lady Warriors Cheerleading Team, VA Team Takedown (Duals Team), and MeanStreaK Adult Wrestling!
We also welcome the Lady Warriors Head Coach - Suzanne Bathgate, Lady Warriors Assistant Coach - Erin Eley, and our newest Warriors Wrestling Coaches - Justin Bathgate, Kevin Knox, and Roger Ellison!
GO WARRIORS!!
For Information contact:
Oliver Walmon, Director @ 757-604-2897
Calvin Cooper, Assistant Director @ 757-232-4625
or
Jeff Sykes, Athletic Supervisor @ 757-591-4892, Newport News Parks, Recreation, and Tourism