NORTH JAX FOOTBALL & CHEERLEADING: Welcome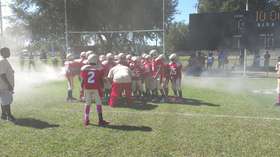 Game Day!
NORTH JAX
Football & Cheerleading
North Jacksonville Sports Association (NJSA) is an official Pop Warner Little Scholars football association located in Jacksonville's Northside. One of the oldest and most respected youth football organizations in the Greater Jacksonville area. We've been in existence since 1976! That's right, 41 years!
NJSA encourages youth development by providing opportunities for personal and athletic growth. NJSA promotes sportsmanship, self-esteem, and the development of life skills through engaging youth in sports while providing a safe, healthy, positive environment where the youth of our community can learn the fundamentals of football.
We're a non-profit & all volunteer organization. Our home park is on private property located at 12135 Hart's Road, Jacksonville, FL 32218. We don't have the benefit of receiving any funding from Jacksonville's Parks and Recreation Department.
All uniforms, equipment, equipment repair, team registration fees, insurance, JEA, dumpster rental, referee fees, concession stand, field, lawn- mower, tractor & well maintenance, fencing, scoreboard, diesel & unleaded fuel, oil and all other expenses for day-to-day operations are primarily 95% paid with sign-up fees, concessions & game day entrance fees. Sponsors and donations cover all other existing expenses.
Please contact the Vice President with any questions pertaining to football.
Vice President: Will Griffis - (904) 525-2542 - Email: william.d.griffis@gmail.com
Please contact our Interim Cheerleading Coordinator with any questions pertaining to cheer.
President: Prissy Nixon - (904) 924-9315 - Email: nixonm@duvalschools.org