Niskayuna Baseball : Babe Ruth Travel/All-Stars
Thursday, April 16
Babe Ruth Travel/All Stars
15U Coach Chris Bianchi
Antonikowski, Gabriel
Barber, Andrew
Barry, Sean
Cox, Kyle
Davison, Liam
Evans, John
Favata, Dominick
Funyak, Benjamin
Graham, Edwin
Joyce, James
Ritzenthaler, Alec
Ryan, Christopher
Senecal, Tyler
Sheely, Dylan
Toy, Matthew
14U Coach Brady Farkas

Barber, Connor
Brown, Christian
Cantoria, Michael Andrei
Chao, Matthew
Dell, Ryan
Falace, James
Fredenburg, Zachary
Garbrecht, Charles
Grugan, Ricky
LoRe, John
Meisner, Derek
Schaffer, Timothy
Terwilliger, Alexander
13U Coach Pete Furey

Bateman, Justin
Catrambone, Ben
Davison, Connor
Erickson, Chris
Grigas, Christian
Hedden, Cole
Mennillo, David
Morra, Samuel
Murphy, James
Murray, Jackson
Schneider, Robert
Sims, Jeremy
Stewart, Thomas
Vena, Shawn
Whitley, Aaron
---
Wednesday, March 18
World Series Dates
Cal Ripken 10-Year-Old


Jonesboro, AR
August 8 - 15, 2015




Cal Ripken Major/60


Monticello, AR
August 7 - 14, 2015

Babe Ruth Softball 8U


Alachua County, FL
July 29 - August 5, 2015

Cal Ripken Major/70


Aberdeen, MD
July 24 - August 1, 2015

Babe Ruth Softball 10U


Alachua County, FL
July 29 - August 5, 2015

Babe Ruth 13-Year-Old
Jamestown, NY
August 15 - 22, 2015

Babe Ruth Softball 12U


Alachua County, FL
July 29 - August 5, 2015

Babe Ruth 14-Year-Old


Pine Bluff, AR
August 15 - 22, 2015

Babe Ruth Softball 14U


Alachua County, FL
July 29 - August 5, 2015

Babe Ruth 13-15


Lawrenceburg, TN
August 13 - 20, 2015

Babe Ruth Softball 16U


Jensen Beach, FL
August 6 - 13, 2015

Babe Ruth 16-18


Klamath Falls, OR
August 8 - 15, 2015
---
Sunday, June 6
In 2009, Niskayuna Baseball, Ltd. affiliated with Eastern New York Mickey Mantle, Inc. to field team(s) aged 16u from the Niskayuna School District in that league. The league is AABC registered and plays with teams from the Suburban Council and teams from all over the Capital District. Teams play their regular season from the end of May until early-mid July with State, Regional and World Series tournamament play beginning when the regular season concludes.
Sunday, March 17
All Star Tryouts
Babe Ruth All Star Tryouts
To all Babe Ruth Players:

NBL will be hosting Travel/All Stars tryouts for our 15u, 14u & 13u Babe Ruth teams on April 7th from 12pm-2pm at the Union College Field House.

These teams will represent Niskayuna Baseball in The Empire Travel League and the Babe Ruth All Star Tournaments.
The costs vary and could run between $200-$400 depending on the number of games and team expenses.

The number of games can vary between 20 to as many as 40 depending on the teams interest and success.
To RSVP email your players name and age to: williamfredenburg@gmail.com

Also we need two copies of your child's birth certificates at the tryouts.


See you April 7th

Bill Fredenburg
VP NBL
Monday, April 29
2013 Summer 13U Travel/Allstar Middle Atlantic Regional Team Announcement
The Niskayuna Baseball Board and all our Baseball community would like to Congratulate our 13U All-Stars:
Gabe Antonikowski
Andrew Barber
Sean Barry
Kyle Cox
Liam Davison
Ryan Dell
Jack Evans
Ben Funyak
Connor Graham
Christian Mastrionni
Alec Ritzenthaler
Chris Ryan
Tyler Senecal
Dylan Sheely
Matt Toy
The team is lead by Coach Chris Bianchi.

The travel season will begin Memorial Day weekend and continue though the months of June and July. This team will represent Niskayuna at the Mid-Atlantic regional tournament at Blatnick park the first week of August.

Good luck to the team and Coach Bianchi! Come out and cheer on the team on their quest to the Babe Ruth World Series!
Monday, February 3
2014 Middle Atlantic Regional Tournament Sites
13-Year-Old
Atlantic Shore, New Jersey
July 30
14-Year-Old
Williamsport, Pennsylvania
July 30
15-Year-Old
Niskayuna, NY
Aug 1 - Aug 5
16-18
West Windsor/Plainsboro, New Jersey
July 23
Monday, February 3
2014 World Series Sites - Babe Ruth
Babe Ruth Baseball 13-Year-Old
Glen Allen, VA
August 16 - 23, 2014

Babe Ruth Baseball 14-Year-Old
Ocala, FL
August 15 - 22, 2014
Babe Ruth Baseball 13-15
Longview, WA
August 20 - 27, 2014
Wednesday, February 19
2014 Babe Ruth Travel / All Star Program Tryouts
To all interested players:
Each season our League evaluates the expected skill levels and player registration numbers when determining the make-up of our summer travel/All-star programs.
For the summer of 2014, this evaluation dictates that we will field two 15u teams (made up of 14 and 15 year olds) and one 13 year old team (made up of 13 year olds and eligible 12 year olds).
The teams will be picked following a tryout conducted on
March 29th
at the Union College Fieldhouse (times will be posted as we get nearer to this date).
Players will be placed on rosters based on evaluations at this tryouts lead by Coach Bianchi and other non-parent coaches.
Any team or age level for which a player played last year or level of play on any school ball program will not relate to placement on these teams for our summer season. (with the exception of the eligible 12 year old players)
Please contact Christopher Bianchi (
bianchi216@yahoo.com
) or Tom Spataro (
thomas.g.spataro@guycarp.com
) if you have any questions or concerns.
We're looking forward to another great summer season !
---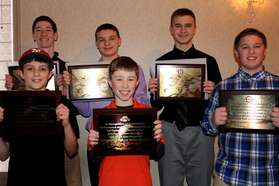 Rear L-R: Matt, Tyler, Ben; Front L-R: Sam, Jake, Zach
Monday, March 17
2013 Niskayuna Babe Ruth and Cal Ripken All State Players
Monday, March 17
2013 Niskayuna Cal Ripken and Babe Ruth All State Players
Congratulations to the Six Niskayuna Babe Ruth/Cal Ripken 2013 All-State Players>
10U Samuel Morra and Jacob Hand
12U Zachary Fredenburg
13U Benjamin Funyak, Tyler Senecal and Matthew Toy
The six were selected by opposing coaches and league officals based on results of the 2013 District and State Tournaments. They were honored with all other All-State Players this past weekend.
---