NHBCO: Welcome
Register For 2009-10 NHBCO Registration Now!

Brief Description:
The New Hampshire Basketball Coaches Organization welcomes new and current members to register for the 2009-2010 season. NHBCO is open to any and all current and former basketball coaches in the state of New Hampshire as well as basketball business trade associates.

NHBCO is a non-profit service organization, promoting the sport of basketball and academic achievement of student players. NHBCO meets twice annually and supports such functions as the Fall Basketball Coaches Clinic, Federation basketball rules interpretation, post season Senior All-Star games, Junior Jump Games and the Rotary Twin State Basketball Classic.NHBCO also honors All-State teams in all classes, both girls and boys, as well as Academic Achievement for in-season scholastic excellence and also awards the title of Miss and Mr New Hampshire Basketball to the female and male players exhibiting the highest combination of basketball ability, academic achievement and community service.




Register For 2009-10 NHBCO Registration Now!

---
New Hampshire Basketball Coaches Organization
NHBCO Coaches Clinic will be Held on Nov 7th at Exeter High School from 8:30am-12:30PM. EMAIL jholmes@sau16.org For a Brochure and Membership Form.
*note- NHBCO is in the process of developing a new website so Brochure is unable to be uploaded to this site
President: Gary Noyes
Vice President: David Chase
Treasurer: Gary Jenness
Secretary: Ed Lemire
Past President: Jeff Holmes
Webmaster: David Chase
Class Reps
Dues: $35.00 before Dec. 1, 2014 $40.00 After Dec. 1, 2014 Membership form in Handouts
Send Check made out to: NHBCO
Mail Check to: Gary Jenness
12 Richardson Street
Lancaster, NH 03584


Tuesday, October 29
NHBCO IMPORTANT DATES
Friday, September 4
2015 FALL EXECUTIVE MEETING
NEXT MEETING: EXECUTIVE BOARD SEPT. 27TH @ NHTI 9:00AM
SAVE THE DATE
NHBCO 2015 COACHES CLINIC WILL BE HELD NOVEMBER 7, 2015 AT EXETER HIGH SCHOOL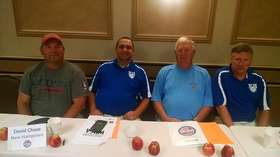 National Conference Las Vegas 15
Monday, July 20
National High School Basketball Coaches Conference Las Vegas 2015
David Chase, Gary Noyes, Gary Jennesse and Tim Haskins attended the 3 day National Conference in Las Vegas.
Having an opportunity to network and learn from other states was an exciting experience.
Wednesday, March 18
2015 STATE CHAMPIONS
| | | |
| --- | --- | --- |
| GIRLS | CHAMPIONS | RUNNER-UPS |
| DIV. 1 | LONDONDERRY 48 | WINNACUNNET 33 |
| DIV. 2 | COE BROWN 50 | GOFFSTOWN 46 |
| DIV. 3 | CONANT 55 | GILFORD 33 |
| DIV. 4 | SUNAPEE 80 | COLEBROOK 72 |
| | | |
| --- | --- | --- |
| BOYS | CHAMPIONS | RUNNER-UPS |
| DIV. 1 | LONDONDERRY 47 | PINKERTON 46 |
| DIV. 2 | BISHOP BRADY 58 | PORTSMOUTH 56 |
| DIV. 3 | PELHAM 51 | CONANT 42 |
| DIV. 4 | WILTON LYNDEBOROUGH 50 | EPPING 46 |