USA Softball of New Hampshire: NH Hall of Fame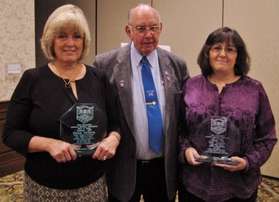 2015 NH ASA Hall of Fame Induction
USA Softball of NH "Hall of Fame"
Glenn Colburn and Bob Hopley Inducted into the NH ASA Hall of Fame
Above, Mayre Colburn (left) and Allison Hopley (right) accepts awards from Doug Dicey, NH ASA's Commissioner Emeritus.
Both accepted the awards for their husbands, who were inducted posthumously on Saturday November 21st, 2015.
Glenn Colburn was a NH ASA Umpire in Chief from Jan 1999 to October 2014. Bob Hopley was a player,
district commissioner, umpire, player rep and NH ASA State Commissioner from 2007-2015.
***
Link: HOF ~ Guidlines & Form
***
Inducted Members
Doug Dicey, 2006 Induction to NHASA Hall Of Fame
NHASA State Commissioner 3/1/1971-Dec. 30,2006
Served as ASA Rep. for 10 ASA National Tournaments
Served as New England ASA Regional Director 3 times
***
Paul Wilcox, Induction April 23,2010 to NHASA Hall of Fame
Umpire: Worked State, Regional and National tournaments
Served as Deputy State UIC (Modified Pitch)
1972-2009, Passed away Jan.13,2011
***
Roger Hebert, Manager Women's Modified Pitch Team
Induction April 23, 2010 to NHASA Hall of Fame
His teams won three National ASA Women's Modified Pitch Tournaments
His teams won 10 NHASA Women's Mod State Tournaments
*************

Always Remembered
Edward Brown ~ IN MEMORIAM ~ (2016)
Bob Hopley ~ IN MEMORIAM ~ (October 14, 1942 - February 26, 2015)
Glenn Colburn ~ IN MEMORIAM ~ (July 14, 1949 - October 11, 2014)
Paul R. Wilcox ~ IN MEMORIAM ~ (March 7, 1938 - January 13, 2011)


*************

Hall of Fame Questions?
Please Contact:
Doug Dicey, Commissioner Emeritus
PO Box 1122
Kennebunkport, ME 04046
Email: diceyd@roadrunner.com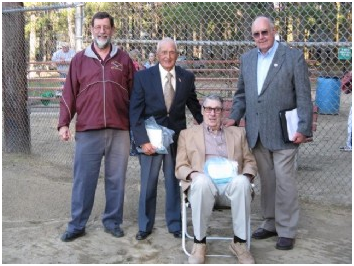 Friday, April 23, 2010 in Keene, NH