USA Softball of New Hampshire: Umpire Zone
USA Softball of NH Umpire Zone
"LIVE FREE and UMPIRE"
Flyer ~ 2019 Why Umpire? Join a Winning Team!
******
**** NOTE: All your work assignments must be "Registered" USA Softball Teams & Leagues and all Tournaments "Sanctioned" by USA Softball. All Umpires working must be "Registered" with USA Softball. This will ensure all USA Softball of NH Umpires are covered under our insurance policy.
2018 Registered Umpires (as of 10/12/2018)
2018 Official Umpire Gear Catalog
NEW: 2018 "Umpire Manual" is only available online.
2018 "Umpire Gear Catalog" will not be mailed in your Umpire Packet
USA Softball Rulebooks will still be available in soft book form upon registration approval.
Umpire Packets are mailed out when registration is completed and approved!
TO REGISTER as a USA Softball of New Hampshire Umpire
Enter Here Click on Logo
RegisterUSASoftball.com
Umpire Registration Includes: Membership, Required background check & ID Card, Registration ID Card, Insurance Coverage, Rule Book, Umpire Manual, Online Exam, Clinics & Meetings, Umpire Catalogue and much more! Great Exposure and a Wonderful Association to work with!
Your Umpire Exam will be linked to your profile, once these items are completed:
(1) You Register online with USA Softball of NH
(2) Print and mail your invoice with fee to this office, or pay with PayPal online.
3) Your Background Clears and
(4) Your Registration is Approved by USA Softball of NH.
Background ID cards will be mailed from our National Office. All other Umpire Materials will come from our USA Softball of NH office.
(Note: ACE ~ Does not apply to Umpires)
Printable Link ~ 2018 Umpire Exam Note: Code to access Exam: 1641
*****
USA Softball of NH Umpire Meeting and Clinics
*New Format, Registration onsite, Gear Orders/Sales available!
2019 Umpire Clinic Information to be announced
*****
Miscellaneous Information
Umpire Insurance Plan: RPS Bollinger
Official USA Softball Umpire Gear
USA Softball National Umpire Staff
******
For additional Information contact
State UIC, Will Martin @ NHUSAUIC@gmail.com
*******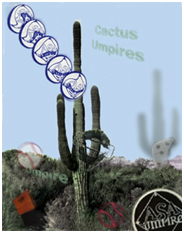 Cactus Umpire Website