Northampton Little League - Baseball & Softball: Welcome
__________________________________________________________________________________________
___________________________________________________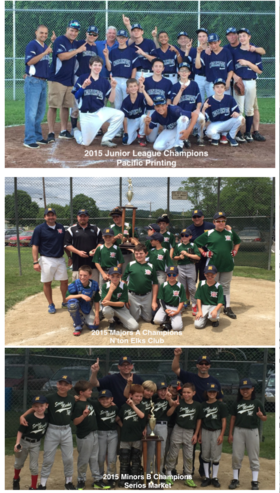 Divisional Winners
Saturday, June 20
ELKS CLUB, SERIO'S MARKET TAKE TITLES
The Northampton Elks Club and Serio's Market won the 2015 Majors and Minors championships Saturday in a pair of hard-fought, well-played games under sunny skies at McDonald Field.
The Elks defeated the Sheriffs, 10-6, to win the Majors title, while Serio's Market edged Noel's Rendezvous, 6-5, to claim the Minors crown.
PACIFIC PRINTING WINS JUNIOR LEAGUE TITLE
In Junior League, Pacific Printing defeated Southampton's Pure Foods 8-0 in the championship game Monday at 5:30 at the Florence Fields on Spring Street.
Congratulations to all the teams, players, coaches, parents and families on a great season!
Little League Tournament - game results:
Friday June 26 - Juniors @ Easthampton - N'ton Juniors WIN 3-2
Monday June 29 - Juniors hosting Agawam - N'ton Juniors WIN 8-2
Tuesday June 30 - N'ton 9/10 @ Agawam - N'ton 9/10 WIN 14-5
Wednesday July 1 - N'ton Juniors @ Westfield -
Thursday July 2 - N'ton 9/10 hosting Belchertown -
Friday July 3 - N'ton Juniors hosting Southampton -
Sunday July 5 - N'ton 9/10 hosting Amherst -
Tuesday July 7 - N'ton 9/10 @ Longmeadow -
Sunday, June 21
Little League Tournament Teams
Announcing NLL's tournament teams this season,
9/10 Tournament Team:
Tyler Darling
Liam Flynn
Benjamin Gottlieb
Leo Forrest
Rowan Hodgson
Trey Kuzmeski
Marty Maslowski
James McNally
Drew Michna
Cayden Payne
Shane Winters
Junior League:
Michael Baldwin
Jamie Berrios
Noah Brink
Mitchell Carson
Dillon Foster
Benjamain Gordon Sniffen
Zak Houle
Cole Lavalle
Jacob Matakanski
Jack Diggins
Orion McLain
Patrick Serio
Jarrett Smith
N'ton Little League will not be fielding a 8/9 or a 11/12 team due to lack of available players