Niagara Falls Red Raiders Basketball Association: Accommodations
Best Western Cairn Croft
6400 Lundy's Lane
Niagara Falls, ON L2G 1T6
Tel: 905-356-1161 or toll free 1-800-263-2551 Ask for Stephanie Hicks, Sports Manager

Identify yourself as a participant in the Niagara Falls Red Raiders Basketball tournament to guarantee these rates.
Rooms Starting at $89.99 - $129.99 plus tax dependant on date and room location. Take a dip in our heated indoor pool or unwind in one of our two family hot tubs. The kids will go wild for our two storey play park with 8' spiral slide, cobra copter & gyro jet. All within our Tropical Courtyard with walk out rooms.
Dining options abound, choose from the "Windows on the Lane" Restaurant for breakfast, lunch or dinner or our poolside snack bar the "Bourbon Street Bistro" featuring Fresh & Hot "Pizza Pizza" on site. Let the kid's select their favourite McDonalds or Pizza Hut - both adjacent, on property. If nightlife is your desire the "The Croft" offers dancing & entertainment nightly. Free On Site Parking as well as Free Wireless High-speed.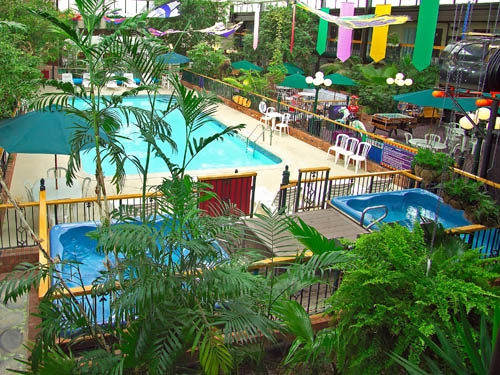 Cairn Croft courtyard
---

Special Rates Starting at $79.00 for participants in
Niagara Falls Red Raiders tournaments.
Radisson Hotel & Suites Fallsview
6733 Fallsview Boulevard
Niagara Falls, ON L2G 3W7
Toll Free: 1-877-325-5784
Call For Discounted
Group Rate Information
6733 Fallsview Boulevard
Niagara Falls, Ontario L2G 3W7
CANADA
Telephone: (905) 356-1944
Toll-free: 1-877-325-5784
Fax: (905) 374-2555
sales@niagarafallsview.com
www.niagarafallsview.com
www.facebook.com/radissonhotelniagarafalls
Handout:
Radisson Hotel Downloadable Flyer