Newtown Thunder: Welcome
Newtown Thunder
---
NEWTOWN THUNDER SOFTBALL
Formed in the fall 2014, our organization's mission it is to provide year round quality recreation and skill development in the game of softball, while bringing players closer together in the spirit of good sportsmanship and healthy competition.
ABOUT OUR TEAMS
The Newtown Thunder family is growing! For the 2017-2018 season, Newtown Thunder will be expanding its softball family again to hopefully include 4 teams, a U10, U12 and U14A & B. We are excited to be growing and providing a place for youth girls to play competive softball year round in Fairfield County.
---
Become a fan of
Become a fan of
Monday, June 18
Thunder 14U Takes 2nd Place in USA Summer Slam
Congratulations to Thunder 14U for second place in USA Summer Slam in Meriden CT. After finishing on Saturday 2-1, the team secured #4 seed, narrowly missing a first round bye on Sunday. The road to the championship was quite a challenge for which the Team Thunder rose to the occasion. The team beat the Xtreme Chaos 8-2 in the first game, followed with a win over previously undefeated #1 seeded Coventry Chaos 6-3, immediately followed by a see-saw championship in which the #2 seeded CT Gators Orange defeated the Thunder 8-3. This was a rematch from Saturday where Thunder had been the only team to beat the Gators in the tournament 4-2. Congratulations to Morgan Melillo, Britney Berg, Sarah Kick, Nicole Fisher, Gina Lewis, Sarah Savinelli, Katie Goyda, Kaylee Drago, Madelyn Twitchell, Jenna Reilly, Coach Megan Goyda and Coach Emily Woznick.
Monday, June 18
Newtown Thunder 10U Takes 2nd Place in Memorial Day Tournament
NEWTOWN THUNDER 10U paces second in Memorial Day tournament. Finishing 5-1 for the weekend.
Game 1: Thunder 14, Brookfield 3
Game 2: Thunder 23, Danbury 3
Game 3: Thunder 22, Ridgefield 3
Game 4: Thunder 18, Danbury 0
Game 5: Thunder 6, Brookfield 5
Championship Games: Thunder 5, Empire State Huskies 10
The Thunder played six great games of softball and the coaches (Ian Thoesen, Adam Bova and Drew Hall) couldn't be prouder of the determination, perseverence, tenacity and team camaraderie the girls demostrated throughout the tournament. Congratulations Kaliah Ames, Kayla Bova, Sophia Caruso, Valeria Gutierrez, Kaylee Hall, Sarah Hubner, Mia Kapur, Jenna Lagan, Olivia Lugo, Melissa Phillips and Madison Thoesen.
Monday, July 31
NEWTOWN THUNDER 13U Take 2nd Place at the 14U FCFSL Championships
The Newtown Thunder 13U girls softball team took second place this past weekend at the 14U FCFSL Championships in Ridgefield, CT. The girls played solid all weekend with an overall record of 4-1-1. In pool play they beat the Ridgefield Rebels 1-0 in their opening game, tied Norwalk TL ELite Black 6-6 in their second game and finished by beating the Pomperaug Panthers 9-0 to earn the #1 seed in the tournament. On the final day, Newtown Thunder defeated Norwalk TL Elite Green 7-1 and Fairfield Fury 9-8 before losing to Norwalk TL Elite Black in extra innings. Congratulations to our girls on an outstanding performance and an outstanding season!
Monday, July 31
Thunder 16u in USSSA Nationals
Newtown Thunder 16u had a great tournament in East Hartford. They played very well and won four straight games on Friday, July 28th. They came up short of the championship but finished fifth out of 23 strong northeast teams. Congratulations girls and best of luck in your future endeavors!
http://www.wfsb.com/clip/13536852/national-softball-tournament-held-in-ct
Tuesday, September 12
Video from USSSA National Championship Northeast Region
Monday, April 24
NEWTOWN THUNDER 13U TAKES 2nd PLACE at USSSA SPRING MADNESS TOURNAMENT
Newtown Thunder 13U girls took second place this past weekend at the USSSA Spring Madness Tournament in East Hartford, CT. The girls played solid all weekend going 5-1, beating the CT Mirage 11-2, CT Raiders 9-4, Wolcott Eagles Gray 15-5, Valley Fusion Valentine 11-2 and Lady Wildcats Premier 7-6 before losing to Seymour Tradition 12-4 in the finals. Congratulations to Katie W. for the team's first over the fence home run! And congratulations to our girls on a fantastic weekend and a strong start to our season.
Monday, June 27
Newtown Thunder 16U Take 2nd Place at Summer Crush Tournament
The 16U Thunder participated in the Danbury Summer Crush Tournament. They won 2 out of 3 games

on Saturday during pool play. The loss was a nail biter, Thunder tied it up with 1 minute left in the game but then time ran out reverting the score to the previous inning, 4-3. The Thunder seeded 3rd out of 12 teams earning a bye in the first round of elimination play on Sunday. The Thunder won game 1 against Cheshire Flames Black, 7-4. They won game 2 against the CT Raiders in the bottom of the 7th with a walk off single. The Thunder played Shoreline Sting in the championship game but came up short 8-0. It was a great weekend for the girls, they played hard and didn't give up despite the heat. Nice job.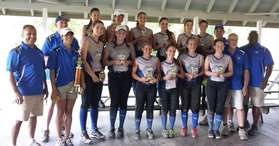 Thunder 16U - 2nd Place at Summer Crush Tournament
Sunday, March 6
Newtown Thunder 16U Take 1st Place at Midnight Madness IV Tournament
Congrats to Newtown Thunder 16U!!! They kicked off their 2016 season on March 5th at FPN's Midnight Madness IV tournament and took the Championship over Millbury Machine 3-2. Way to start the season!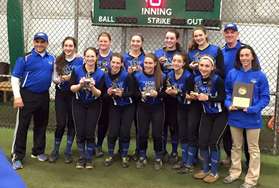 Midnight Madness IV Champions
Monday, July 27
Newtown Thunder 11U - Wins 1st Place at FCFSL 12UB Championship Tournament
The Newtown Thunder 11u took 1st place at the FCFSL 12UB Championship Tournament in Southbury on July 26th by beating CT Mustangs 3-2 in 7 innings.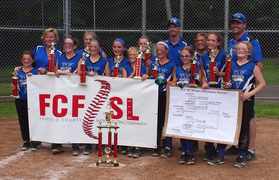 2015 FCFSL 12UB CHAMPIONS
Sunday, September 6
Newtown Thunder '03 Has Its Own App-Get It Now
Newtown Thunder '03 has created its own Smart Phone App (iPhone or Android), through Team App. You can now follow our team, get updates from the coaches, see our practice and game schedules and standing.
Follow the instructions in the the attached brochure to download the App
---
Handout:
Team App - Newtown Thunder