New Haven Heat: Welcome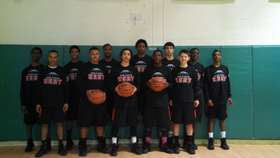 2014 New Haven Heat U14/8th Grade National Team
Hoop Group Spring Showdown Champs
Welcome to the Home of the New Haven Heat Basketball Club.
The New Haven Heat is a competitive travel basketball program based in New Haven, CT. Our mission is to promote a partnership between academics and athletics and prepare our Student/Athletes to play at the next level. Our program emphasizes a strong focus on leadership,responsibility,teamwork, and good sportsmanship. Our coaching staff is committed to the total development of The Greater New Haven area's top basketball players.
Originally founded in 1999, the Heat has helped produce many of the area's top High School basketball players and also has given a jump start to other local AAU programs as well.
On this site you wil find a list of New Haven Heat Alumni. Also, you can find photos of past Heat teams, a list of Heat Coaches and info, photos and video of this years teams. We are all really excited about this upcoming season and can't wait to show everyone that New Haven's Original AAU Program is back and better than ever.
If you are interested in playing or coaching with the Heat or for more information about our AAU teams or one-on-one instruction/personal training, send an email to newhavenheat@yahoo.com
Thank you for visiting our site and please take the time to register and sign our guestbook.
Jay-Z Featuring Rihanna.. Run This Town