Nemesis Elite: NE NEws: 2016 Goals... Academics - Softball - College... An Assignment from Coach Manny 12/17/15.
2016 Goals... Academics - Softball - College... An Assignment from Coach Manny 12/17/15.
My 2016 Goals
~ If your dreams do not scare you...dream bigger ~
Follow Nemesis Elite on... for news & pics.
Nemesis Elite Players, Campers, Coaches and Parents...the Power of Goal Setting...by Coach Manny.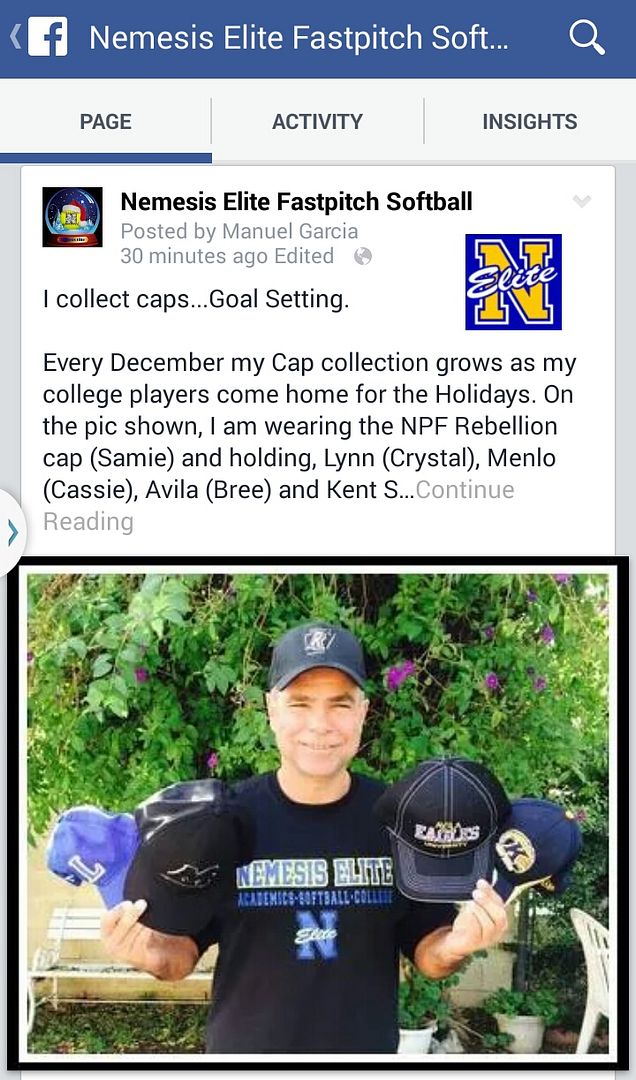 The Nemesis Elite organization is goal driven. One of the many goals that the organization has for this season is to conduct 3 college workshops, one has been completed and one more is scheduled for this Saturday 12/19/15. The purpose of these workshops is to educate our parents and motivate our players to set very specific goals. Indeed, each player has or should have their college plan worksheet (High School and Middle School) as part of their college binder to drive behaviors into outcomes. One step at a time...see video below then continue.
One step at a time...but just because we perform a college workshop does not mean that we are done. It's just one step...one of many steps. As we know, the New Year is a time for resolutions, a time to stop and think about what we really want and to formulate a plan. With that in mind, every Nemesis Elite player and camper is required to prepare a one-page document that outlines their academic, softball and college goals (action statements) for 2016.
As an example, below is a picture of a goal that I wrote on 6/21/94. The goal was..."To Earn a BSBAM (Bachelor of Science in Business and Management) degree from the Univ. of Redlands with a 3.9 or higher GPA by December 1996. Result, I graduated Summa Cum Laude, 4.0 GPA. Note the date on the degree, 12/31/1996. This is the power of goal setting. Players/Campers, now is the time to set your goals for 2015 and beyond. I have attached a video to stimulate the thought process below and learn how to write SMART goals. Again, every NE player/camper, 8u through 18u, has a goal writing assignment. The assignment is detailed below.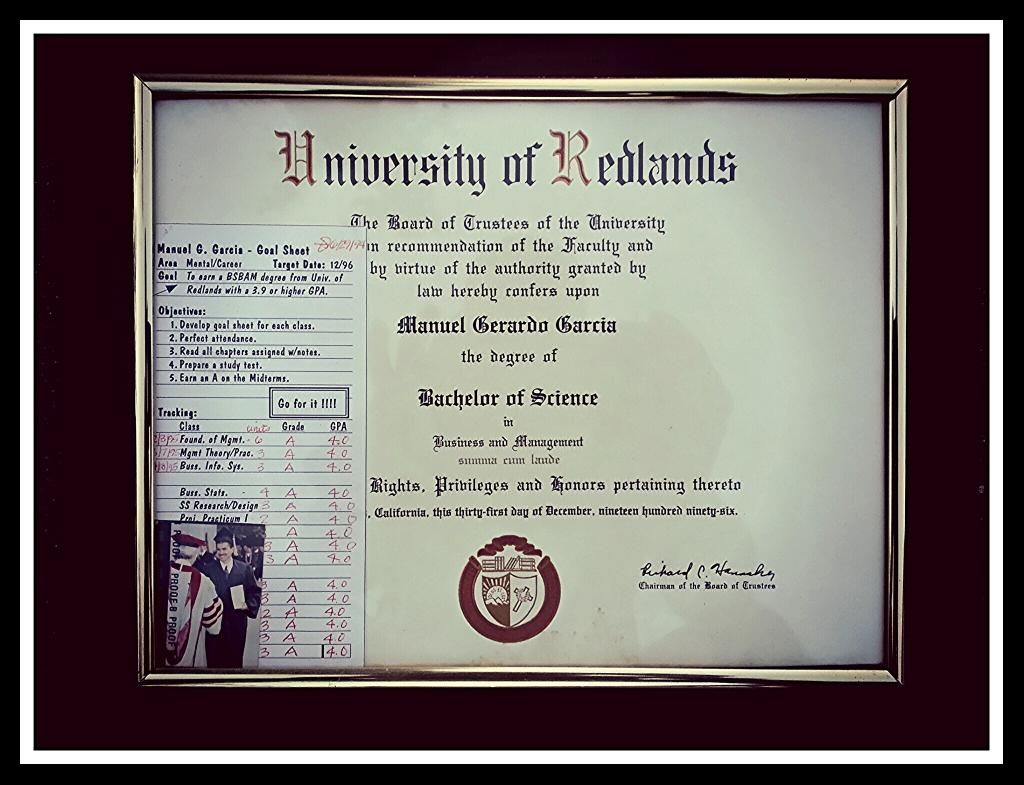 Assignment for All Players
Players/campers write your academic, softball and college marketing/recruitment goals for 2015. Apply the following SMART criteria (see video below):
S = Specific
M = Measurable
A = Attainable/Actionable
R = Realistic/Responsible
T = Tangible/Time Bound
Write your goals in nice 8 1/2 by 11 paper and place in a frame. Complete sentences. The frame will be hung somewhere where you will see it every morning.
Example 1: To earn all As on my next report card.
Example 2: To earn perfect attendance at school this year.
Example 3: To earn a spot on my HS varsity squad.
Example 4: To execute 3 unofficial visits to colleges by Dec 2014.
Example 5: To earn a spot on the HS All-League First Team.
Example 6: To commit to a college program by August 2015.
Very Important - Players and Parents signatures required on the document.
Make it NICE!!! As it reflects on YOU!!!

Below are a couple of video clips to help you with the process
Video Clip - How To Set SMART Goals