Nemesis Elite: NE NEws: 9.30.13 - September Monthly Recap - Which Team Won the Most Games?
9.30.13 - September Monthly Recap - Which Team Won the Most Games?
September
Monthly Recap
~Keep up with the News...the NE NEws~
18u Gold

Can the NE 18u Gold 2013/2014 performance surpass the performance of last year's 18u Gold squad? Last season, the NE 18u Gold squad was recognized as one of the top-100 teams in the 18u division nationally. Well things look very promising to date. The squad completed September with 10 wins, 2 losses and 2 ties.
See table Below for a Summary of September Performance
| | | | | | | | | |
| --- | --- | --- | --- | --- | --- | --- | --- | --- |
| Performance Category | ERA | WHIP | Batting Avg. | OBP | Slugging | Runs Scored | Runs Allowed | Fld% |
| Year-To-Date | 1.63 | 1.26 | .391 | .472 | .475 | 76 | 23 | .941 |
Key to the team's success, as suggested by the above statistics, is the performance of the NE battery. Ness, Adrienne and Deidra along with the dynamic catching duo of Annie Q. and Madee R. are the foundation of the team and performed very well in September. On the offensive side, Madison W. and Annie Q. led the team with a .526 and .476 batting averages respectively. Defensively, Cassie provides steady if not often stellar performance at 2b (1.000% fielding in September). Additionally, Kamryn and Elise (although playing in less than 50% of the games in September) flashed defensive brilliance and are sure to make many "take-a-ways".

The team, and players, is/are very busy in October with testing, exposure events, college visits, camps and 3 exposure tournaments. The TCS NIT in San Diego at the end of October will be a good "measuring-stick" event for the squad.

The 2013-14 goal of the NE 18u Gold Squad is a PGF "Premier" National Championship.

According to Coach Manny, "I am very impressed by the work ethic of this team...we (staff) recognize that we are asking a lot of our young ladies...and they in turn come to work with a hunger that is contagious and the field performance shows. Let's Roll."



18u Blue
The 18u Blue squad completed September with 3 wins and 11 losses. As the start of anything new, things at first are difficult. September was a get-to-know-each-other-month. According to Coach Manny, "the 18u Blue team ran uphill the entire month...nothing was easy".
See table Below for a Summary of September Performance
| | | | | | | | | |
| --- | --- | --- | --- | --- | --- | --- | --- | --- |
| Performance Category | ERA | WHIP | Batting Avg. | OBP | Slugging | Runs Scored | Runs Allowed | Fld% |
| Year-To-Date | 3.62 | 2.1 | .279 | .357 | .351 | 42 | 71 | .876 |
Now with one month of performance under its belt, this team can start to make small but permanent improvements. The team has to improve in one key area...DEFENSE! A .876 fielding percentage will not get it done...too many errors!
On the offensive side, ShaVonne and Meese led the team with a .529 and .450 batting averages respectively. Defensively, no one player stood out.
The coaching staff is implementing changes to improve the on-the-field performance of the squad.

The Goal of the 18u Blue team is to win 50% of its games in October.
According to Coach Manny, "What we are going to witness as the year progresses is the development of this group into a team...no one can cheat the process. It takes time to come together...just ask the Lakers of last year. Success is marked by improvement. Let's Roll."
16u Gold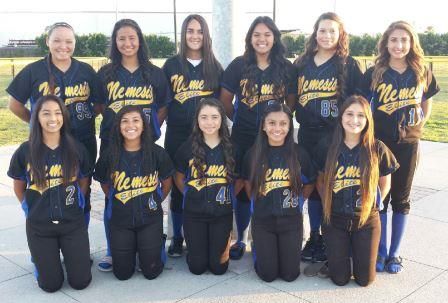 16u Blue
NE 16u Blue had a successful first month (9-2). With marquee wins over quality opponents, the team is in the beginning stages of building a legitimate contender. With highlight wins over USA Athletics and OCBB in the first month, the team is positioning itself to make a run for PGF this season. We are founded on defense (.925 team fielding percentage) and pitching 2.48 Team ERA/ 1.318 WHIP (Mya'h 1.068/ERA Hannah 1.909/ERA in a combined 38 innings of work) we are definitely a forced to be reckoned with on the defensive side of the ball.
Offensively we are good, but have an opportunity to be better here. Team BA is respectable at .341, with aggressive base running being a heavy focus. (61 stolen bases at 93%) we continue to take advantage of any opportunity we see. The challenge with the team will be to get our bottom 6 averages up to .300, while building depth in all defensive positions. Then, and only then will this team be complete.

With success, complacency begins to become a factor as evidence in the last 4 games. By allowing teams in opportunity to stay in games, we continue to walk a fine line of winning and losing as noted with our last 4 games being decided by 1 run. You can only walk that line so long before it comes back to bite you. The drive to continue to execute will challenge our coaching staff for the next part of the season.

All players and coaches have contributed to the success so far. It is impossible to mention an offensive or defensive MVP because each member has produced at some point. The statistical Leaders are as follows:

Hitting:
Hannah J: BA .615 OPS: 1.667
Pitching:
Mya'h F: ERA 1.068 WHIP 1.119
Fielding:
(over 15 opporutinities)
Kayla Y: 1.000
Myah F: 1.000
Brianna L: .988
Emma C: .952
CJ: .933
Janae: .929

14u Gold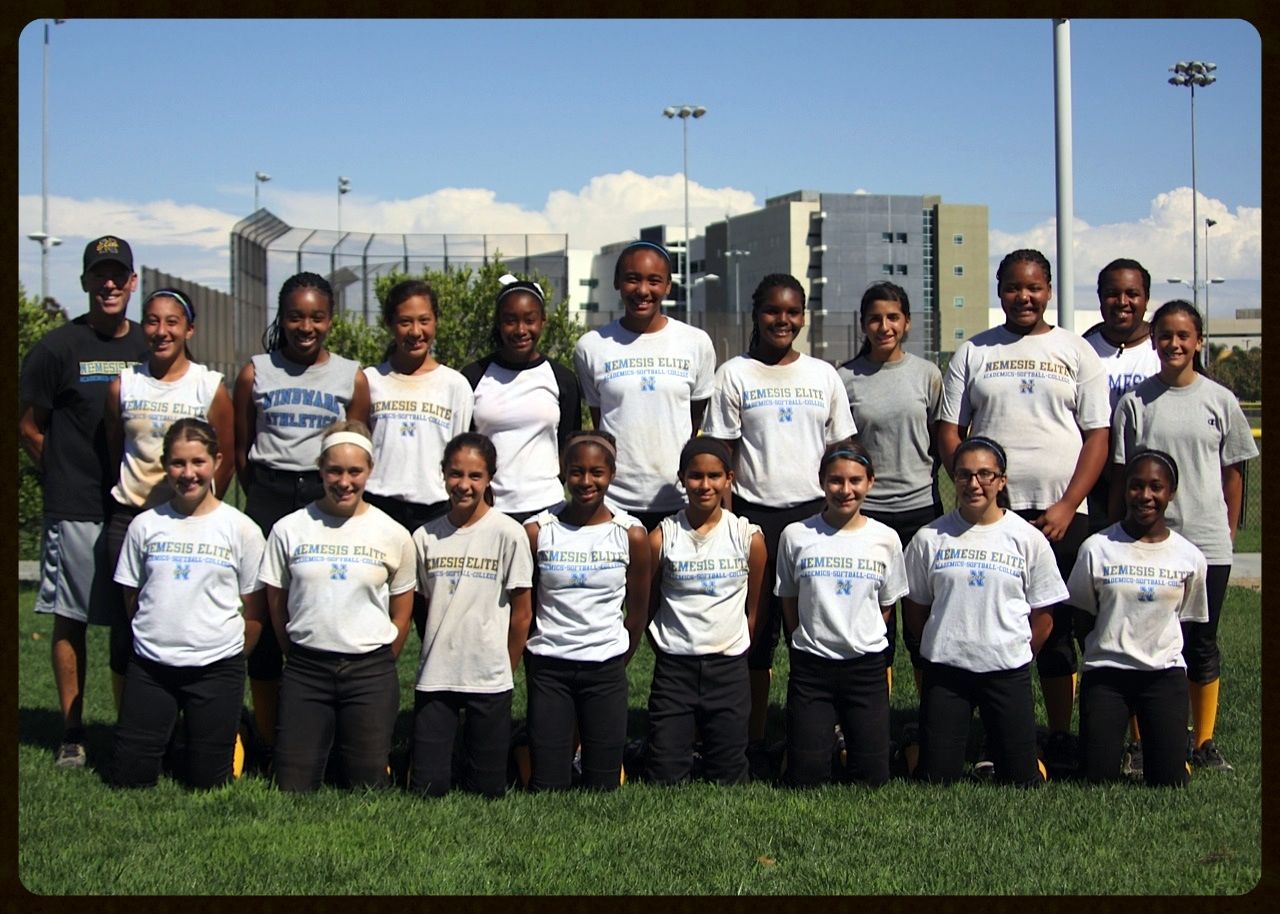 12u Gold
12u Blue
September Monthly Recap
Nemesis Elite- 12U Blue
The Nemesis Elite 12U Blue team was newly formed and began work outs in September. The team started with an initial 10 players and has finished the month of September with 11 committed team members.

The team got off to a quick start with the assistance of interim manager, Mary Vasquez. We have placed a team of co-managers, Allison Zellien and Crystal Garcia with Allison Zellien also acting as head coach alongside an integral staff of coaches; Heather Salisbury, Ron Mabry, and Randy Rubin. Many parents have also stepped up to get the team rolling; Cyndi Steele team photographer and statistician, Ron Mabry Field coordinator, Cheryl Wong snack shack coordinator, and Charlene Wells Fundraiser coordinator.

12U Blue has participated in its first two friendlies during the month of September, with a record of 2-4. The team has been working with 12U gold to ensure that all Nemesis members are trained and educated in true Nemesis fashion, allowing the girls and coaches to connect with their counterparts from the other teams. The team reflected much improvement from the first friendly to the second, and plans on continuing their efforts towards a winning record and a successful transformation from a startup team to a true contender. The team, as well as each individual player, has been evaluated and given goals to achieve throughout the season.

Team Defensive Goals for the Fall season:
1.
ABC- All Bases Covered
2.
Communication on the field

I am very happy to report that the team dynamic for the 12U blue is phenomenal and can only get better with time. The members of the team from players to parents to coaches to support staff have quickly learned to work together and the team is in line for a successful season.

12U blue plans on attending 2 friendlies in October, hosting their first friendly on Sunday Oct 6th, and working with the organization during the planned NE Civil War as well as the Halloween Tournament. November is also packed with game time experience through 2 NE friendlies and 1 away friendly, preparing the team for their first major event at the Brenda Marsh Thanksgiving tournament.

September Players of the Month
Offensive: Danaya Carbajal (.375 avg, .615 OBP, 3 hits with 1 extra base, and 2 runs)
Defensive: Niki Mabry (2 wins, 3.0 ERA, 5 Ks, and 2 Hits allowed)


10u Gold

The NE 10U Gold started the 2013 winter season about as expected. The team played nine games in September and finished the month with a record of 6 wins and 3 losses. They played very well and beat most of the new teams to travel ball, but struggled against the more experienced teams such as SD Power Surge '03 and the OC Batbusters/Mizuno (Chavez). The team also lost to Strike Force, but we essentially beat ourselves in that game as most of Strike Force's runs were unearned.

When we put the 10U Gold team together, it was evident from the beginning that this was going to be a team of hitters. And the team has not disappointed. Several players bring a lot of power to the plate and have the ability to stroke solid hits to the outfield, while others are regularly making contact and putting the ball in play. We also have some good bunters on this team. I am pleased with what I have seen thus far with our offense, but there is still a lot of room for improvement. Some of the players are still struggling with the batting signs, and we have to remind the batters to take a more aggressive approach at the plate (i.e. emphasize the "yes-yes-no" approach). We have also worked on base running, particularly on picking up the third base coach, and how to effectively tag up on fly balls. Offensive highlights for the month include home runs hit by Ella Parker (2) and Soraya Santiago.

The defense has struggled as we have rotated players into positions that they are not accustomed to playing. We did this so that we could evaluate strengths and weaknesses. As we get the players into their regular positions, I feel confident that our defensive performance will improve greatly. A point of emphasis on defense has been getting the players used to making one-handed catches, and making more accurate throws. Our pitching has also been inconsistent, but it should improve as the girls continue to get more innings under their belt. With six pitchers on the team, and a fifty pitch limit, the girls are only getting about two innings in the circle each weekend. Therefore, we have urged the pitchers to throw more during the week to keep their mechanics strong. This seems to be having some impact as our pitchers performed much better during our last friendlies of the month.
Overall I am pleased with the team's progress after just three weekends of play, and I am optimistic that they will continue to improve and make a positive showing at the Nemesis Halloween tournament in October.

Coach Steve.
10u Blue