Nemesis Elite: NE NEws: 8.3.13 - 18u Division 2013/2014 - A letter from Coach Manny
8.3.13 - 18u Division 2013/2014 - A letter from Coach Manny
Nemesis Elite 18u Division
Click on the Try-Out Section for details
regarding the NE 18u Division and try-out dates.

Heading into the fourth year of a five-year restructuring plan and following the 2012/13 success of the 18u Division in which the organization and the 18u division met or surpassed every goal; finished top-10 in many events (two examples 18u Champions Cup 5th place out of 96 teams & Colorado Fireworks 18u Open 7th Place 80+ teams), qualified for the PGF "Premier" Nationals and committed six players to colleges, the organization is changing the structure of the division to enhance integration, capture opportunities and better meet the needs of all participants in the organization.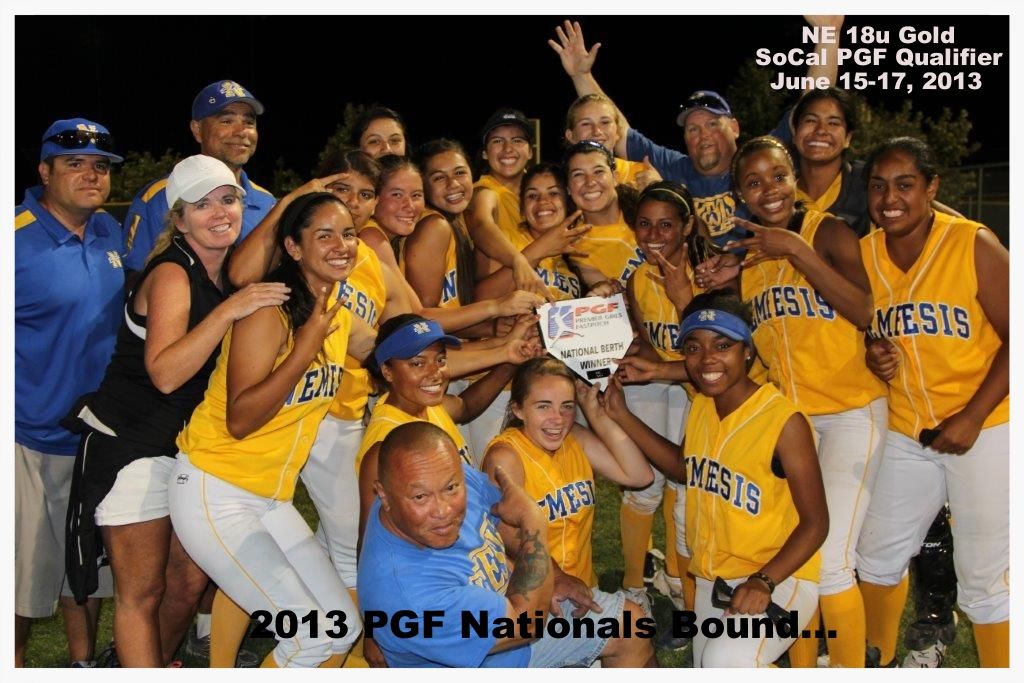 Starting at the top, Sandy Grana and Manuel Garcia will provide the direction and leadership for both teams. Sandy will be manager and Manny will be the head coach for both squads. Marney Wright will be the Assistant Manager helping with the substantial managerial workload; again for both teams.
On the field, Brad Wright and Henry Moranchel will be the lead assistant coaches. They will support the development and practice plans set by Manny and lead practices. Several coach and player development seminars/workshops are planned. The goal is to have a seamless operation of the teams in the 18u division.
Team Assignment
Players will be assigned to a specific team. However, the goals of the organization and/or the 18u division have a higher priority than the goals of either of the teams. Thus, players may be asked to participate in either 18u team (or with another age division) at any time in order to meet organizational goals, 18u division goals, 18u team goals and clearly to meet individual player development and/or exposure to college coaches opportunities. Each team member has to clearly see the connection between their personal goals, their team goal(s), the 18u division goal(s) and the organization goal(s).
Practices
1. Integrated, both teams will work together under the direction of Manny and the lead coaches.
2. Position specific training. Practices will be designed to enhance the specific skill sets required of each position. Typical Wed practice; 5:00-6:00 pitchers/catchers; 6:00-6:45 Strength Training; 6:45-8:00 Skill Sets; 8:00-9:00 Hitting (Group A TPBC; Group B Live Hitting alternate following week).
3. Significant focus on strength building. Teams will do strength/explosiveness training every practice.
Commitment
Players are expected to have 100% participation. Seniors will be allowed to miss specific HS activities as approved by Manny. If you cannot commit yourself to the DIVISION and TEAM GOALS this may not be a fit for you. Plan on working hard.
My College Plan
Coach Manny working closely with Marney will assist players in the 18u division with the development and execution of their College Plan and also with 18u division marketing aspects. Parents have a key leadership role in this part. Various workshops and in-house exposure opportunities planned.
Events
Teams will enter both competitive and exposure events. The goal of the 18u division is to have a significant and relevant presence in all major events. Events under consideration include ASA, PGF and TCS.
Events Under Consideration
9/14-15 RR Fall Showcase
10/4-6 TCS BLD Showcase
10/18-20 Surf City October Showcase
10/26-27 TCS SD NIT
11/1-2 D9 Sun Classic Kissimmee Florida
11/22-24 Surf City Early Thanksgiving
Jan 2014 TCS Worth Cup
May 2014 PGF AZ Qual
June 2014 Zoom Into June
June 2014 PGF SoCal Qual
June 2014 PGF NorCal Qual
July 2014 CO Fireworks/Louisville Slugger
July 2014 Champions Cup
July 2014 TCS Nationals / Atlanta Legacy
July PGF Premier/Platinum Nationals

We will do all the above with a focus on the three pillars that we stand on:
Academics ~ Softball ~ College
...not just words...deeds!

Coach Manny
8/3/13