Nemesis Elite: NE NEws: 6.14.13 Weekend Recap 18u Gold wins a berth to PGF Nationals
6.14.13 Weekend Recap 18u Gold wins a berth to PGF Nationals
Weekend Recap
6/14-16/13
~Keep up with the News...the NE NEws~
18u Gold
The Nemesis Elite 18u Gold squad entered the 72-team SoCal PGF qualifier (Hemet CA) with a couple of challenges. First the team received a horrible draw with a play-in game at 12:00pm on Friday. The early Friday start would make key players Taylor and Crystal unavailable. Friday was about earning two wins and surviving to Saturday. Ne came away with two wins, defeating Team Smith and American Athletics.
Having survived Friday with no losses the team would have to clear Cal Thunder and FC Snyder to advance to Sunday. NE won both games with the FC game proving to a be a nail bitter. NE makes it to Sunday in the winners bracket and avoids the carnage down in the losers bracket. Things are looking good but American Pastime (AP) awaits NE having allowed zero runs in their three victories.
On Sunday for the first time this spring NE 18u Gold takes the field with a full roster. NE looks sharp in the Gold and White. The game vs AP does not disappoint. Great pitching, timely hitting and precise base running allows NE to edge out a 1-run victory. Kamryn makes some incredible defensive plays to preserve the win.
NE now has to win one out of two games to qualify for PGF Nationals. NE could not put hits together to produce runs and defensive miscues allowed runs to come across...FC Blanco defeats NE 3-0. A
One more win! NE needs to win the game vs Corona Angels (CA) to win the berth. CA took a 1-0 in the 1st. Then, NE answered and took a 2-1 by the 2nd. CA tied the game in the 3rd then NE scored once in the 4th (a monster Taylor Glover HR) and again in the 5th with a beautiful Leilani Myadi/Kamryn Watts squeeze combination. NE wins 4-2. PGF 18u Nationals Qualified.
Players of the Week
Janel Hayes - 6 wins
Offensive Players - Ness (2 Hr), Tay (2 Hr), Leilani (2 suicide squeezes), Kam
Flashing Leather - Kam

NE Gold vs. Team Smith (Carl)
NE Gold vs. American Athletics
NE Gold vs. Cal Thunder
NE Gold vs. Firecrackers (Synder)
NE Gold vs. American Pastime
NE Gold vs. Firecrackers (Blanco)
NE Gold vs. Corona Angeles

8 - 3 (W)
8 - 0 (W)
11 - 4 (W)
5 - 4 (W)
2 - 1 (W)
0 - 3 (L)
4 - 2 (W)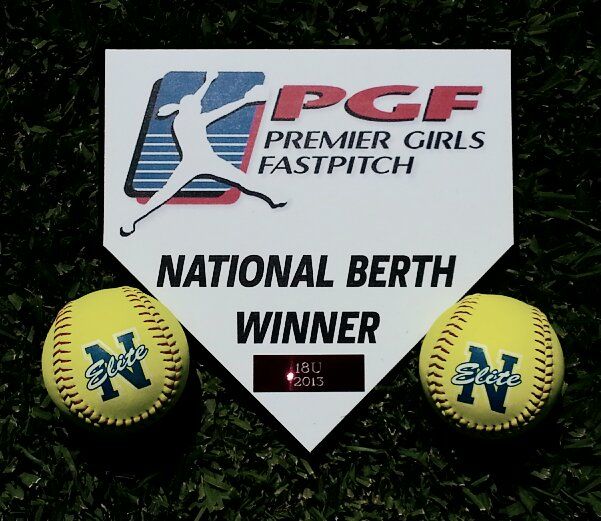 18u Blue
Nemesis 18u Blue participates in
NE Blue vs.
NE Blue vs.
NE Blue vs.
16u Gold
NE 16U Gold participated in the PGF Qualifier:

NE Gold vs. OC Batbusters
NE Gold vs. Pure Fastpitch
NE Gold vs. Team Smith (Blake)
NE Gold vs. Cal Cruisers

3 - 5 (L)
12 - 0 (W)
4 - 3 (W)
3 - 5 (L)
This weekend we competed at the PGF National Qualifier in Anaheim. Our first game was against OCBB who we led 3-1 for 6 innings. Unfortunately we gave up an HR in the last inning to lose the game. Time to rush over to the opposite side of the park and play Pure Fast Pitch. We mercied them in the 5th inning 12-0.
Last game of the day proved to be a doozy! We faced Tim Smith (Blake) who was coming off a game and ready to play. We were coming in cold so we had to warm up to their pace quickly. And we did. We were up 4-2 going in the 7th inning. Team Smith fought back and put 4 runs...we answered with 2 runs to tie it up. 8th inning here we come. Team Smith puts 3 runs on the board but we fight harder and put 4 wins to win the game. Game finished at
11:00 PM
!
We were back on the field at
6:30 AM
and 4 1/2 hours sleep proved to be a little much. The girls fought hard and cheered the entire time but we just couldn't pull off the win. Lost to Cal Cruisers 5-3.
We have an awesome group of girls that fight to the bitter end and I am so proud of them. We get lots of compliments from other coaches and they deserve them all. Next weekend we are off to Salinas for another PGF Qualifier.
16u Blue
16U Blue particapitese in ASA State Tournament in Lancaster.

Nemesis Elite 16U-Blue and San Diego Elite each put runners in scoring position on Friday, but Nemesis Elite 16U-Blue capitalized on more RBI opportunities, pulling out a 3-2 win at Lancaster.
In the second game NE fell 14-0 to SD Power Surge at Lancaster on Friday. To many errors did not make this a very competitive outing for our team.
Saturday morning NE came back strong and pounded Strike Force on Saturday 10-2 at Lancaster in five innings. Timely hitting helped in this game to help us advance in bracket play.
Nemesis Elite 16U-Blue wound up on the wrong side of a 6-0 score on Saturday at Lancaster, tasting defeat at the hands of Firecrackers HR. We came out with the wrong mind set and we were unable to overcome the slow start.
The 3rd game of that day NE played Revolution with a win 8-0 on Saturday at Lancaster after pouring on seven runs in the fourth inning. Close game for two teams fighting to stay alive in the Losers bracket. This being our third game in a row the girls stepped up and core/conditioning training started to pay off.
Nemesis Elite 16U-Blue took a 10-1 loss at the hands of OC Elite at Lancaster. Miscommunication and a few mistakes in elimination game cost us this win.
Overall the tournament was very eye opening for parents, kids, and coaches. We see a bright future and definite improvement. Being only our second tournament together things look very promising for the future of this team. We qualified for regionals and look forward to a better outcome.
14u Gold
Nemesis 14u Gold hosted friendlies at Discovery
NE Gold vs.
NE Gold vs.
NE Gold vs.
14u Blue
Nemesis 14u Blue
NE Blue vs.
NE Blue vs.
NE Blue vs.



12u Gold
NE Gold vs.
NE Gold vs.
NE Gold vs.
12u Blue
12U Blue hosted a double header at Fullerton College against Aiea Warriors of Hawaii.
NE Blue vs. Aiea Warriors
NE Blue vs. Aiea Warriors

5 - 5 (T)
4 - 2 (W)
The team did well having a combined total of 19 hits, 9 runs with minimal errors in both games. Our pitchers also did well having a combined total of 7 strike outs allowing only 3 on base. All the girls did well hitting the ball and having patience at the plate that no one struck out. There were couple of girls who had RBI's; beginning with Brianna earning herself an RBI in the first game. Joleen and Emilie both had 1 RBI each on a single and Mia had 1 RBI on triple in 1st game and another RBI on a double in the second game. After the games both teams did a player/coach gift exchange and for those who were able to stay went out for pizza afterwards. Fun was had by all.