Nemesis Elite: NE NEws: 6.1.13 Weekend Recap - 16u Gold goes undefeated in ASA Instensity Qualifier..all teams back in action.
6.1.13 Weekend Recap - 16u Gold goes undefeated in ASA Instensity Qualifier..all teams back in action.
Weekend Recap 6/1/13
~Keep up with the News...the NE NEws~
18u Gold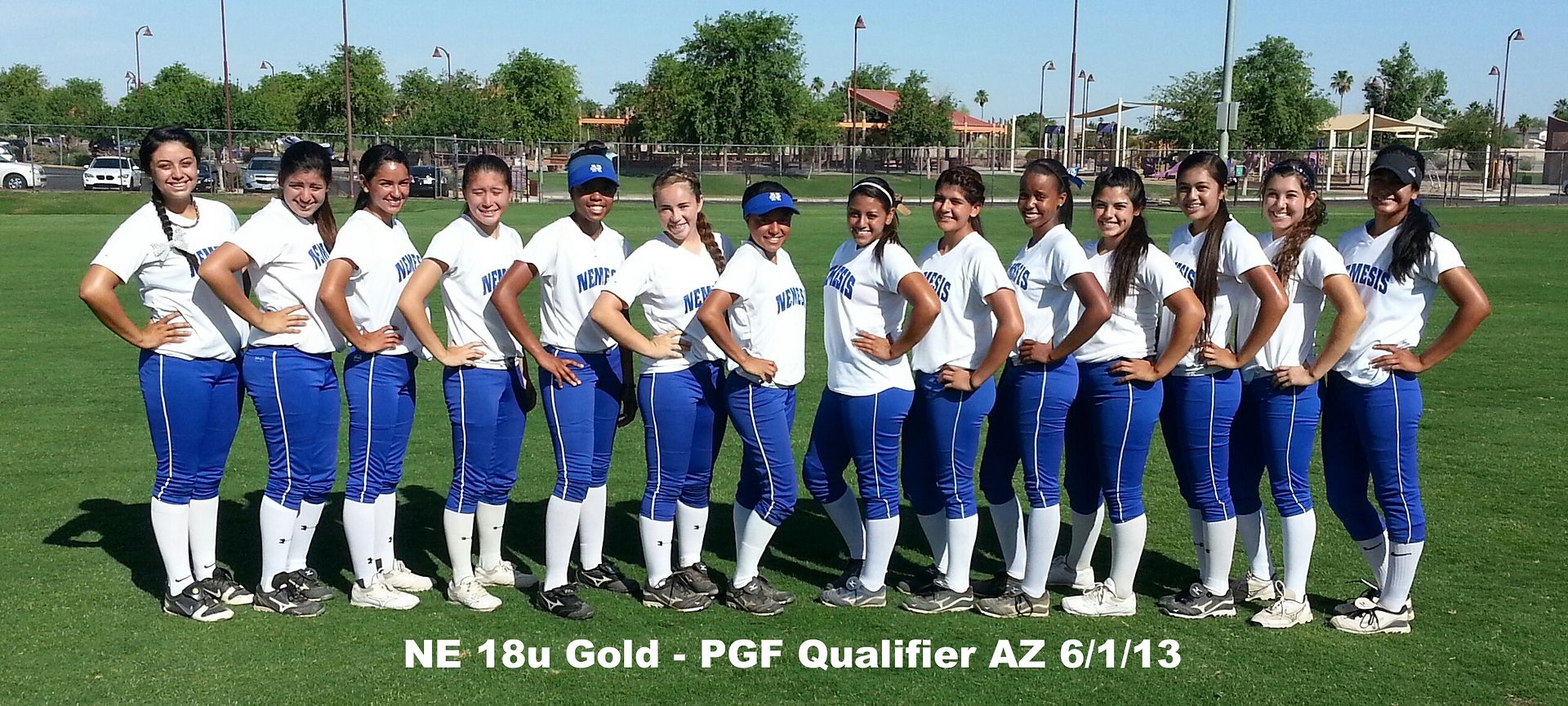 NE 18u Gold travelled to AZ to compete in the PGF 18u Qualifier. Team experienced a rough outing in the 110F heat. Team looks forward to the return of Ky and Janel and shedding the HS rust. Back to practice this week. Next is the Zoom Into June Invitational.
NE Gold 1 vs. AZ Hotshots 6 (eventual champs)
NE Gold 5 vs. AZ Cats 10

18u Blue
Forthcoming...
16u Gold
Nemesis Elite 16U Gold goes undefeated and takes the Championship!
NE Gold vs. San Diego Elite
NE Gold vs. San Diego Renegades
NE Gold vs. Firecrackers Young
NE Gold vs. Firecrackers Rice

12 - 3 (W)
2 - 1 (W)
8 - 3 (W)
4-2 (W)


We competed in the ASA Intensity National Qualifier in La Habra. Ladies were pumped up and happy to be back together from the HS break. This was our first weekend playing together with just our players. Started off a little slow trying to work back into the travel ball pace but quickly picked up momentum.

Saturday
we won our first game so had a little bit of a break which is when we rooted on Janel and Kylie from the 18U Gold team via the live stream from our cell phones. They were competing in the CIF finals for Lakewood HS. Their game ran late so we didn't get to see the finish. It was now time for us to take on the Renegades...very hard fought battle all the way to the end of that game! It was definitely a pitching battle! We walked away with the win.
Sunday
we were still in the winners bracket and took out two Firecracker teams to take the Championship! So proud of my players and Alyssa...she was their supporting her teammates and rooting them on in the dugout the entire time. She even helped them warm up by pitching the "eyeballs" for them to keep their sticks on fire!
are one heck of a force to be reckoned with! Love them!
16u Blue
NE Blue vs. Team Primus
NE Blue vs. Firecrackers - Young
NE Blue vs. Diamonds

16-0 (W)
8-1 (L)
1-2 (L)
Recap Forthcoming...
14u Gold
NE Gold vs. SB Shock
NE Gold vs. Pumas Black
NE Gold vs. Players Edge

11 -4 (W)
3-4 (L)
9-2 (W)
Team played well this weekend and continues to develop in the young Championship Season. Strong hitting is anchoring this team, and defensive cohesion is beginning to form. Solid Catching by both Jules and Stephanie contributed to 5 booked put-outs, while several other close calls where recorded. Pitching is keeping us in contention every game as Mya'h and Kassy are getting stronger every outing by controlling the game and keeping hitters off balance. Ali is leading the team batting .632 with a .750 OBP and a whopping .842 slugging percentage through 12 games.
The biggest areas of opportunity are 1-3 defense, and execution of small ball offense. Another area of focus this week is bringing up the bottom 1/3 portion of the hitters. The team batting average for the season is .418.

Next: ASA States in Lancaster!
14u Blue
Nemesis 14u Blue played in a 3-game friendly

on Sunday

at Independence Park. The team found its offensive groove back and scored 33 total runs for the day!
NE Blue vs. Mizuno Diamond Girls
NE Blue vs. Players Edge
NE Blue vs. SB Shock

16-1 (W)
8-0 (W)
9-2 (T)
Destiny Cerda was the starting pitcher for the first game and backed by great defense, held the opponent to just one run. NE 14u Blue scored 16 runs on this game by performing great hitting and awesome baserunning.
The hitting performance continued for the second and third game as NE 14u Blue continued to rack up the runs, and great defense was exhibited by minimal errors. Pitching was tremendous since we had four different pitchers for the day, which probably made the difference in runs allowed.
NE 14u Blue would like to thank Mia Parker, Kamryn Bellamy, DJ Davis, and Kiarra Crockett-Pope for providing assistance and playing in this day's friendlies.


NEXT: ASA State Championship Tournament in Lancaster, CA.
12u Gold
12u Blue
NE Blue vs. CA Thunder
NE Blue vs. So Cal Heartbreakers
NE Blue vs. So Cal DeMarini

9 - 5 (W)
8 - 0 (W)
8 - 4 (W)
Team played in the Nemesis Elite Friendly hosted by the 12u Gold team. The girls did a tremendous job having a winning weekend. The team had a combined total of 34 hits and 25 runs. Our pitchers did an excellent job as well having a combined total of 13 strikeouts and although they did allow a combined total of 10 walks, defense worked hard to get the outs and not allow the runners to score.

Over all it was great to see the girls hard work pay off and also have fun doing it.
Player of the week: Mia, not only for hitting a Homerun and getting 2 RBI's in the first game, but for hitting another Homerun in the 2nd game and getting 3RBI's, for a great show of hitting skill and level of focus. Keep up the good work kid!!