Nemesis Elite: NE NEws: 10.14.13 - D9 2013 Sun Classic - Update
10.14.13 - D9 2013 Sun Classic - Update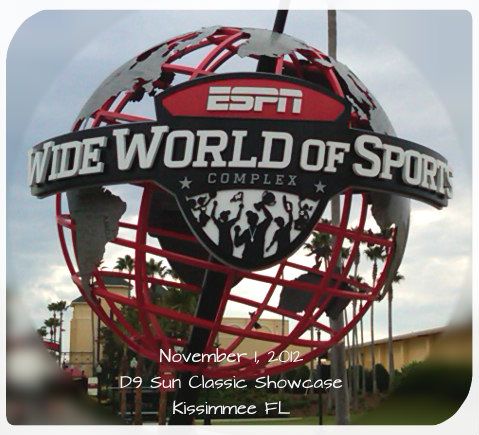 The selection process for the 2013 Florida

Sun Classic started in December 2012. Nemesis Elite has entered two teams in this years event, a 16u and 18u team. This event is considered "the" premier college recruiting event in the country.
Visit www.d9events.com to learn more.
Process
1. Submit an essay via your team manager to Manny. Your essay should cover the following: a.) Why you want to go, b.) Why you should be selected and c.) What will you do to prepare.
2. Initial essays were due by 12/1/12. Include a $100 check with your essay. If you are selected the $100 is not refundable. 8/30/13 - Additional spots open on both teams...contact Marney at 562-371-5288.
Your managers have been given cost estimates. Call them if you have any questions.
Key Dates
12/1/12 - Essays due with $100 check. (this is non-refundable if accepted)
5/5/13 Su - $100 due (refundable if athlete does not go up to 9/11/13)
7/3/13 W - $100 deposit for room block (goes toward hotels rooms)
8/7/13 W - D9 Update Mtg, 5/5 and 7/3 deposits due.
9/11/13 W - Mtg @ Disc 6:30pm - Verification of Air Transportation & Arrangements.
10/29/12 T - Pre-Departure Mtg 7:30pm.
10/30/13 W - Travel Day
10/31/13 Th - Combine (recommended) and/or team workouts in the morning and afternoon.
11/1/13 F - Games (3) begin after 11am.
11/2/13 Sa - Games (3) continue.
11/3/14 Su - Morning game and travel home (ok to depart after 5pm EST)
Status Table 48/30/13
1. Players in Gold have been placed on team.
2. Players in white are under consideration or no deposit on record.
3. Players with an asteric * are D9 returners from 2012.
4. 2/17/13 - Initial listing places Seniors/Juniors on 18u squad with 10th and 9th graders on 16u squad...this is subject to change.
5. 4/26/13 - Players placed on 16u or 18u teams...this is subject to change.
6. 8/4/13 - Rosters updated 3 players may play both 16u and 18u...subject to change.

18u

16u

Name

Name

Sarah Maldonado

CJ Apacible

Brianna Peralta

Myah Fields

Madison Wright*

Marisa Juarez

Cassie Grana

Kayla Yoshioka

Deidra Genera

Hannah Johnson

Jeanelle Medina

Erica Arguello

Madee Rafuson

Zoe Juarez

Anessa Cepeda*

Emma Carruth

Annie Quine

Brianna Lopez

Adrianne Guerra

Paisley Petruzelli

Angelina Gonzales

Rebekah Maldonado

Jaycie Bruno

18u Roster Complete




Spot Available - Any Position
Last Year (2012) NE 18u Gold:
Friday

Saturday

Sunday

Scores

NE 8 - Wa NW Sidewinders 0
NE 11 - FL Gainsville Gold 9
NE 7 - Team Florida Gold 3

NE 3 vs CT Charmers Gold 1
NE 1 vs Vienna Stars Gold 10
NE 4 vs Lady Gators Gold 2

NE 2 vs Illi Chill 2

Colleges

College of Charleston - NC
Marshall University - TX
Kent State - OH
Longwood University - VA
Lehigh University - PA
Fordham University - NY
Charlotte State - NC
Fairfield University - CT
Stonybrook University - NY
University of Pittsburg - PA
Monmouth University - NJ
Marist College - NJ
Boston University - MS
Florida Gulf Coast Univ
Mercer University - GA
Youngstown State Univ - OH
Florida Atlantic
Ole Miss - MS
Bryant University - RI
St Peters University - NJ
Elon University - NC
Oklahoma University - OK

Bethune Cookman - FL
North Carolina State
Rollins College - FL
Boston University
Marist College (2)
Oklahoma Univ (Sooners)
Central Carolina Univ
St Joseph Univ - Penn
Marshall Univ - WV
Longwood Univ - VA (2)
Florida Gulf Coast Uni
Lyscomb University
Texas Tech University
Villanova University
Elon University
St. Peter's university
Kent State - OH
UMass
Univ of Kentucky
Virginia University
Monmouth Univ (2)
Stoneybrook Univ (2)

Lynn University-Fl
Univ of south Florida
Stoneybrook univ
Bradley University
Providence Univ
Colgate Univ
Fl Gulf Coast univ
Fairfield Univ
Boston Univ
South Carolina
Michigan State
Univ of Delaware
Bryant univ
North Carolina state
Georgetown