Nemesis Elite: NE NEws: 11.6.12 - Hitting Seminar this Friday for NE Coaches and Players - Alan Reach - Mississippi State
11.6.12 - Hitting Seminar this Friday for NE Coaches and Players - Alan Reach - Mississippi State

The Southeastern Conference "The SEC" is considered by many to have the highest level of collegiate softball. SEC members include, Alabama (defending 2012 national champion), LSU, Auburn, Miss St., Ole Miss, Tennessee, Florida, Georgia, Kentucky and the University of South Carolina. The conference has added (in 2013) softball powerhouses Texas A&M and the University of Missouri.
How strong is the SEC in softball? Typically 6-8 SEC teams populate the Top-20 national NCAA DI rankings...with as many as five schools in the Top-10. In other words....there is just no better softball than the SEC....ok arguably the PAC-12. Now, when you look at the NCAA DI conferences and consider all team sports...the SEC is king. This year, 2012, Alabama #1 in football with LSU #2, Kentucky #1 in basketball, South Carolina #2 in baseball after 2 years as National Champions and of course Alabama #1 in softball.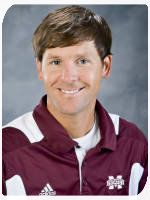 On Friday, 11/9/12, from 6:30pm to 9:00pm, the Miss State Bulldogs hitting coach, Alan Reach, will conduct a hitting seminar/workshop for Nemesis Elite

coaches and players. Coach Reach has the difficult task of preparing his Lady Bulldogs to face some of the strongest pitching in the country. Coach Reach will share the techniques and drills that he uses to train his athletes.
Details
Location: Triple Play Batting Cages
Coaches: Report 6:15pm (Seminar 6:30-7:30pm)
Players: Report 7:15pm (Seminar 7:30-9:00pm)
Cost: Coaches (none); Players $20
Coaches and players please confirm your participation with your respective managers at practice tomorrow (Wednesday 11/7/12).
Nemesis Elite
Academics~Softball~College
Not just words...action!!