Nemesis Elite: NE NEws: 11.3.12 - Nemesis Elite Posts 3 Wins in First Day of Game Action in Florida - 22 Colleges Scout NE
11.3.12 - Nemesis Elite Posts 3 Wins in First Day of Game Action in Florida - 22 Colleges Scout NE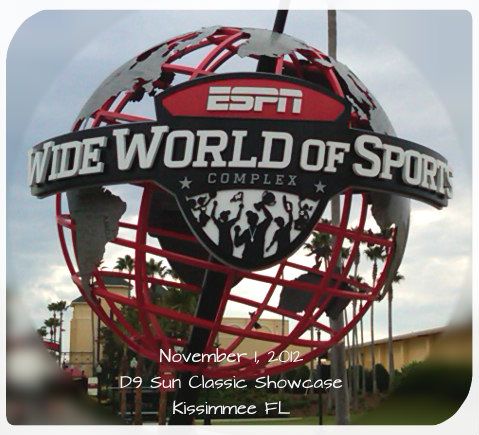 Friday 11/2 - Strong performance by the Nemesis

Elite players leads to 3 wins in Florida, D9 Sun Classic Showcase. Below is a brief summary of Friday's action:
Game 1 - Janel Hayes pitches shout-out vs WA NW Sidewinders and pops a three run HR. Alyssa and Tanya smack gappers to the wall. Nemesis Elite wins 8-0.
Game 2 - The FL Gainsville Gold punch first and take a 9-0 lead on NE after 2 innings of play. NE punches last and outslugs the Gainsville 11-9. Great "come-back by the NE kids"...Kylie smacks a 3-run blast over the fence to start the rally.
Game 3 - The Team FL Gold takes a 1-0 on NE..short lived. Kylie's 3 run HR puts NE up 3-1 but the Team FL Gold fights back an ties the game 3-3. NE then answer with 4 more runs puntuated by Nadia's 2-run HR to seal the deal! Final NE 7 Team FL Gold 3.
22 Colleges and Universities scouted Nemesis Elite players (see list below). The team resumes action today, Saturday 11/3/12, with games at 12:45pm, 5;30pm and 7:05pm (Eastern Time).
List of Schools
College of Charleston - NC
Marshall University - TX
Kent State - OH
Longwood University - VA
Lehigh University - PA
Fordham University - NY
Charlotte State - NC
Fairfield University - CT
Stonybrook University - NY
University of Pittsburg - PA
Monmouth University - NJ
Marist College - NJ
Boston University - MS
Florida Gulf Coast Univversity
Mercer University - GA
Youngstown State University - OH
Florida Atlantic
Ole Miss - MS
Bryant University - RI
St Peters University - NJ
Elon University - NC
Oklahoma University - OK