Nemesis Elite: NE NEws: 10.30.12 - Nemesis Elite Team Going to Florida - D9 Showcase - 11/1-4/2012
10.30.12 - Nemesis Elite Team Going to Florida - D9 Showcase - 11/1-4/2012

Nemesis Elite team heading to
Team Activities Table

Date

Activity

8/22/12

Parent Info Mtg
7:00pm Discovery

10/30/12
Tue

Parent Info Mtg
8:00pm TPBC

10/31/12
Wed


Travel Day


11/1/12
Th

~All Times Eastern Time~
7:30am Team Registration
9:00am Team Practice
National Skills Combine
8:30am-4:00pm
Participating
Kylie #114 Team #12
Aliana #89 Team #2
7:00pm Batting Practice

11/2/12
Fri

2:20pm NE 8 - Wa NW Sidewinders 0
5:20pm NE 11 - FL Gainsville Gold 9
8:40pm NE 7 - Team Florida Gold 3

11/3/12
Sat


12:45pm NE 3 vs CT Charmers Gold 1
5:30pm NE 1 vs Vienna Stars Gold 10
7:05pm NE 4 vs Lady Gators Gold 2

11/4/12
Sun

9:30am F11 vs Houston Power
~Return Home~

Florida for the
Diamond9 Sun Classic Fall Showcase 11/1-4/2012 (D9 games are played at the ESPN Wide World of Sports Complex - Kissimmmee, Florida).
Learn more about this event by visiting www.d9events.com and selecting the Sun Classic Fall Showcase.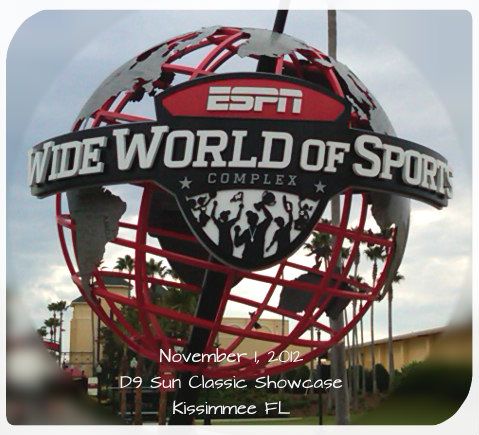 Manager/Head Coach -
Manny cell 323-997-1564

Assistant Manager - Marney cell 562-371-5288

The Process
Planning for this event began in October 2011.
This is a premier exposure event and provides an excellent opportunity to play in front of coaches representing many of the top educational institutions in the country
. Long-term planning is key with these
Fall 2012 Florida Showcase

Player

Position

2012

1. Madison Wright

2B/U

10th

2. Anessa Cepeda

MIF/P

10th

3. Kylie Lundberg

1B/P

10th

4. Crystal Cano

C

12th

5. Leilani Miyadi

SU

12th

6. Nadia Amezcua

SS/OF

10th

7. Koreen Orozco

P

11th

8. Aliana Oneill

U

10th

9. Allysa Esparza

3B

10th

10. Janel Hayes

P

12th

11. Tanya Galvan

C

10th

12. Maritza Martinez

1B/OF

11th
events because they fill quickly and because past attendance is the first criteria in selection.
Update: On 4/12/12 Nemesis Elite entered and was accepted into event, 7 games.

The Team
The team consists of 12 players. These players are the first Nemesis Elite athletes to represent the organization in an college exposure event in the East Coast.
Next year, 2013, Nemesis Elite is taking 2 teams to this event, 16u and 18u.
If in September 2013 you are in HS and are interested in this opportunity, please write Coach Manny a "Letter of Intent". The letter should address 1) why this event is something that you (the athlete) wants to do, 2) why you should be selected and 3) what steps you will take to be at your academic and softball best next fall. Along with the "Letter", applicants must to attach a $100 check payable to Nemesis Elite to be considered. If selected, the $100 is non-refundable.
Some 1. Make Things Happen, 2. Watch things Happen, 3. Wonder What Happened...
Softball~Academics~College Let's Make it Happen!

Yours in Softball,
Coach Manny
Cell 323-997-1564
mgarcia902@hotmail.com