Nemesis Elite: NE NEws:

Keep up with the NEws...The Nemesis Elite News!!!
10/27-28 Weekend - Halloween Tourney a success, 18u Gold tallies 5 wins in San Diego. Below is a summary of the weekend's action:

18u Gold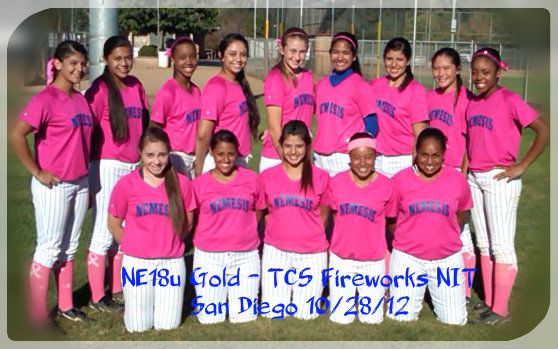 The 18u Gold team played in the Triple Crown Sports - Fireworks Invitational in San Diego. With leader Taylor Glover back with the squad...the team reaches quarter finals, winning 5 and losing 2.
Saturday
NE 12 Havoc 2
NE 6 OC Elite 1
NE 5 SD Renegades Gold 3
NE 1 Firecrackers (Pasco) 5
Sunday
NE 8 Salt Lake Pegasus 2
NE 3 SD Breakers Gold 2
NE 0 Firecrackers (Pasco) 1
Key Performers
October Scorecard

Team

W

L

T

18uG

12

5

-

18uB

5

3

1

16uG

7

4

-

16uB

4

8

1

14uB

5

7

-

12uG

10

5

-

12uB

0

10

-

Totals

43

42

2

September

27

40

5
1. The Battery - Janel, Koreen, Ky, Crystal and Natalie - 7 games, 167 batters faced...only 4 walks. (Coach Craig...great job with your staff)
2. With the Stick - Taylor 20 at-bats, 11 hits, .579 Avg, .842 Slugging: Koreen 13 at-bats, 6 hits, .462 Avg.
3. Flashing Leather - Kamryn, Cassie and Jazzy
The team is off the weekend of 11/3-4 with the exception of the seven players participating in the D9 Sun Classic in Florida.
18u Blue

Team practiced on Saturday and was off on Sunday.

16u Gold
Report from Marney...NE 16U Gold team performed very flat this weekend. We pulled off 1 win (barely) and 1 loss. It was the second disappointing weekend in a row of watching a team of great athletes play far beneath their capabilities and potentials. Very frustrating! This is one of the best teams we have had and they are settling for less than ok. Need a player or two to step up and take charge getting their teammates fired up. Girl's need to start holding each other accountable when less than 100% is not happening.
Team is off this week and should come back strong.

16u Blue
NE 16 Blue stays Hot with 2-0 weekend! As the team builds success after last week's ASA Showcase, players continue to refine weaknesses in the game. This week's focus was better base running, attacking fly balls, and attacking pitches. On the three stated goals, the team held firm to the focus, and delivered two solid performances.

Nemesis Blue 4 - Prospects 1
Nemesis Blue 4 - Explosion 3

14u Blue

Team played and hosted the Halloween Tourney.
Happy Halloween!!
14u hosted our first tournament of the year at Discovery Sports Complex. A special thanks to all the families of 14u as everyonel participated and made this event a huge success! A thank you to Natalie (Hannah's mom) who coordinated all the decorations for the fields… A huge thank you to Becky for being our trusty Snack Shack captain and all the moms keep the SS going all day long! (*Several teams complimented how awesome our SS was!!) Our dads all worked very hard between games getting the fields ready as usual!
Pool Play
NE vs BC Prospects W (9-1)
NE vs Pure Fastpitch (Anderson) L (0-4)
NE vs SC Jets L (0-5)
Elimination Bracket
NE vs So Cal 3D W (13-1)
NE vs SC Jets L (1-8)
Overall it was a great weekend. A very long weekend but a good one! We look forward to having this week off!

12u Gold

Report from Coach Phil...
NE vs. Firecrackers 2-1 (w)
NE vs. Cruisers 6-1 (L)
NE vs. Fury 7-4 (w)
NE vs. So Cal Rage 1-5 (L)
The 12u gold team did not get the ultimate result that they were looking for, but there were tons of positives to draw from. All weekend long the girls backed each other up. Such as, when the picture got herself in a jam the defense would make plays to get out inning. Or vice versa when the defense did not make a play that should have been made the pitching would get out of a jam by making big pitches when needed.
This theme also translated to the offensive side. All weekend long there were missed opportunities to move a runner or drive a run in. But instead of allowing that to kill an inning, a player would pick up there teammates by either stealing a base or producing a clutch hit themselves.
This weekend also proved to be a great example of the great support you received throughout the organization. Coach Brad from the 16u team helped out on Saturday when 12 gold was in need of a coach. Sunday 12u gold felt more support as coach Courtney made her present felt in the dugout. Both coaches were a tremendous help and the girls appreciated the knowledge that the coaches provided.
12u Blue

Report from Rosa...
Team played and hosted their first Halloween Tourney all day Saturday. A HUGE THANK YOU to all the 12u Blue parents for helping out all day long. Fields had been prepped the night before and fields were well kept throughout the day. Our snack bar coordinators did an awesome job on keeping everything organized and running smoothly. All the moms worked well together taking turns working in the snack bar. The success of the day would not have been possible without you.
The girls fought hard in pool play. Our pitchers and catchers did really well. There were a couple of good plays made but in the end the other teams took the wins in all three games Saturday. In Tournament play the girls lost their first game getting eliminated from the Tournament early on Sunday. The girls are working towards better communication with each other and keeping their energy up.
With their parents continued support we believe in them and know they can do it.
Pool Play
Nemesis Elite VS Prospects L 5 - 2
Nemesis Elite VS Extreme L 13 - 2
Nemesis Elite VS No Doubt L 5 – 0
Tournament Bracket
Nemesis Elite VS Riots L 10 – 1