Nemesis Elite: NE NEws: 10.22.12 - Weekend Recap - All Nemesis Elite Teams in Action
10.22.12 - Weekend Recap - All Nemesis Elite Teams in Action

Keep up with the NEws...The Nemesis Elite News!!!
10/20-21 Weekend - All NE teams hit the dirt!! Below is a summary of the weekend's action:

18u Gold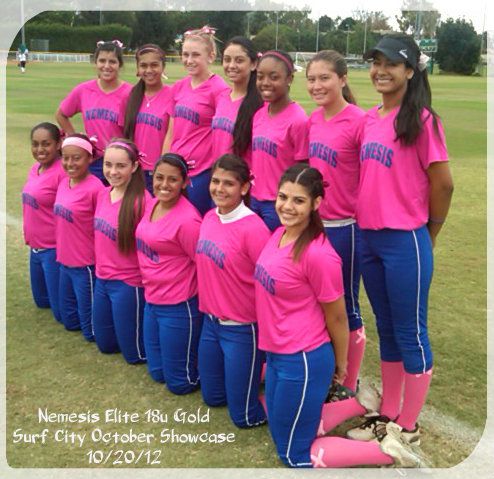 The 18u Gold team played in the Surf City exposure event. The team won 2 games and lost 3.
From a softball perpective the team played "ok" softball but was uncharasteristically plagued by loss on focus on several occasions. Examples included a poor first inning vs the Sorcerers, poor baserunning vs the Hotshots and poor defense vs Xpress...lapses vs quality oponents leads to losses. The absence of team leader Taylor Glover (college visit) was noticed from an energy stand-point.
Joanna led the team in batting average .500 (4 hits) and on-base .636. Good to see Joanna recovering for her ankle injury. Ky was also hot batting .429 with a double and a bomb of a triple.
University of South Carolina

Marshal University (WV)

Penn State

Iona College (NY)

Boston University

La Serra University

Cal State Northridge

UC San Diego

St. John University

Chapman College

Boston College
The pitching of Janel and Koreen was once again solid. Combined they K'd 20 batters while allowing only 4 walks. That works!
From a college recruiting perpective the team faired very well with significant attention from college coaches.
See table for list of universities that evaluated NE players at this event.
Sat 10/20/12
3:00pm NE 2 vs Sorcerers 3
6:30pm NE 5 vs WA Blaze 2
8:15pm NE 5 vs USA Athletics (Mercurio) 2
Sun 10/21/12
12:30pm NE 1(0) vs AZ Hotshots 1
3:30pm NE 2 vs Corona Xpress 5
Next for the 18u Gold squad is the Triple Crown Sports Fireworks Invitatinal Tourney in Escondido SD, 10/27-28.

18u Blue
Report from Mike:
Nemesis 18 blue team played in the ASA Fall Showcase this weekend in Chino. NE ended up 2-2-1
Game 1 The Nemesis team was firing on all cylinders. Ellie had her best performance on the mound going the full distance and allowing only 4 hits and 1 earned run. The defense was solid, led by Rocky who had 5 put outs and a diving stop by Cara in the 1-2 hole that stopped a scoring threat by the Saints in the 3rd inning. The Nemesis offense attacked with 9 hits lead by Sammie 2 for 3 and Jessica 2 for 3. Nemesis 7 Saints 1
Game 2: The Nemesis team failed to match the good hitting HD Storm team. Nemesis offense was led by Cara who had 2 of the only 4 hits that the team was able to produce. Ellie was given the start and pitched well into the 5th inning when she tired and Storm ended up with 5 runs. Ellie showed a lot of character, she was the only pitcher that we had available. Nemesis 2 HD Storm 6
Game 3: Nemesis faced the Central Cal Dirt Dogs. Dominique showed up to pitch for the Nemesis team. The Nemesis bats were still silent but finally woke up in the 6th inning. Being down 4-2 Maren hit a double with 2 runners on and tied the game. nemesis had a chance to win but left Maren stranded at 2B. The high lite on defense was Brittany who threw out 2 runners trying to steal 2b and picking off a runner at 1b. Maren led the way on offense going 2 for 3.
Game 4: Nemesis faced Dynasty in a great come-from-behind victory. Ellie started the game but had a hard time hitting her spots in the 1st inning. Dominique took over and was able to finish the game. Nemesis was tied in the 4th when Cara came up with a runner on 1b and smashed a stand up triple into left center field to give Nemesis the lead. Miranda hit a ground ball to the right side and scored Cara. In the 5th Maren drew a walk, stole 2b and with the heads up running by Sammie on a drop 3rd strike Maren stole home giving Nemesis a 5-2 lead. Bianca hit a triple but we left her stranded at 3rd when the next batter struck out. Nemesis 5 Dynasty 2
Game 5: After the come from behind victory over the Dynasty team Nemesis did not carry the momentum into the next game. The Extremes lefty pitcher proved too much too handle only allowing Nemesis to collect 2 hits. 1 by Maren and 1 by Sammie. Dominique started and Ellie and Maren finished. Jessica threw out 2 batters trying to steal.
Nemesis 0 Extreme 6
The players of the week: Ellie for her pitching, Cara who went 3 for 5 with a game winning triple. and Jessica & Brittany who threw out 5 batters trying to steal.
16u Gold

Report from Team Manager - Marney Wright:

Next for the 18u Gold squad is the Surf City exposure tournament.

16u Blue
This week was a Great Week for the 16u Blue Team.

The team participated in its first Showcase (ASA Heartland) and finished 2 - 2 - 1. The team put togethor solid defensive efforts for the weekends, and improved hitting as well. With solid pitching outings, as well as an improved Outfield, the blue team had lots of positivies coming out the weekend. Marrisa J continued her efficency in the circle, while Mya'h Fields continues to lead the Team in the Box! Hayley was a defensive leader, as well as Jelissa anchoring the team with a solid effort behind the plate. Loren, stood out at Third Base, and sat down three batters consecutively on unassisted plays! The Outfield is still finding it's way, but big plays from Chelsea, Kassy, and and Lauren showed there is promise in this unit!

Although, there where many positives, a huge disappointment was poor base running. Miscues, and poor decision making lead to easy outs, and two many double plays where allowed. Aggressiveness can lead to carelessness without good awareness! Fatigue also set in on the final game of the day. Conditioning will be introduced into the weekly activities, as well as more running to improve cardiovascular conditioning. As the team continues to get better in this department, we will continue to see improvement in overall results.

This weekend was a great opportunity for our newer players to see what competitive environments are about. When faced with a 4-0 deficit early, the team made a charge to tie the game in the last inning! This experience built character, and improved overall teamwork, which will hopefully transfer over in weeks to come. The team delivered under pressure, and continues to progress in all areas of the game!

Results:
NE Blue 6 - Teamsmith 2
NE Blue 2 - Desert Prospects 6
NE Blue 4 - Mize Diamonds 4
NE Blue 6 - Trinity 0
NE Blue 1 - Impact 9
14u Blue
The NE 14u team hosted games on both Saturday and Sunday at Discovery Park this past weekend and won two out of four total games played. The team was excited to get on the field again after being off the weekend before.
Saturday
The team was short-handed for their doubleheader against Cal Storm but was still able to split a win on this chilly Saturday evening. It was a good opportunity for the girls to try and play a different position as they filled in for their teammates who weren't available. Andrea Gonzalez continued her great hitting performance from earlier in the day when she participated in the Surf City Classic with her older Nemesis 16u sister team. Mini Mendoza was also solid on the mound as well.
Sunday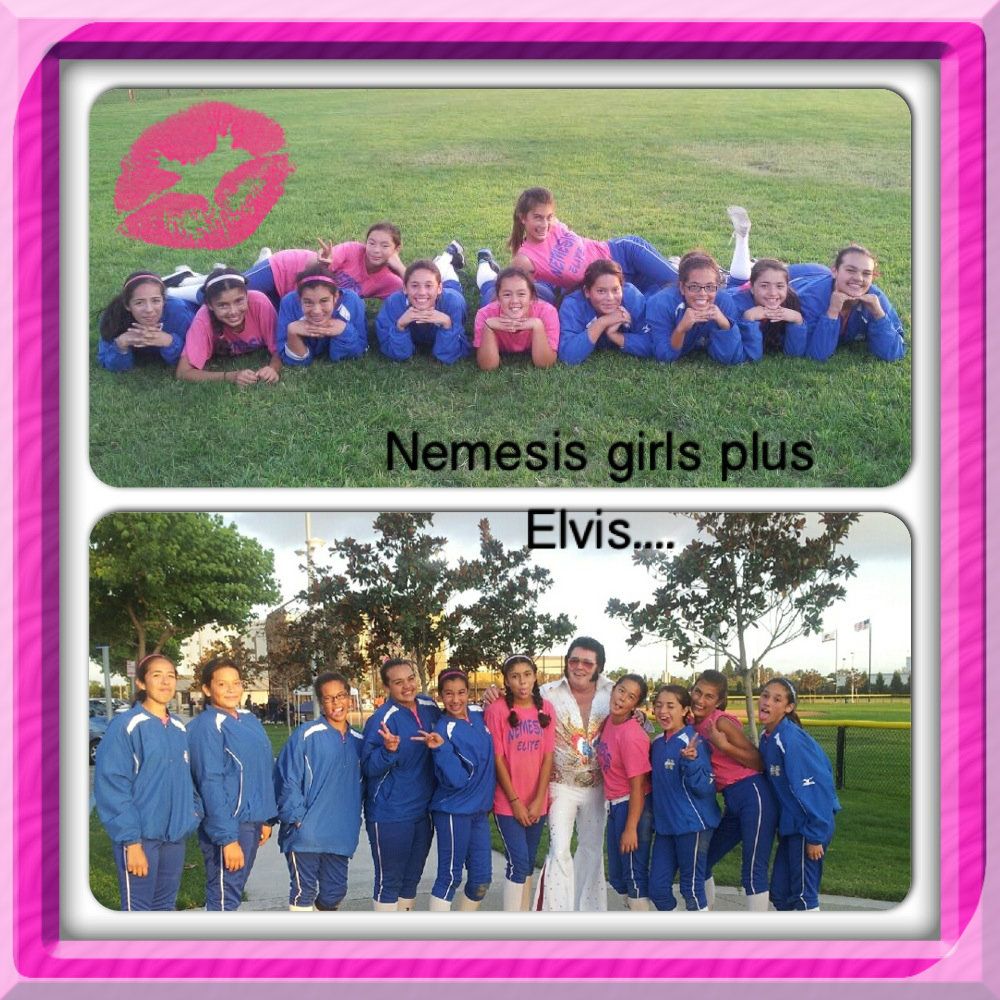 Perfect softball-weather and the team had a long day ahead of them as they hosted a full day of friendlies at Discovery Park. All hands were on deck this time with the entire team ready to play and the team parents rocking the snack shack all day long, serving a variety of goodies which also included a secret special menu to everyone's delight at the end of the day. The girls played their best game of the weekend when they beat Case Batbusters 7-1 in the first game, almost playing the game error-free. Mini Mendoza was outstanding on the mound while her team got her back on defense. The long downtime in-between games probably had an effect on the team as the team lost their next game to Xtreme, 11-5.
Play of the Day: Andrea Gonzalez hard hit that lined the third base all the way to left field which ended up being an inside-the-park homerun, with 2 runners on base! Way to hit Andrea!!
Scores:
NE 4 Cal Storm 1
NE 1 Cal Storm 2
NE 7 Case Batbusters 1
NE 5 Xtreme 11
Up next: NE 14u ready to send thrills as they host the annual Nemesis Halloween Tournament for the 14u division.

12u Gold


10/20
Irvine Sting 9-3 (L)
Irvine Sting 10-4 (L)
10/21
Mirage 11-2 (W)
Pumas 5-0 (L)
NE Blue 7-4 (W)
12u Gold weekend started with a double header Saturday with Irvine Sting. In these two games Nemesis struggled with making the routine defensive plays which ultimately failed our pitching who did a very good job despite the score. Kamryn and Daisy only allowed 5 hard hit balls combined between the two games.
On Sunday Nemesis regained there attitude and got back to business with execution. Whether it was base running (Kamryn,Deja, Rivas) timely hitting (Afi,Sera,Kiarra,Daisy,Savanah) or solid pitching (Kamryn, Daisy, Kiana)and Although Nemesis suffered a loss to Pumas in the second game were they just could not generate enough offense, Nemesis still showed some fight and exhibited excellent communication which lead to a 8-1-5-4 double play. In Nemesis Gold's Last game they faced the up and coming NE Blue team. In this game Nemesis Gold fell behind in the first inning 0-3 and trailed most of the game 1-4, But NE Gold showed their resolve and championship character that Coach Phil and Coach Nikki had been looking for all weekend long as they run off 6 runs in the last inning.
Next up for Nemesis 12u Gold is practice Wednesday and Halloween Tourney this weekend.

12u Blue
Report forthcoming.