Nemesis Elite: NE NEws: 10.15.12 - Weekend Recap - 12u Gold Host at Indy, 16u Gold Host at Discovery, 14u and 18u Teams off
10.15.12 - Weekend Recap - 12u Gold Host at Indy, 16u Gold Host at Discovery, 14u and 18u Teams off

Keep up with the NEws...The Nemesis Elite News!!!
10/13-14 Weekend - NE 12u Gold and 16u Gold host, 14u and 18u teams off. Below is a summary of the weekend's action:

18u Gold
The 18u Gold team played in a inter-squad practice game vs the D9 Sunclassic team on Saturday. The team was off on Sunday.
Janel, Bree, Nadia and Leilani worked with Coach Memo and the 12u Blue team on Sunday. Big thank you for helping.
Next for the 18u Gold squad is the Surf City exposure tournament.
18u Blue
The 18u Blue team was off.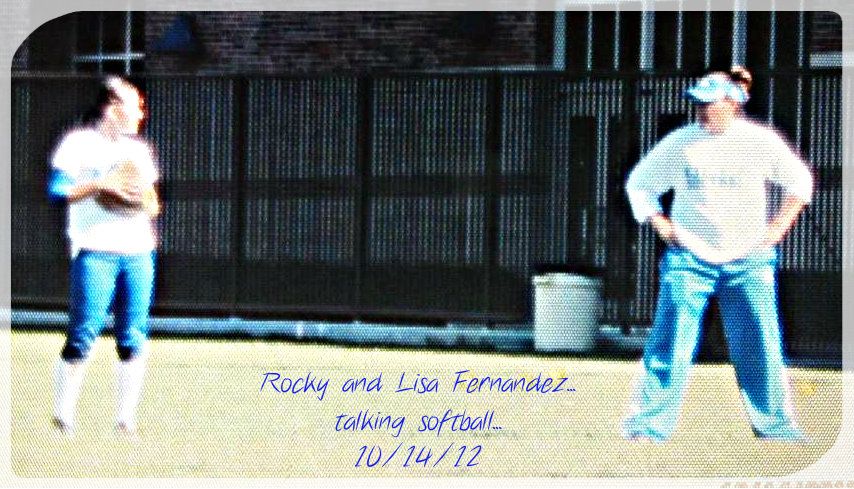 Even though the team was off Rocky used the time off wisely and attended the UCLA camp (see picure of Rocky talking with Lisa Fernandez). Nemesis Elite players are encouraged to attend the camps of their Five Focus Schools. Nice job Rocky!


Next for the 18u Blue squad is the ASA Showcase in Chino.

16u Gold
Report from Team Manager - Marney Wright:


Our weekend started off bright and early Saturday morning with most of my players playing a DH (some girls were on the D9 team and some played with the 18U team). The girls did a great job pushing the D9 players to step up...Janelle's pitching proved to be a big challenge for them...Janelle is awesome! Each team one 1 game which was cool. My players than had an hour break to scarf down some food and then it was off to TPBC for an hour of hitting followed by a 3 hour practice at Discovery. It was a very long and exhausting WARM Fall day.

Sunday we were up bright and early again hosting at Discovery. Saturday's long schedule proved to be a challenge for Sunday's first game. The girls were tired and had a hard time getting in a groove...we were very flat both defensively and offensively. The game was boring. Lost to SC Diamonds 3-1. We walked 4 batters, had 7 errors and only had 3 base hits. Yuck...not pretty and definitely not up to our potential.

Thankfully we had a game break and the girls pepped up. We started off a little slow in our second game but quickly sped things up. We beat CC Xpress 10-3. Defensively the girls kept the ball under control and in position of power, rotated perfectly, and were quick to pick off players that ran bases poorly. Offensively we ran Xpress ragged. We confused them quite a few times with attacking 2B while a runner was at 3B. Xpress got caught up in the distraction of the runner attacking 2B and couldn't figure out how to control them both.

Last game of the day was against Power Surge and the girls stepped it up even more winning 4-2. We hit very well in this game having a total of 7 hits with 2 doubles and 2 triples.

Defensive players of the weekend...our outfield (Jaycie, Ally, Ari, Erica and Katelyn). Our OF is getting their pitch rotations down very well and is very fast! They ran down some shallow hits that were caught. They also did a great job running down the gappers and getting it in quickly to keep the batter at 2B. Our OF is very fast and getting more and more aggressive. Fun to watch.

As for hitting, we had a great sneaky bunt by Madison...they weren't even close to getting her out. She also had one of the doubles this weekend. Alyssa is hitting the ball very hard and was one of the triples for the day. Jaycie is one of our awesome and fast slappers who had both a double and a triple in our last game.

And a big thanks to Gabe for handling 1st base in Coach John's absence. We bored Gabe in the first game and didn't give him much to do but finally put him to work in the last two games. Thanks Gabe.

And thanks again to our parents for a great snack shack and nice fields. Thanks for the hard work and the awesome menu. That oatmeal from Debbie (Katelyn's Mom) is the bomb!

Next for the 18u Gold squad is the Surf City exposure tournament.

16u Blue
16u Blue played 3 games this weekend at Discovery.
NE 2 vs. Ca Rage 6
NE 0 vs. Boombah 15
NE 2 vs. Corona Angels 6
Even though we had a rough weekend we still have some positive outcomes from each game.
This weekend Coach Mickala joined us for the first time.
She was able to get a first hand on what she needs to do to improve our outfield. Coach Manny spent some time evaluating our team, and gave us a list of focus areas. His continued guidance of the team helps the girls to understand the issues, and work harder to get better.
Out the 3 games Marisa J.(.500) lead the team in batting followed by Mya'h and Loren Red (.400), then Chelsea, Lauren, Madisan, Stephanie, and Haley.
Lauren did a great job getting the push bunt down in the 2
nd
game.
Quality at bats for the day were Stephanie, Haley, Autymn, Marisa J., Lauren, Chelsea.
Our defense struggled a bit but still had some key plays and hard work by Haley in the infield and Lauren in the outfield. Stephanie picked up her play and was a defensive contributor with an unassisted double play!
The team continues to struggle with making the easy plays, and bunt rotations.
Coach Mickala will bring in more drills to help with muscle memory, and gain confidence in the outfield.
14u Blue
Team was off.

12u Gold
The Nemesis Elite 12u Gold team played a double header scrimmage vs the 12u Blue on Saturday morning and then hosted at Indy on Sunday.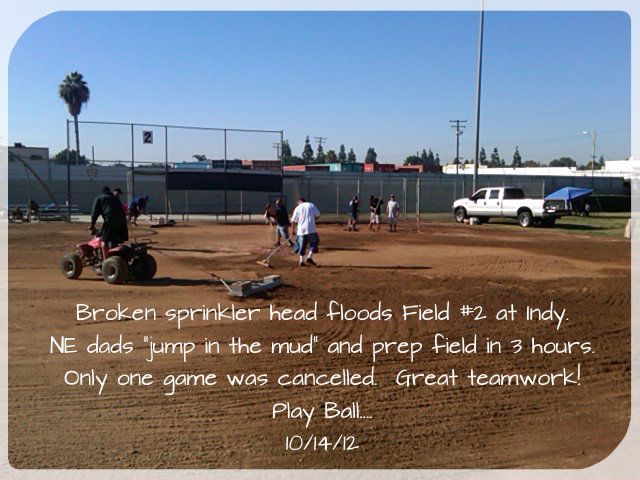 Great jobs by the dads from both the 12u Blue and 12u Gold in getting Field 2 ready for play on Sunday after an overnight flooding problem. Great teamwork!
Report from Coach Phil:
Saturday
Vs blue 4-2 w
Vs blue 6-1 w
Sunday
Vs extreme 20-0 w
Vs force out 18-0 w
Vs corona angels 3-3 t

The gold team had a positive weekend. It provided the girls much needed confidence (Kayla, Kamryn, Kiana, and Savanah).
The theme this week was "execution" and the girls did just that. They did a fantastic job of hitting the ball when players were in scoring position. Nemesis gold concentrated on having quality at bats and the results were astronomical. It was truly a fabulous job by all!
Next weekend...games at Indy.


12u Blue
Report forthcoming.