Nemesis Elite: NE NEws: 10.8.12 - Weekend Recap - 18u Gold Goes 5-0 in Chino Hills - 18u Blue and 16u Gold Tally 3 Wins each...
10.8.12 - Weekend Recap - 18u Gold Goes 5-0 in Chino Hills - 18u Blue and 16u Gold Tally 3 Wins each...

Keep up with the NEws...The Nemesis Elite News!!!
10/6-7 Weekend - NE 18u Gold in Chino Hills, 3 NE teams play at Discovery, 14u Blue hosts at Indy, 12u Gold attends 18u Gold games. Below is a summary of the weekend's action:

18u Gold
The 18u Gold participated in the Triple Crown Sports "Showcase at Big League Dreams" in Chino Hills. The team campleted the weekend with 5 wins 0 losses.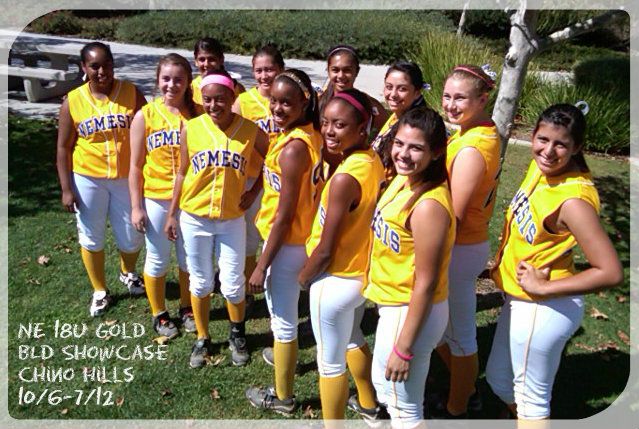 On Saturday, Maddie Wright and Tanya Galvan from the 16u Gold squad joined the team and played key roles in the 3 wins. Janel pitched a great game (no-hitter, struck out 13 of 22 batters in 7 innings...only one runner reached base on error) against the California Thunder. Tanya came up with big hit in this game to put the NE up for good. The NE defense was stellar with Kam making two awesome plays at short. Koreen followed Janel's performance with another quality start and earned the victory against Fury. The team was solid in all areas versus the Fury. NE started slow against the Team Mizuno...two careless plays by NE coupled with two "unfortunate" calls spotted the Team Mizuno a 3-0 lead. Once again, the NE ladies fought back and earned the 4-3 victory with Janel earning the win.
On Sunday, the team was joined by guest 12u Gold player Kayla (Eddie). Coach Phil also had the majority of Kayla's teammates (NE 12u Gold) attend the games as a workshop exercise (See NE 12u Gold report below). The NE 18u Gold did not disappoint with 2 solid wins against quality opponents. NE capitalized on 2 key base running mistakes by the American Athletics (Casini) to win 4-2, Koreen earning the Victory. NE then defeated Wicked Gold (Limon) 11-4 in the last game of the event with Janel going the distance for the "W". In this game, NE demostrated execution, key hitting and precise base running. Cassie Grana started a big NE rally by executing a sinple bunt!
Txt message from Gina (Kayla's Mom) "My husband and I would like to extend our thanks to [NE 18u Gold team] for having Kayla play a part in the 18u game today, what a wonderful experience and more so, learning too!...You have a team of lovely young ladies that were nothing but encouraging. Thanks again"
Overall the NE ladies played very well. Of the 50 teams that participated in this event only 2 teams earned a 5-0 record. Nadia and Ness stood out at the plate. Kam's and Tay's baserunning is sweet music to NE but a horror film to opponents. Bree keeps putting up quality-at-bats. Key defensive plays were made by Kam, Tay (2 kills at home), Cassie, Nadia, and Leilani (Leilani had an easy weekend...she only played 2nd Base, RF, LF and Catcher)...all take-a-ways!!! Janel, Koreen and Ky handled their business in the circle and had strong catching support from Tanya, Leilani and Crystal and everyone else did their parts...including Tanya/Maddie on Saturday and Eddie on Sunday. Big thank you to Coach Phil's players for helping during warm-up and to Coaches Nikki and Mickala.
The following schools evaluated NE players in Chino Hills; NC State, UC Riverside, Villanova, UC Santa Barbara, Miami University of Ohio...and a few more.
Player(s) of The Week: The Whole Team
Scores
| | | | | | |
| --- | --- | --- | --- | --- | --- |
| DAY | TIME | TEAM | SCORE | SCORE | TEAM |
| Sat | 8:00am | Nemesis Elite | 4 | 0 | California Thunder |
| Sat | 9:45am | Nemesis Elite | 6 | 2 | Fury Softball Goodacre |
| Sat | 11:30am | Team Mizuno (Gonzalez) | 3 | 4 | Nemesis Elite |
| Sun | 1:15pm | Nemesis Elite | 4 | 2 | American Athletics - Casini |
| Sun | 4:45pm | Nemesis Elite | 11 | 4 | SoCal Wicked - Limon |
Next up for the 18u Gold...practice on Wednesday, scrimage on Saturday and off on Sunday.
18u Blue
The 18u Blue team played 4 games at Discovery this weekend and finished with a 3-1 record.

In game 1, The American Athletics jumped out to a 1 run lead when their runner on 2B stole third and then a successful squeeze play brought her home. In the 2nd inning a Nemesis error resulted in two more runs for the Athletics. Down 6-1 in the fourth Nemesis fought back and scored 4 runs on the hitting of Cara, Meritza and Jessica M, who all went 2 for 2 in the game. Maren & Eli both pitched against the Athletics in a game NE could have won.
In game 2, The Nemesis offense and solid defense were no match for the USA Athletics. NE scored 8 runs and gave up only 1. Sammie Maren and Jessica M all went 2 for 2 and Meritza hit her 1st HR. Ellie pitched a solid game and received great support from her defense. In the second inning with 2 on and 2 out a USA batter hit what looked to be a 2 run RBI until Meritza laid out and made a the catch of the day.

In game 3, NE 18u Blue played our sister NE 16u Blue squad. Maren received the start and had a solid performance. The hitting was lead by Cara and Meritza who both went 2 for 2. the defense played heads up and spoiled any offensive threat that the NE Blue was trying to execute. Rocky had a chance to show her many talents as an athlete and pitched the last two innings. The pitching from the 16u team did a good job getting some of our big bats to hit fly balls which resulted in outs. It was a fun game.

In game 4, The Nemesis offense was still on fire as they posted 10 runs against team Enigma. The hitting was led by Bianca 3 for 3, Meritza 2 for 2, Sammie 2 for 3 and Ellie 2 for 2. Ellie had a very solid performance and showed much better control of her pitches.
It was nice to see the team starting to work together.

The player of the week goes to Maritza. She hit 3 singles, 3 doubles and 1 HR going 7 for 8 batting .875 and making a fantastic catch in RF saving two runs.

The 18u Blue team is off 10/13 and 10/14...enjoy the time off.

16u Gold
Report from Team Manager - Marney Wright:
After having a weekend off, we came back pretty strong. Sometimes weekend's off can kill your flow but after a slightly slow start, we picked up momentum and played very well. Our defense was solid the entire weekend, it was only our sticks that were off to a slow start but mostly due to facing slow pitching.

Our first game was against Team MVP...we had a hard time slowing down to their pitching but still managed to get some good hits. Ally made an awesome diving catch from CF and did a great job taking charge of calling the ball and running full steam for the tweener hit. Zoe only walked one batter and gave up one hit. Gabby did a great job catching and calling pitches.

In the middle of our first game, Erica came down with a migraine and had to leave which left us with only Zoe to pitch. We had a game break so it allowed Zoe to rest and we asked Jaycie to warm up so we could use her in one of the next two games.

The second game was against Enigma and we won 6-0. Zoe pitched this entire game and again, did a great job! We played solid defense and our sticks were awake. Lots of hits up the middle and in gaps. Girls were hitting the ball hard!

Third and last game was against AA, Zoe pitched 2 innings and Jaycie closed the game. Jaycie pitched awesome! We won 3-1. Katelyn made an awesome catch towards the end of the game in right/center that easily saved them from tieing up the game.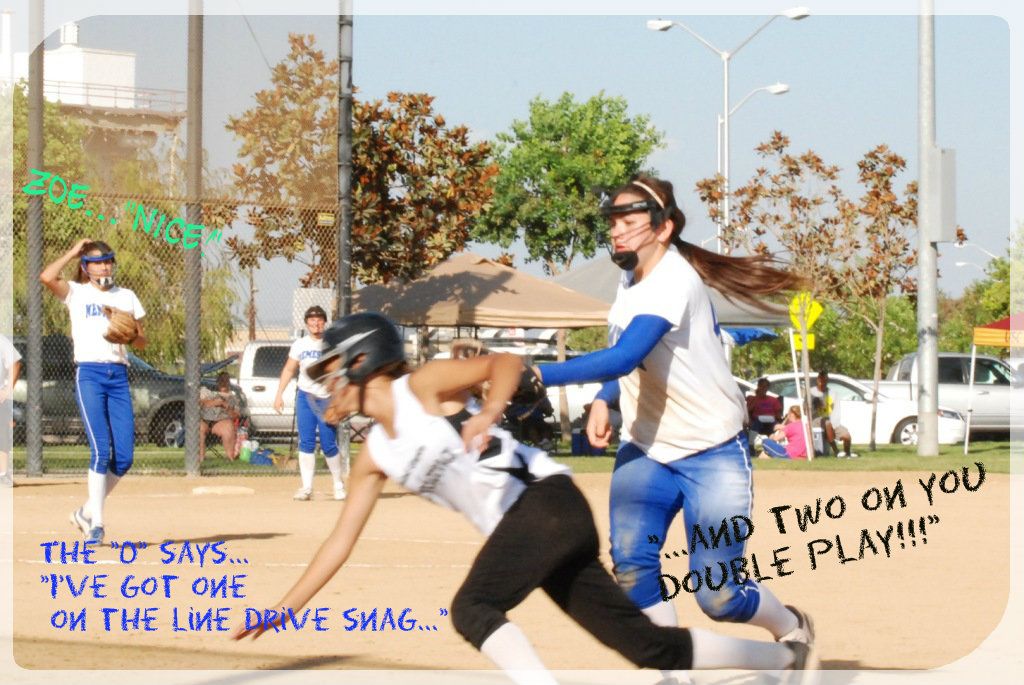 Tanya had 2 triples, Katelyn had a triple, Angie had a HR and we had several other doubles and solid hits. We had a few double plays with the best one being a line drive to Olivia who swung around to tag the girl trying to dive back to first base (see pic).

The girls have gelled extremely well and are playing very strong. If our sticks stay strong, we are going to have an awesome Fall season. Our defense is solid!. Could not be more happy with the progress of every single one of these very fun girls.
Scores
NE 7 - Team MVP 0 = Win
NE 6 - Enigma 0 = Win
NE 3 - AA 1 = Win
3 Wins = NE scored 16 and only allowed 1

Next up for the 16u Gold...practice on Wednesday, scrimage on Saturday and host at Discovery on Sunday.

16u Blue
This week was another week of building for the 16u Blue Team as the team went 0 – 3.

Although there were many positives, the defensive play of the Outfield, and a few poor innings on the day lead to the disappointing finish. Janae and Julissa anchored the defensive efforts for the day. Janae had 1 error on the day, and Julissa did a great job catching all three games.
Mya'h led the team in batting average, as well as on base percentage and was the Offensive leader for the day! The team began to hit more consistently on the weekend, but did not translate that into runs. Andrea has continued to show improvement week over week, and the hard work is paying off.
USA Athletics over NE 16u Blue (4-1) The score of the game cannot measure the fight put up on the day. The first 2 innings pitching allowed 4 runs by not consistently hitting spots. Once they settled down in the third, the team surrendered no runs. Mya'h hit a Triple which scored Haley from second which accounted for the only run. Miscues in the outfield, and poor relays allowed the Athletics to get ahead early. The infield was consistent and solid, but could not control the final outcome. In the bottom of the last inning the team rallied, and left bases loaded with 1 out before time expired.
Arsenal over NE 16u Blue 7 – 1 Tough team loss in this game. Loren and Haley experienced soreness in their shoulders and where unable to play defense which thrust different players into new roles. Kassy did a lot better on the mound in the start, but a shaky OF could not get her out of a two out jam when 4 runs came across. Janae made some big plays on the dirt, and Autymn did well at first with Brenae being out due to injury. Considering the whole starting infield was out, the second team did very well in relief. The team hit well this game, but could not string together enough clutch hitting, as most easily found the Arsenal gloves. The combination of Haley and Mya'h capitalized on the only run for the team.
NE 18u Blue over NE 16u blue 8 – 0 The team did their best to hold off the older girls, but errors killed the defense (4). Pitching was solid, and worked multiple speeds to keep the bats off balance, but the experience, and aggressiveness where too much for the young team to overcome. Loren and Haley shook of the soreness and where able to help solidify the infield. The team was able to scrape together some hits, but did not scratch the board. Julissa was still catching strong for the day, and would not be removed from behind the plate. The girls controlled the dugout better, but still need to maintain energy. Marissa Taylor and Autymn broke out of there hitting slumps, and pounded the ball hard.

14u Blue
Report from Team Manager Kathy:
The teams hosted a 12-way 14u friendly at Indy...12 teams, 18 games it was a long day for all. We have the best parents around as everyone contributed to the success of this event. We even got Coach Rock to bring homemade mexican rice!
Feedback txt message from the Central Cal Dirt Dogs:
"Hello Manny this is Dan from the Central Cal Dirt Dogs. I just want to thank you for yesterday's 14u friendly. Your parents were fantastics and we really enjoyed ourselves. The schedule was great and we appreciate your efforts to acomodate us. We would love to come back in the future."
Game 1 vs OC Hawks: The girls did not show up defensively for this game. OC Hawks had only 2 hits the entire game while NE girls had 9 errors. Girls need to focus on fundamentals as 4 of the errors were girls not staying down to field the ball. The girls did however have 8 QAB's... CJ- Double, Yoshi- 2 singles, Andrea- 1 Single, Hannah- Double, Paisley- Double, and Celeste- Double.
Game 2 vs OC Dynasty: The girls made a comeback for this game... Mini and Destiny pitched extremely well allowing only 1 hit the entire game facing 16 batters total in 5 innings. Offensively the girls brought their bats to this game. CJ went 3 for 3 with 2 singles and a triple. Andrea also went 3 for 3 with 2 singles and a 2 run HR! Kirsten also went 2 for 2 with 2 singles and 5 RBI's. Mini had an awesome triple as well.
Game 3 vs Firecrackers (Davis) The girls played well for 4 innings where we held the FC to a 1-0 lead against NE. Again, we had a total of 9 errors this game and only 3 hits the entire game. FC pitching was on as our batters went 3 up 3 down for 4 straight innings.
Player of the Week: Celeste....OCH Hawks game: Line drive hit to her at 3rd base and an unassisted double play as she dove back to 3rd base for the 3rd out!
Scores
Nemesis 3 OC Hawks 7
Nemesis 11 OC Dynasty 0
Nemesis 0 Firecracker (Davis) 11
This week... The girls practice Wednesday
and are off this coming weekend.
12u Gold
Report from Coach Phil:

12u Gold had a week of practice were the team focused on defensive rotation and base running. We also had an extensive tutorial on batting with two strikes. On Sunday, the team went to Chino Hills to watch the NE 18u Gold team play. There, they saw in action perfect rotation, how much the girls talked, the importance of good base running, and how the outfield moved before each pitch.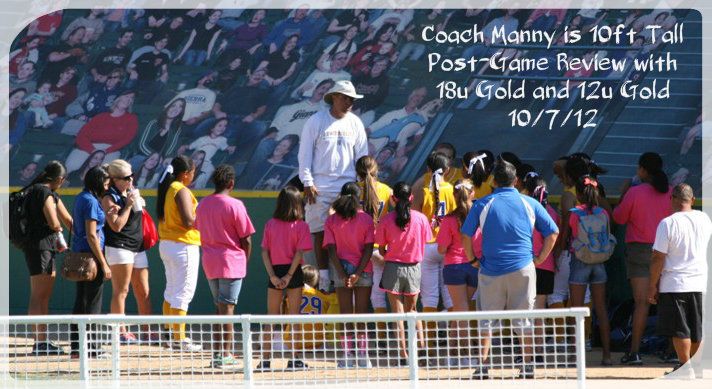 The girls also enjoyed a surprise visit by the Clarisa Crowell who is the Head Coach at Miami of Ohio University. Coach Crowell spoke to the NE 12u players about what she looks for when she goes out recruiting. Such as their talent on the field, grades, and sportsmanship. Crowell made a point that she would no longer look at a player who did not run on and off the field and who would hang their head after a bad play.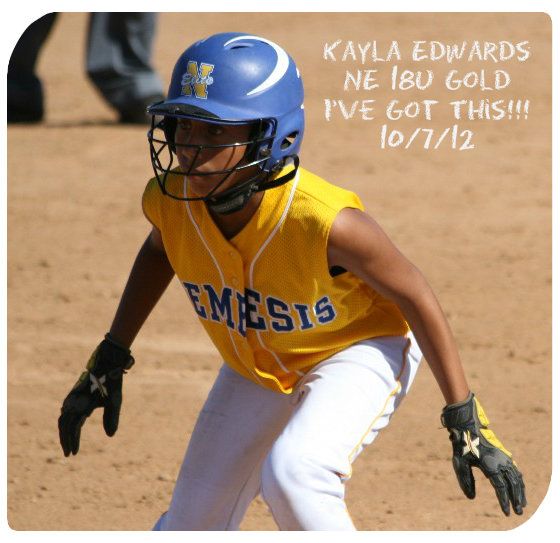 Also one of our own, Kayla Edwards (Eddie) shadowed the NE 18u Gold team the entire day on Sunday, participated in the warm-up activities in full "Gold" uniform (see pic) and was given opportunities to run in both games. She had a great time and truly enjoyed her time with the girls and even got in "hot-water" with Coach Manny for not sliding at second base! She quickly got out of the "hot-seat" by making some great base running decisons and slides.
The team has practice on Wednesday and Saturday and will be playing games at Indy on Sunday.

12u Blue
Team was off.