Nemesis Elite: NE NEws: 10.1.12 - Weekend Recap - 18u Gold Returns to Action - 12u Blue Hosts at Indy
10.1.12 - Weekend Recap - 18u Gold Returns to Action - 12u Blue Hosts at Indy

September Scorecard

Team

W

L

T

18uG

9

2

2

18uB

4

6

16uG

6

4

1

16uB

1

6

14uB

3

8

1

12uG

3

5

1

12uB

1

9

Totals

27

40

5
Keep up with the NEws...The Nemesis Elite News!!!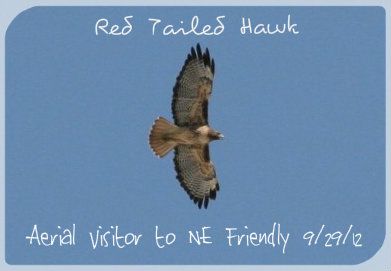 9/29-30 Weekend - NE 18u Gold returns to action, 18u Blue plays in ASA's Heartland Showcase and NE 12u Blue team hosts first friendly at Independence. Below is a summary of the weekend's action:



18u Gold
The 18u Gold Squad hosted a 8 way friendly at Discovery (Won 2 tied 1)
Scores
NE 0 - Riptide Gold 0
NE 6 - SD Elite 1
NE 6 - OC Elite 4
Player(s) of The Week: Janel 8Ks in game vs Riptide Gold. Kamryn flashing the leather at shortstop "Sports Center top-10!". Kylie, Nadia and Ness with solid at-bats all day and Leilani with great effort and hustle.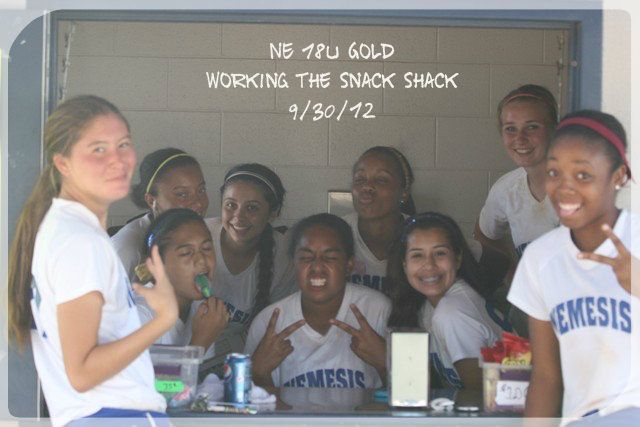 The 18u Gold squad practices this Wednesday and plays in the Triple Crown Sports showcase at Big League Dreams on 10/6-7.
Big League Dreams Sports Park
16333 Fairfield Ranch
Chino Hills, California
Sat 10/6/12
8:00am NE vs Cal Thunder (Chino Hills - Wrigley)
9:45am NE vs Fury Softball Goodacre (Chino Hills - Wrigley)
11:30am NE vs Team Mizuno (Chino Hills - Ebbetts)
Sun 10/7/12
1:15pm NE vs American Athletics Casini (Chino Hills - Fenway)
4:45pm NE vs So Cal Wicked Limon (Chino Hills - Fenway)


---
18u Blue

The 18u blue team participated in the ASA Heartland showcase in Fountain Valley over the weekend. The team had a tough time as only 10 players were able to participate on Saturday and drawing 2 top team teams from San Diego in their pool finishing the tournament 1-3.


In Game 1, SD Power Surge capitalized on miss pitches and drove in 6 earned runs. Nemesis did not execute good quality at bats which resulted in only 4 hits by 3 batters and only 1 run scored. The high lite for Nemesis was Miranda Hernandez who played a solid short stop filling in for an absent Rocky and Biance Espinoza who had 2 of the Nemesis 4 Nemesis Hits. Maren & Sammie had the other 2 hits for Nemesis in a 6-1 loss.

Game 2, Nemesis came to play against Cal Storm executing 11 hits by 8 different batters which resulted in a 9-0 victory.
The pitching settled down and did a better job hitting their spots. solid defense did not allow a run. Bianca, Meritza & Maren led the way with multiple hits.

Game 3, Nemesis struggled against HD Storm which resulted in a 7-3 loss. We were down to 9 players with only 1 regular starter in the infield. We moved players in positions that they never played before. The quality at bats were missing again with only 4 players collecting base hits. the pitching got off track again and gave up too many hits. The high lite for nemesis was Brittany Salcido who caught all 3 games in the heat and Bianca Espinoza who had her 3rd multiple hit game for the day.

Sunday game 4, Nemesis played SD Legacy who pounded the Nemesis pitching for 8 runs. The pitching for the Legacy was too much to handle for Nemesis who only recorded 3 hits for the game by Cara & Rocky ( who both were absent on Saturday ) and Sammie.

Scores ; Nemesis 1 SD power Surge 6
Nemesis 8 Cal Storm 0
Nemesis 3 HD Storm 7
Nemesis 0 SD Legacy 8

Player of the week: Brittany Salcido who caught all three games on Saturday in the heat and Buianca Espinoza who had 3 multiple hit games.


---

16u Gold
Nemesis Elite 16U Gold had the weekend off so they spent Friday night toilet papering Coach Brad and Marney's house while they were out of town and made it very obvious Coach Brad was the target since only his car was "decorated". The team spent all day Saturday at Disneyland until Midnight and then had a slumber party. Very exhausting but fun weekend.

Upcoming for the 16u Gold...the team practices on Wednesday and plays at Discover on Sunday 10/7.
---
16u Blue

The team was off.
Upcoming for the 16u Blue...the team practices on Wednesday and hosts games at Discovery on Sunday.
---
14u Blue
The NE 14u team hit the road on Sunday, Sept 30th and participated in the USA Athletics friendly. The team has certainly seen better days as they came home winless from all 3 games. Jojo Hernandez and Destiny Cerda were the only pitchers the team had on this hot summer day but both stuck it out and played all 3 games. Paisley Petruzzelli had a little hitting streak going as well and was able to get on base 3 straight times, including a double that was accompanied by great base-running. The team will continue to work on their communication skills and putting more energy on game days in their upcoming practices.
Play of the Day: Jojo Hernandez catching a hard line drive at 2nd base and then diving on the base to beat the runner for the unassisted double play!
Nemesis Elite vs SC Pumas – L, 5-1
Nemesis Elite vs OC Hawks – L, 7-1
Nemesis Elite vs American Pastime – L, 10-4
Upcoming for the Nemesis Elite 14u team... the team practices on Wednesday and Saturday and hosts a friendly on Sunday loaded with some tough teams.

---
12u Gold

Team had a weekend of two tales, filled with great plays (Sera and Edwards) and mental break downs. Moving forward , the coaching staff's objective is to bring some players along and get them up to speed in order to have key roles on the team.
Sat
NE 0-7 Las Vegas rage
NE 5-2 Las Vegas rage
Sun
NE 0-0 No Doubt
NE 4-7 USA athletics
NE 2-11 USA athletics


This week 12u gold has practice wednesday and saturday and off on Sunday.


---

12u Blue
Sunday, Sept 30 Nemesis Elite 12U Blue hosted a very successful first friendly at Independence Park. Fields had been cleaned and set up the night before so field set up in the morning took about 30 min and fields were well kept throughout the day. The snack shack was ready to go with all the breakfast burritos you could want. We had a team no show and I had some great help in coordinating with other teams from Rosa and Freddie (thank you).
Games started out well as Coach Courtney and Coach Memo got the girls hyped up to play. Emily started out the day with a sweet hard hit ball to left side that reached the snack shack set at the playground from field 1, out of play giving her a triple. Dominique's hitting in the 3rd spot of the line up kept getting stronger and stronger. Joleen had an amazing catch in left field that closed one of our hardest games of the day. Sammy threw two girls out of our last of 4 games of the day, she had been working hard all day and success was hers. The team had a strong show of hitting on their 3rd back to back game as balls were hit to the out of the infield and line drives.
Pitching was on fire for Sunday as all 5 pitchers got time at the mound. Emily's pitching had a 3 inning 0 ER which helped lead the team to a great start. Macey did a great job pushing the ball to some very tall and strong 12 year olds from LV.
Player of the Week: Haylee was a mini fielding powerhouse all day, she worked hard infield and out and making consistently good decisions. Mia Q came up to work and smoked a pitch for a HR from a great show of hitting skill and great level of focus.
Nemesis Elite VS Bomb Squad W 7-4
Nemesis Elite VS Madness L 3-7
Nemesis Elite VS Rage LV L 0-8
Nemesis Elite VS AA L 0-4