Nemesis Elite: NE NEws: 7.29.12 - Summer Camp Begins on Friday 8/10/12
7.29.12 - Summer Camp Begins on Friday 8/10/12
2012 Summer Camp - Session #1
Session: #1
Date: Friday 8/10/12
Location: Independence Park, 12354 Bellflower Blvd, Downey CA 90242
Report Time: 7:30am
Session Hours: 8:00am to 11:00am
(Note. camper supervision for drop-off avail starting 7:00am and for pick-up until 12:00pm)
Bring: Softball gear, sunscreen lotion, running shoes, dumb bells (2lb, 5lb or 10lb), water, sports drink and healthy snack.
You are hereby invited to participate in the upcomimg Summer Softball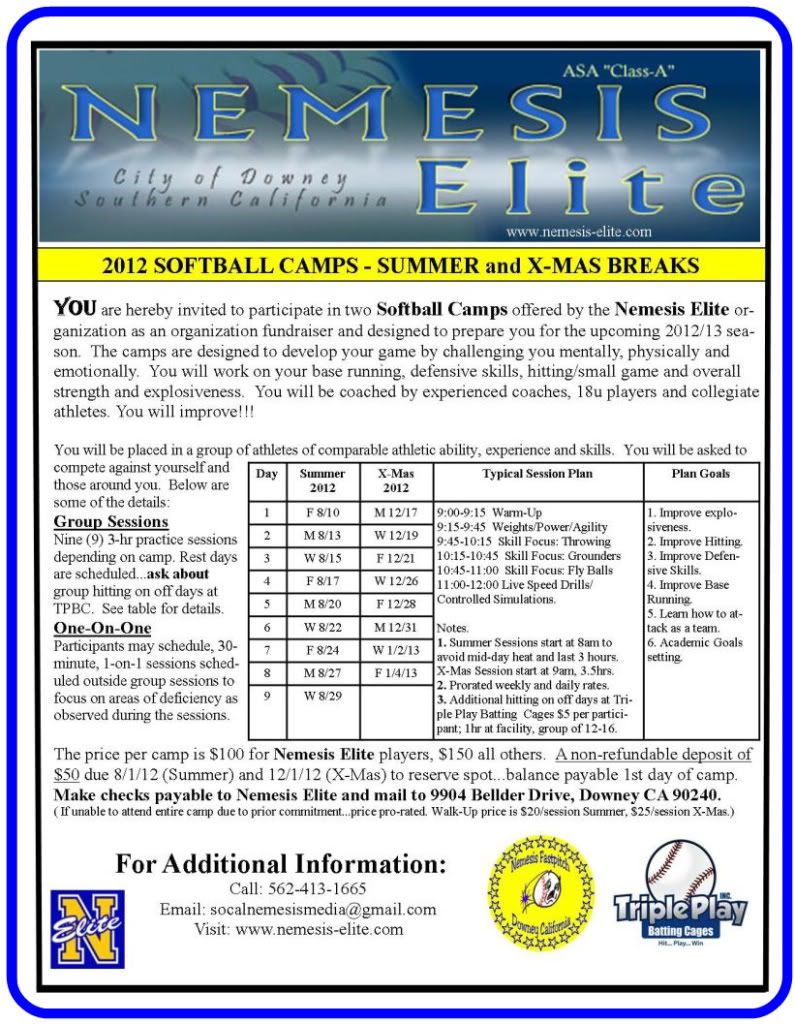 Camp offered by Nemesis Elite as an organization fundraiser and designed to prepare you for the upcoming 2012 fall season. The camp is designed to develop your game by challenging you mentally, physically and emotionally. You will work on your base running, defensive skills, hitting/small game and overall strength and explosiveness. You will improve.


Camp Coaches
Players will be instructed by Nemesis Elite coaches/18u players and collegiate athletes.
For 2012 we have added the use of the Triple Play Batting Cages to further enhance the experience for our campers.
Camp Details
Ages: 8u thru 18u
Summer Dates: 8/10, 13, 15, 17, 20, 22, 24, 27, 29/2012 (9 sessions)
Times: 8:00am to 11:00am (3-hrs ea session)
Note. The Wednesday sessions 8/15, 8/22 and 8/29 moved to the evening (5:30-8:30pm) at Discovery Sports Complex. Manny 7/29/12.
Location: See above for details.
Cost: $100 Nemesis Elite players, $150 all others (entire camp)...siblings 50% off.
Walk-Up: $25 per session

Registration
Mail $50 non-refundable deposit by 8/1/12 to lock in your spot. Balance due first day of camp.
Mail Deposit Check to: 9904 Bellder Drive, Downey CA 90240.
For more information:
Call: Sandy 562-413-1665
Email: socalnemesismedia@gmail.com