Nemesis Elite: NE NEws: 4.7.12 - College Visit - CSULB
4.7.12 - College Visit - CSULB
What a nice day and what an experience for the Nemesis Elite ladies!

Thank you Coach Kim Sowder, CSULB, for being such a great host and showing the Nemesis Elite parents and players what a fine institution CSULB is.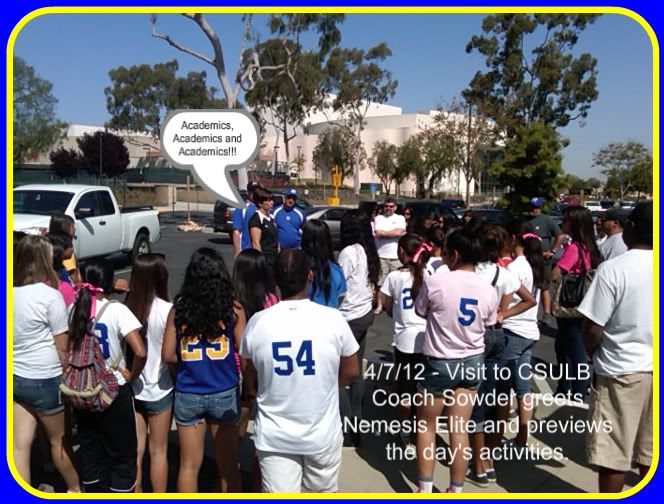 On Saturday, April 7, 2012, a Nemesis Elite group of over 100 players, coaches and parents visited CSULB as part of the college preparation program of Nemesis Elite. Coach Sowder met the group at the CSULB parking lot adjacent to the softball field and spoke to the group about the several aspects fo college softball and what CSULB has to offer to the student-athlete.
Coach Sowder went on and gave the group a guided tour of the main areas of the university. What a beautiful campus! Great facilities! CSULB has done an excellent job of creating a large yet well organized and intimate college setting.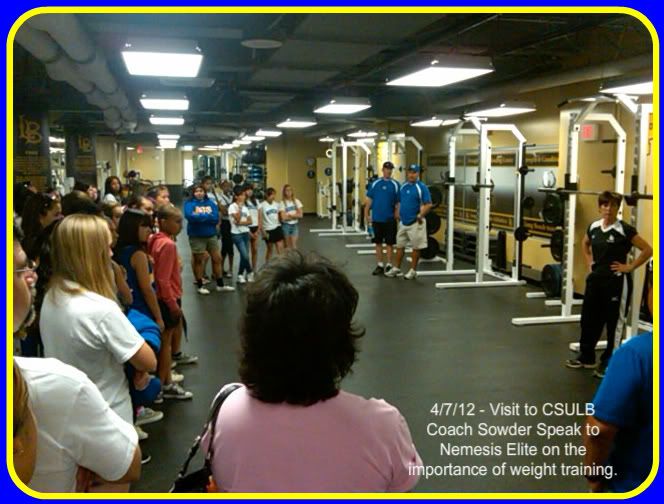 CSULB and the "BigWest" conference were featured in the 12/17/11 college workshop in preparation for the 4/7/12 visit.
Next college visit...Whittier College on Sat 4/21/12.
Academics ~ Softball ~ College...not just words..."action"
...for additional information on past college visits, college workshops and other college resources (including college coaches contact information) click on the "College Softball Resources" menu section. This section is restricted to Nemesis Elite members only.
_____________________________________________________________
College Visit to Cal State Long Beach...
to see 49'er softball in action...


Report: 10:15am
Pre-Game meeting w/CSULB Head Coach - Kim Sowder
Location: 49'er Softball Complex
CSULB Campus (near the Pyramid)
1250 Bellflower Blvd, LB CA 90840
Wear: Nemesis Elite gear
Players make banners for NE12uBlue Coach: Emily Gregorio #12
Game at 1:00pm CSULB vs Cal Poly
http://www.longbeachstate.com