Nemesis Elite: NE NEws: 3.4.12 - College Visit - UC Riverside
3.4.12 - College Visit - UC Riverside
On a hot Sunday, 3/4/12, the Nemesis Elite organization visited UC Riverside as part of the continuing College Education program for parents and players. The Nemesis Elite contingency numbered 237 visitors representing seven teams 12u thru 18u.

The day started with a group meeting with the host Head Coach Connie Miner (UC Riverside). Coach Miner spoke to the Nemesis Elite group about UC Riverside softball and what the university has to offer and her emphasis on academic performance. She also spoke about what she looks for in a softball player. Coach Miner finished her presentation with a guided tour of her beautiful campus.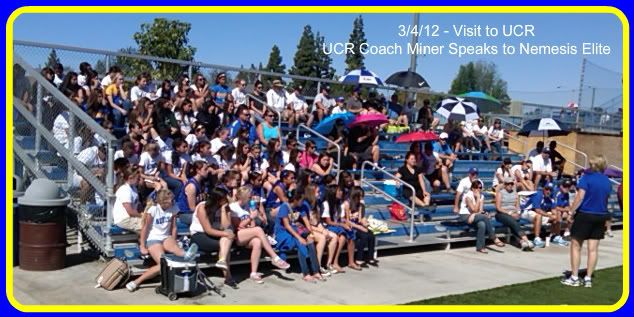 Next, the Nemesis Elite watched the University of South Carolina featuring Nemesis Elite graduate, lead-off hitter, short-stop and Nemesis Elite 12u Coach, Samie Garcia, take on the UC Davis squad. A very exciting game with the Gamecocks taking the lead on Samie's 2-run double and holding on for the 4-3 win.

Following the game, USC Head Coach, Beverly Smith and her staff spoke to the pre-HS Nemesis Elite parents/players while the USC Seniors and Samie addresed the Nemesis Elite HS ahtletes and their parents. Nemesis Elite parents and players walked away with a fresh insight on what it takes to play at the NCAA DI level for a major program in the Southeastern Conference...the "SEC".
Both respective conferences, the "BigWest" UC Riverside and the "SEC" South Carolina were featured in the 12/17/11 college workshop in preparation for the 3/4/12 visit.
Next college visit...CSULB on Sat 4/7/12.
Academics ~ Softball ~ College...not just words..."action"
...for additional information on past college visits, college workshops and other college resources (including college coaches contact information) click on the "College Softball Resources" menu section. This section is restricted to Nemesis Elite members only.
_____________________________________________________________
College Visit to UC Riverside...
to see University of South Carolina softball in action...


Report: 9:45am
Pre-Game meeting w/UCR Head Coach - Connie Miner
Location: Harrison Field
Corner of University Ave and Canyon Crest Drive
UC Riverside Campus
900 University Ave, Riverside CA 92521
Wear: Nemesis Elite gear
Players make banners for NE12uBlue Coach: Samie Garcia #12
Game at 11:30am USC vs UC Davis
Post game meeting w/USC Head Coach - Beverly Smith
http://www.gamecocksonline.com/