Nemesis Elite: NE NEws: 5.10.11 - Nemesis Softball Camps - Summer and Xmas 2011 - Announced
5.10.11 - Nemesis Softball Camps - Summer and Xmas 2011 - Announced
You are hereby invited to
participate in two upcomimg Softball Camps (one in August 2011 and the other during the 2011 X-Mas break) offered by Nemesis Elite as an organization fundraiser and designed to prepare you for the upcoming 2011/12 season. The camps are designed to develop your game by challenging you mentally, physically and emotionally. You will work on your base running, defensive skills, hitting/small game and overall strength and explosiveness. You will improve.
Camp Coaches
Players will be instructed by Nemesis Elite coaches/18u players and collegiate athletes.
Camp Details
Ages: 8u thru 18u
Summer Dates: 8/12, 15, 17, 19, 22, 24, 26, 29, 31/2011 (9 sessions)
XMas Dates: 12/19, 20, 22, 23 & 12/26, 27, 29, 30/2011 (8 sessions)
Times: 8:00am to 11:00am (3-hrs ea session Summer, 3.5-hrs ea. session XMas)
Location: TBD
Cost: $100 Nemesis Elite players, $150 all others (entire camp)
Walk-Up: $20/session Summer; $25/session XMas.
Registration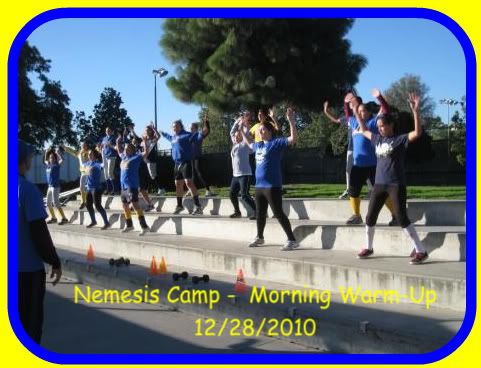 Mail $50 non-refundable deposit by 8/1 for Summer camp and 12/1 for X-Mas camp. Balance due first day of camp.
Mail Deposit Check to: 9904 Bellder Drive, Downey CA 90240.
For more information:
Call: 562-413-1665
Email: socalnemesismedia@gmail.com