Nemesis Elite: Players Wanted
Coaches/Players Wanted
~Academics-Softball-College~
Follow Nemesis Elite on... for news & pics.
The Nemesis Elite organization thanks you for your interest. Below you will find important information regarding upcoming try-outs and/or current openings.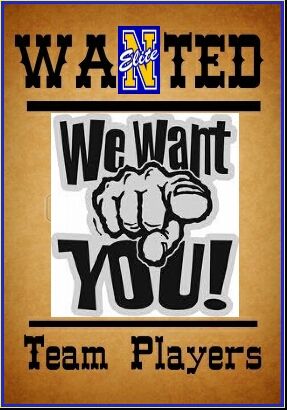 Follow Nemesis Elite on...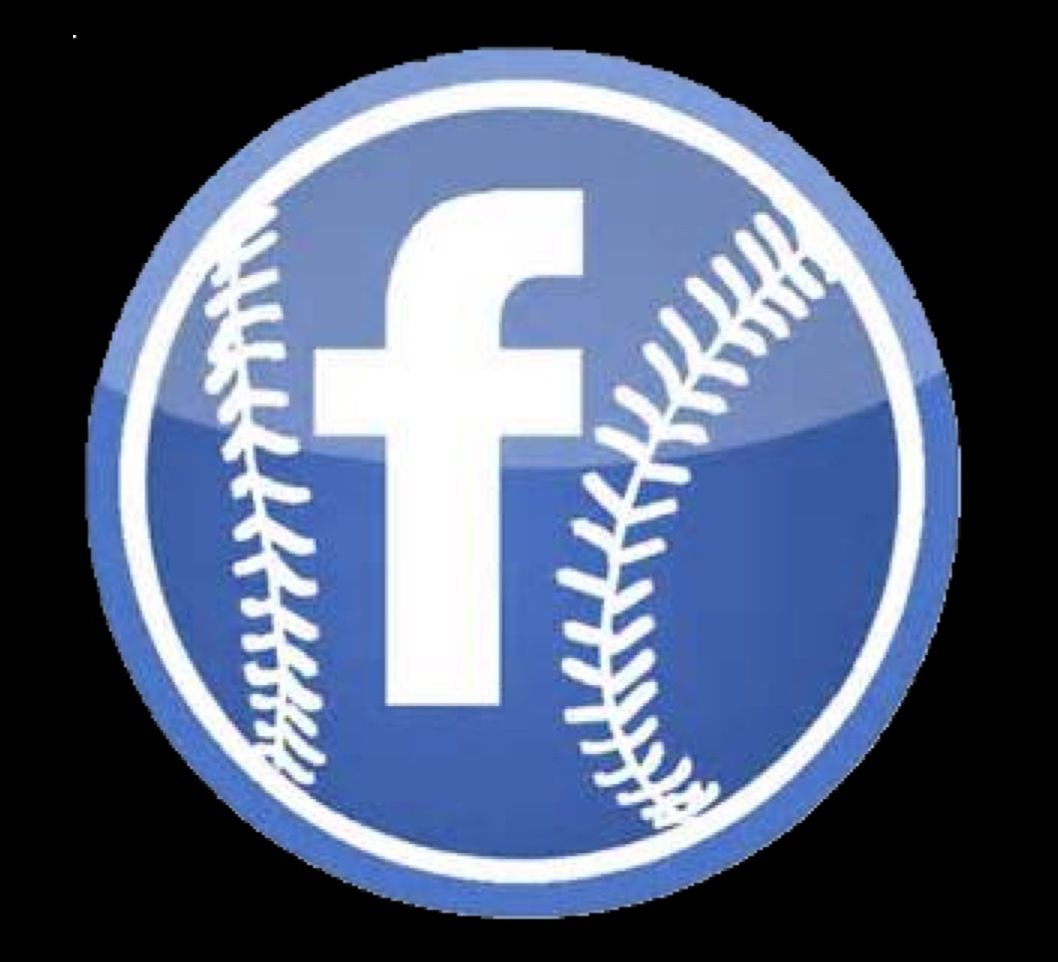 for news & pics.

Nemesis Elite has two Open Try-Out Periods, Summer and Winter. The summer try-outs take place the last two weeks of August, sometimes running into September. The Winter try-outs take place either during the X-Mas break or right after New Year.
See below for current openings and team contacts or try-out information.
Nemesis Elite is hosting an information meeting for parents and coaches looking
for a softball organization to call home.
Nemesis Elite prides itself in setting a family atmosphere where young ladies
thrive in a college preparatory softball environment...a softball academy.
You are invited to participate and learn about the history, philosophy,
culture, leadership, teams, resources, programs and
future of the Nemesis Elite organization.
Academics ~ Softball ~ College
We measure success one student athlete at a time!!! Join us!!!
When: Tuesday May 10, 2016 7:30pm.
Where: Triple Play Batting Cages
12434 Bellflower Blvd Downey CA 90242
____________________________________________________
Summer TryOuts
We will be using Triple Play Batting Cages for the hitting evaluation.

To prepare for try-outs look into the Nemesis Elite Summer Camp.
Best Summer Camp...Period!!!

Sun 8/21/16
10u/12u/14 at Independence Park
16u/18u at Discovery Sports Complex
Sun 8/28/16
10u/12u/14 at Independence Park
16u/18u at Discovery Sports Complex

(Please use the contact us button below to email for additional details)



Teams,Coaches and Players Wanted
Refer to the table below for specific information/openings.
Check back often to make sure details stay the same.

~2013 Alumni Game~
12/28/13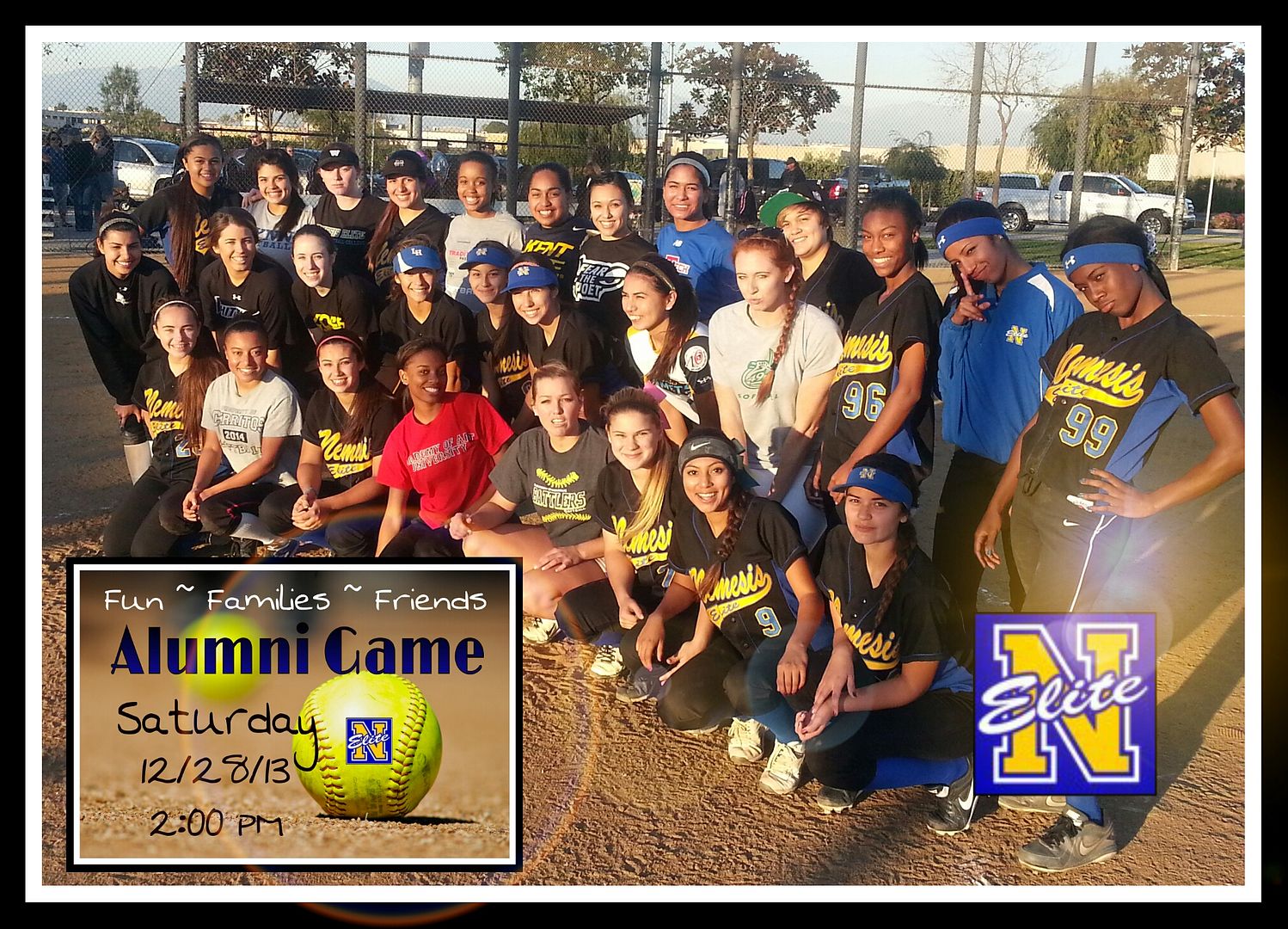 Colleges/Organizations Represented - CS Northridge, Kent State, Lynn University, South Carolina/US Nat Pro Fastpitch, Cerritos College, NC Charlotte/Netherlands Pro Softball, CS Long Beach, Alderson Broaddus, Whittier College, Louisiana Tech, CS San Bernardino, Academy of Arts and "The Nemesis Elite of Southern California"!!!. Go NE!!!
Nemesis Elite - Current 2015 Teams Updated 5/1/16
Team

Openings

Contact


Are you interested in coaching or managing a young Nemesis Elite team?
Is your All-Star team ready to enter the college-preparatory softball environment?
Are you looking to move your softball team to a more "small-family" type environment?

Nemesis Elite is a small integrated college-preparatory program where every player
receives personal attention from the organization leadership. As our teams mature and our seniors
start their collegiate softball journeys we have resources available to support new teams.


Team

Openings

Contact

10u "Your Name"

Contact Coach Manny if you are interested
in Managing or Coaching a 10u squad.

12u Lujan

Looking for:
One Pitcher
Power Hitter
Updated: 5/1/16

Adam Briggs
562-824-3582
adamgreens72@gmail.com

12u Coppin

Looking for:
One Pitcher
One Catcher
One Position Player
Updated: 5/1/16

Michelle Fletcher
michellefletcher2674@gmail.com

14u Zellien

Looking for:
1 Pitcher
1 Catcher
1 Position Player
Updated: 5/01/2016

Allison Zellien
ne12uzellien@gmail.com

14u Wright

Looking for:
One Outfielder
One MIF
Updated: 5/1/16

Christina Juarez
cjuarez875@gmail.com

16u Gold

Looking for:
One Catcher
One Pitcher
One MIF


Updated: 5/1/16

Manuel Garcia
socalnemesismedia@gmail.com


18u Hernandez


Nemesis Elite practice facilities are centrally located in Downey CA. Teams normally practice on Wednesday evenings and Saturday mornings. The main facilities are:
A. Discovery Sports Complex,
B. Triple Play Batting Cages, and
C. Indepencence Park.


18u Hernandez Looking for:
One Pitcher
Two Catchers
One Shortstop/MIF
Updated: 5/1/16

18u Division

Teams
18u Gold
18u Hernandez

Managers
Sandy Grana
Tina Hernandez

Coaches
Manuel Garcia
Chris Hernandez
Chris Forseen
Emil Apacible
Jenna Hernandez

*18u Gold/Premier
Contact Manny
at 323-997-1564
email profiles
and video links to
mgarcia902@hotmail.com

The Nemesis Elite 18u Gold program is recognized by Triple Crown Sports as one of the top-100 clubs in the country, #33 Nationally in 2014. The rankings is comprised of performance in all major national events (PGF, TCS, ASA, etc.), coaches' poll and players college placement.

18u Gold

NE Gen Mgrs Sandy/Manny
at the TCS top-100 dinner 6/30/14.

Did you know...
the Nemesis Elite 18u Gold program
is recognized by the Triple Crown Sports'
"USA Club Rankings" system
as a top-100 club nationally.
The ranking takes into account
field performance in major events,
coaches' poll and college placement
history. Go NE!!!


18u Gold
This team is the flagship team
of the Nemesis Elite organization. The team is comprised of HS students with the requisite academic performance, experience, physical, mental, and technical abilities to compete aganist the best at the
national level.
(Twelve 2015 class commitments)
(Four 2016 commitments)

18u Gold Looking for:
Catcher

Updated: 5/1/16