Nemesis Elite: Tryouts
Summer Open Try-Outs & Team Structures

The Nemesis Elite organization thanks you for your interest. Below you will find important information regarding upcoming try-outs and/or current position openings.
**Summer 2014 Try-Out Dates
12u/14u - Sun 8/17 & Sun 8/24 8am-12pm - Independence Park
Independnece Park - 12334 Bellflower Blvd Downey, CA 90242

16u/18u - Sun 8/17 & Sun 8/24 8am-12pm - Discovery Sports Complex
Discovery Sports Complex - 12400 Columbia Way Downey, CA 90242

Nemesis Elite has two Open Try-Out Periods, Summer and Winter. The summer try-outs take place the last two weeks of August, sometimes running into September. The Winter try-outs take place either during the X-Mas break or right after New Year.
See below for current openings and team contacts or try-out information.
Open Try-Outs - Players Wanted
Refer to the table below for specific information/openings. Check back often to make sure details stay the same.

~2013 Alumni Game~
12/28/13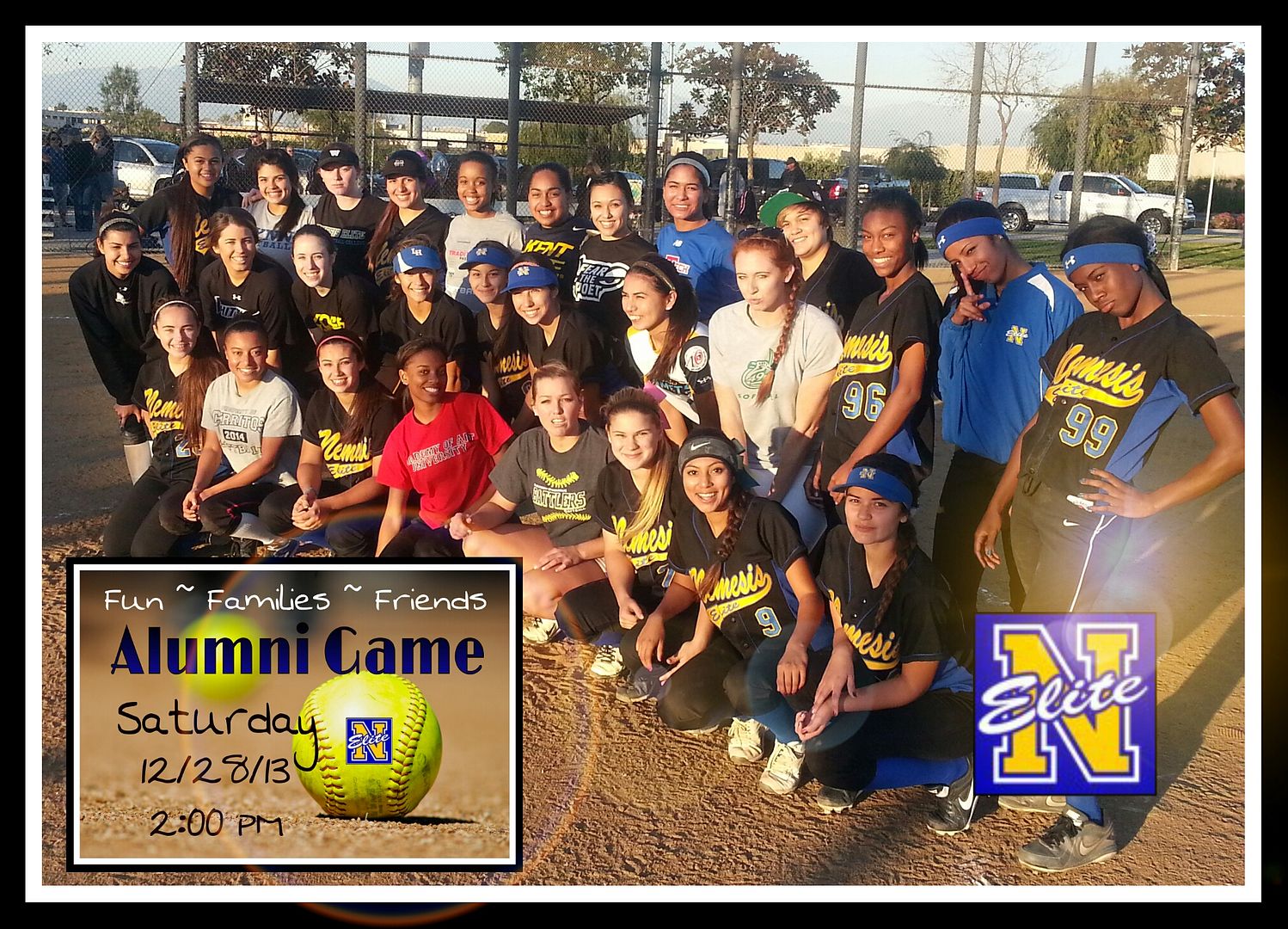 Colleges/Organizations Represented - CS Northridge, Kent State, Lynn University, South Carolina/US Nat Pro Fastpitch, Cerritos College, NC Charlotte/Netherlands Pro Softball, CS Long Beach, Alderson Broaddus, Whittier College, Louisiana Tech, CS San Bernardino, Academy of Arts and "the Nemesis Elite of Southern California"!!!. Go NE!!!
Nemesis Elite - 2014/15 Teams Updated 7/24/14
Team

Openings

Contact

12U

The Nemesis Elite organization is interested
in fielding a "first-year" 12u team, 6th graders.
If you have a team or are interested in
starting one...contact Coach Manny at
323-997-1564 or mgarcia902@hotmail.com.

12U Zellien

Allison Zellien
626-643-8713

14U Garcia

Crystal Garcia
310-916-2816

14U Grana
(Courtney/Nikki)

Rosa Quimson
562-307-1489

14u/16u Garcia
Head Coach: Cecily
Asst Head Coach: TBD
Lead Coaches: TBD



This team will serve the
developmental and exposure
needs of 9th grade/2018 athletes. Competing
at the 14u level with some events
at 16u. Major exposure events planned.
Developmental guidance by Coach Manny.



Lisa Dennis
562-618-2436

16u/18u Garcia
Head Coach: Manny
Asst Head Coach: Alyssa
Lead Coaches: TBD


This team will serve the
developmental and exposure
needs of 10th/11th grade athletes with
a focus on 2017 athletes. Competing
primarily at the 16u level and entering
some 18u events. Team schedule will
parallel the NE 18uG team...major events.
**Upon completion of this season graduating
players are expected to compete for a spot
on the NE 18u Gold team for the 2015/2016 season.



Mary Vasquez
323-369-2516

18u Hernandez


This team will serve the
developmental and exposure
needs of 10th/11th/12th grade athletes with
a focus on 2015/2016 athletes.
Competing at the 18u level and entering
major showcases like Zoom-Into-June,
Co Fireworks, Champions Cup etc.
Team schedule will be very similar to the
NE 18uG team at the appropriate
level of competion.



18u Division

Managers - Sandy Grana
Tina Hernandez
Marney Wright

Coaches - Manuel Garcia
Brad Wright
Chris Hernandez
Gabe Gonzales
Chris Foreseen
Jenna Hernandez

*18u Gold/Premier
Contact Manny
at 323-997-1564
email profiles
and video links
to
mgarcia902@hotmail.com

18u Gold

NE Gen Mgrs Sandy/Manny
at the TCS top-100 dinner 6/30/14.

Did you know...
the Nemesis Elite 18u Gold program
is recognized by the Triple Crown Sports'
"USA Club Rankings" system
as a top-100 club nationally.
The ranking takes into account
field performance in major events,
coaches poll and college placement
history. Go NE!!!


This team is the flagship team of the
Nemesis Elite organization. The team will be
comprised of HS students with the
requisite academic performance, experience,
physical, mental, and technical abilities
to compete aganist the best at the
national level. High level of family
commitment required...extensive
travel and busy summer 2015.