Neartown Little League: News
OPENING DAY PARADE DETAILS
OPENING DAY PARADE AND CEREMONIES ARE THIS SATURDAY, MARCH 25TH!
Please be on the lookout for additional information from your Managers and Coaches regarding the season's Opening Day Parade & Ceremonies!
Saturday morning, March 25th, the entire League will assemble with their teams, in full uniform, in the Montrose HEB Parking Lot (located at W Alabama & Dunlavy St) starting at 8:45 am. The parade will start at 9 am sharp - led by police escort - to reconvene on the Will Weber Field in Ervan Chew Park for the introduction of the teams, TEAM PICTURES and the first pitch to open the season. The ceremonies will conclude at 10 am with a showcase matchup of our Majors teams!
Stay on the lookout for weather updates, but unless it is pouring rain, the show will go on.
We look forward to seeing everyone there!
PHOTOS - ONLINE ORDERING ONLY
This year we are pleased to welcome back TSS Photography to record our Opening Day events and take our team pictures. While the League has already arranged for each player to receive a team picture, if you would like to order additional photos of your child, please use these instructions:
NOTE all ordering is done online and we are not distributing paper forms.
1. Immediately after opening day festivities conclude, TSS will begin Team & Individual Pictures behind outfield near the water feature. There will be 2 camera stations operating in 15-minute intervals for each team based on preset scheduled times.
2. Parents can ask questions at the TSS sales table, but please direct only Players and Coaches to the camera stations.
4. If you use a mobile device to access www.tssorders.com, enter Event # 26994821
5. Pre-Order receipt confirmations arrive by email. Only print/bring receipt IF statuette, impact series, or buddy items are purchased. Save a tree an only print if necessary.
6. If order for multiple children in the program, you must complete a separate order for each child. Each child needs their own Order ID.
7. Any buddy pictures e.g.(siblings, friends, and/or parent/player) must be completed separately. Order needs own Order ID.










Saturday, January 28
Planning Dates
Here are a few dates to pencil into your calendar for planning purposes:
Friday, February 3rd - Regular Registration closes. All registrations after midnight will be subject to availability and approval by the team Manager. Do not delay - register now!
***UPDATED*** Saturday, February 11th - Draft Day, Safety Training & Equipment Issue. Managers, Coaches, and Assistants will be provided more details directly by email. The entire group will convene for their annual safety briefing followed by draft. Teams will be announced the following week by their Managers.
Monday, February 13th - First week of available practice dates. Not all teams will start practicing this week, but everyone will have at least heard from their Manager about their pre-season practice schedule. Until the regular season begins, teams will typicall hold 2x practices per week - one during the week and one during the weekend.
Week of March 1st - Initial games may be played by some teams in some divisions.
Saturday, March 25th - OFFICIAL OPENING DAY. Our traditional parade and ceremonies will be followed by a showcase Majors Division game, all held at Weber Field.
March 25th - May 21st - Regular Season - practice schedules will shift to 1x during the week and games will be held Friday night, Saturdays & Sundays.
Sunday, May 22nd - Closing Ceremonies & annual All Star Exhibition Game (a 3-inning matchup) followed by the Manager v Coach Classic.
Last weeks of May and June - Post Season Tournament Teams will practice and play in Little League and other sanctioned events.
Wednesday, February 8
WAITLIST REGISTRATION
Our Registration website will remain open, but placement on a team is now subject only to availability and agreement by the Manager and Coach. Once you have completed all the info online, please send an email to player-agent@neartownll.org with a cc: to info@neartownll.org with a "SUBJECT: NEW REGISTRATION" to let us know you've completed this step & we will typically have an answer about team assignments within 1 week.
If a team cannot be found, Registration Fees will be refunded as soon as possible.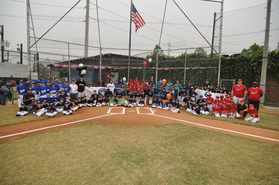 Neartown Little League
Welcome to the Home of Neartown Little League!
We are a Chartered member of Little League Baseball, Inc. and as a non-profit organization we also follow Little League's mission statement "to promote, develop, supervise, and voluntarily assist in all lawful ways, the interest of those who will participate in Little League Baseball and Softball."
Through proper guidance and exemplary leadership, the Little League program assists youth in developing the qualities of citizenship, discipline, teamwork and physical well-being. By espousing the virtues of character, courage and loyalty, the Little League Baseball and Softball program is designed to develop superior citizens rather than superior athletes.
We hope you and your children (boys & girls ages 4-12) will decide to become part of the Neartown Family and sign up to play ball with us!
Contact anyone below to learn more:
Sponsors: Cris Bera (sponsors@neartownll.org)
Players: Billy Marlin (player-agent@neartownll.org)
Fields: Patrick Kwiatkowski (fields@neartownll.org)
Umpires: David Knoll (umpiring@neartownll.org)
General Information: Cris Bera (info@neartownll.org)
Sunday, April 28
NLL Presents to City Council
At the March 19th meeting of Houston's City Council, Neartown Little League made a short presentation to give the Mayor the ball she threw out for the First Pitch of the 2012 season & a Neartown LL logo baseball cap.
All Council Members were very supportive of the League and were appreciative of the work we do to help maintain fantastic baseball fields and provide team sports opportunities for our neighborhood's kids.
Special thanks to those Board Members able to attend - Ed Gonzales, Dawn Mena, Joseph Hebert, William Keller & Cris Bera. A replay of the presentation can be found at this link - NLL was first on the Agenda thanks to Councilwoman Ellen Cohen of District C.
NLL Team FAQs
FAQs for Neartown LL's spring season.
WHICH DIVISION SHOULD WE SIGN UP FOR?
T-BALL (generally 4-6 yr olds) - The first step in learning the basics of a sport that can be enjoyed for a lifetime!
MACHINE PITCH (generally 7-8 yr olds) - An excellent level of competitive play that still emphasizes skill development and utilizes a pitching machine to introduce more advanced batting techniques.
MINORS (generally 9-10 yr olds) - Best suited for players who are comfortable with basic skills of baseball and are ready to move up to kid-pitched games.
MAJORS (generally 11-12 yr olds) - Intended for players who have had several years of organized baseball experience.
SOFTBALL - A new division for us and appropriate for all levels of experience.
CHALLENGER (all ages) - A new division for us this year, for boys and girls with physical or mental challenges to enjoy the game of baseball
DO GIRLS PLAY IN LITTLE LEAGUE?
Absolutley YES! All kids, boys & girls, who are interested in baseball are welcome to join us. If you have a particular interest in our Softball Division, please email softball@neartownll.org with any questions.
HOW MANY TIMES PER WEEK ARE PRACTICES & GAMES?
PRESEASON - One practice during the week and one on the weekend.
REGULAR SEASON (March - May) - One game and one practice per week.
WHERE ARE YOUR FIELDS LOCATED?
Will Weber Field is located in Ervan Chew Park at 4502 Dunlavy, Houston, TX 77098
WHO DO I CONTACT IF I WOULD LIKE TO VOLUNTEER FOR THE LEAGUE AS A COACH?
Please email coaching@neartownll.org with your interest.
HOW LONG DOES THE SEASON LAST?
We will start practices in February and the season officially ends in May. Tournament teams would continue playing up to July, depending on the Division.
WHAT HAPPENS ON OPENING DAY?
We will kick off the season with a morning parade, introduce the teams & sponsors and throw out our first pitch. All team & individual pictures are taken immeditately after the ceremonies. If possible, all teams will have their first game of the season that day.
HOW MUCH DOES IT COST? WHAT DOES THE LEAGUE PROVIDE?
Early bird special: $200 per player + $50 per family for field improvement fund. Additional siblings that sign up enjoy a player fee discount. Each player will receive a team uniform of shirt, pants, & cap along with a team photograph. The league will also provide Coaches with an equipment bag containing community batting helmets, Little League-approved bats, catcher's gear, as well as practice & game balls.
WHAT EQUIPMENT DO WE NEED TO BRING OURSELVES?
Each player is responsible for providing their own baseball glove and cleats. It is highly recommended that each player bring their own batting helmet (for hygenic reasons) and a bat that is matched to their specific skill and strength.
CAN WE PICK OUR TEAM? CAN WE PLAY WITH OUR FRIENDS?
While we cannot guarantee the team of your choice at all levels of play (it is important to have similar levels of talent across a single Division's teams), we will always take into consideration special requests. Please communicate those to our Player Agent (player-agent@neartownll.org) by email after you have registered.
DO WE NEED TO HAVE PRIOR EXPERIENCE?
None is required - we are open to beginners as well as seasoned players. We are happy to find a team that is right for you!
We hope these answer your basic questions and look forward to having you and your family part of the Neartown Nation this spring!