Neartown Little League: Welcome
Monday, March 19
Welcome to the Home of Neartown Little League!
We are a Chartered member of Little League Baseball, Inc. and as a non-profit organization we also follow Little League's mission statement "to promote, develop, supervise, and voluntarily assist in all lawful ways, the interest of those who will participate in Little League Baseball and Softball."
Through proper guidance and exemplary leadership, the Little League program assists youth in developing the qualities of citizenship, discipline, teamwork and physical well-being. By espousing the virtues of character, courage and loyalty, the Little League Baseball and Softball program is designed to develop superior citizens rather than superior athletes.
We hope you and your children (boys & girls ages 5-12) will decide to become part of the Neartown Family and sign up to play ball with us!
Contact anyone below to learn more:
Sponsors: Terry Moore (sponsors@neartownll.org)
Umpires: David Knoll (umpiring@neartownll.org)
Fields: Patrick Kwiatkowski (fields@neartownll.org)
News Articles and Press Releases about NLL
Little League Baseball, Inc. - Dr. Wilford Weber to Receive Posthumous Little League Urban Initiative Volunteer of the Year Award
Houston Chronicle - Neartown Little League's Will Weber Recalled as a Visionary
Houston Chronicle - Baseball Breeds an Intangible Value / Neartown Little League Good for Players, Community as a Whole
Little League Baseball, Inc. - Little League International Board of Directors Attend Dedication of Eric Hilton Field in Houston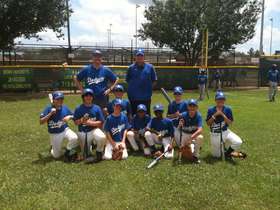 Neartown Dodgers Tx Jamboree Team
Monday, June 3
Congratulations to CHILL Texas Jamboree Tournament Team
Tx Jamboree Players: Ros Michalski, Marc Peniche, Mac Aulbach, Gabriel Gauthier, Christian Rodriguez, Cameron Mudd, Richard Wells, Henry Brudner and John Bland
Our Neartown Majors Division Dodgers took part in this weekend's Texas Jamboree Tournament at the Pearland LL fields. It was hosted and organized through the Little League Urban Initiative Group of which Neartown is a member of the Council of Houston Innercity Little Leagues (CHILL).
They played throughtout the weekend, starting with a win for their first game on Friday night. The players did a great job of representing NLL and many thanks to the Head Coach Mark Arnold and Coach Alan Bland for getting them prepared for the post season!
Sunday, April 28
NLL Presents to City Council
At the March 19th meeting of Houston's City Council, Neartown Little League made a short presentation to give the Mayor the ball she threw out for the First Pitch of the 2012 season & a Neartown LL logo baseball cap..
All Council Members were very supportive of the League and were appreciative of the work we do to help maintain fantastic baseball fields and provide team sports opportunities for our neighborhood's kids.
Special thanks to those Board Members able to attend - Ed Gonzales, Dawn Mena, Joseph Hebert, William Keller & Cris Bera. A replay of the presentation can be found at this link - NLL was first on the Agenda thanks to Councilwoman Ellen Cohen of District C.
NON-PROFIT 501(c)3 STATUS
Neartown Little League is a not-for-profit organization under section 501(c)3 of the Internal Revenue Service code. Contributions made to Neartown can be deductible for federal income tax purposes when supported by a receipt. Please consult your tax advisor regarding applicability to you.
Neartown Little League
PO Box 66193
Houston, TX 77266
If you have any questions about Neartown or
how you can support the kids in your community, please contact
Cris Bera
President
832-617-0655

SUGGESTION BOX
How we can we improve our communications?
Friday, February 8
Neartown Little League