Neartown Little League: Welcome
Registration open for Earlybird Special for Spring 2018 at 2017 Rates
Fall Ball Registration Link
Spring 2018 - Earlybird Registration is Open










Planning Dates
Here are a few dates to pencil into your calendar for planning purposes:
Fall Ball is happening - Please contact League if you still want to participate
Earlybird Registration is open until January 1, 2018 for Spring 2018 Season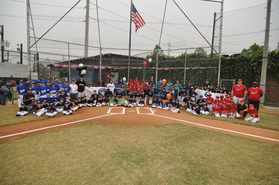 Neartown Little League
Welcome to the Home of Neartown Little League!
We are a Chartered member of Little League Baseball, Inc. and as a non-profit organization we also follow Little League's mission statement "to promote, develop, supervise, and voluntarily assist in all lawful ways, the interest of those who will participate in Little League Baseball and Softball."
Through proper guidance and exemplary leadership, the Little League program assists youth in developing the qualities of citizenship, discipline, teamwork and physical well-being. By espousing the virtues of character, courage and loyalty, the Little League Baseball and Softball program is designed to develop superior citizens rather than superior athletes.
We hope you and your children (boys & girls ages 4-12) will decide to become part of the Neartown Family and sign up to play ball with us!
Contact anyone below to learn more:
Sponsors: Cris Bera (sponsors@neartownll.org)
Players: Billy Marlin (player-agent@neartownll.org)
Fields: Patrick Kwiatkowski (fields@neartownll.org)
Umpires: David Knoll (umpiring@neartownll.org)
General Information: Cris Bera (info@neartownll.org)
Sunday, April 28
NLL Presents to City Council
At the March 19th meeting of Houston's City Council, Neartown Little League made a short presentation to give the Mayor the ball she threw out for the First Pitch of the 2012 season & a Neartown LL logo baseball cap.
All Council Members were very supportive of the League and were appreciative of the work we do to help maintain fantastic baseball fields and provide team sports opportunities for our neighborhood's kids.
Special thanks to those Board Members able to attend - Ed Gonzales, Dawn Mena, Joseph Hebert, William Keller & Cris Bera. A replay of the presentation can be found at this link - NLL was first on the Agenda thanks to Councilwoman Ellen Cohen of District C.
NLL Team FAQs
FAQs for Neartown LL's spring season.
WHICH DIVISION SHOULD WE SIGN UP FOR?
T-BALL (generally 4-6 yr olds) - The first step in learning the basics of a sport that can be enjoyed for a lifetime!
MACHINE PITCH (generally 7-8 yr olds) - An excellent level of competitive play that still emphasizes skill development and utilizes a pitching machine to introduce more advanced batting techniques.
MINORS (generally 9-10 yr olds) - Best suited for players who are comfortable with basic skills of baseball and are ready to move up to kid-pitched games.
MAJORS (generally 11-12 yr olds) - Intended for players who have had several years of organized baseball experience.
SOFTBALL - A new division for us and appropriate for all levels of experience.
CHALLENGER (all ages) - A new division for us this year, for boys and girls with physical or mental challenges to enjoy the game of baseball
DO GIRLS PLAY IN LITTLE LEAGUE?
Absolutley YES! All kids, boys & girls, who are interested in baseball are welcome to join us. If you have a particular interest in our Softball Division, please email softball@neartownll.org with any questions.
HOW MANY TIMES PER WEEK ARE PRACTICES & GAMES?
PRESEASON - One practice during the week and one on the weekend.
REGULAR SEASON (March - May) - One game and one practice per week.
WHERE ARE YOUR FIELDS LOCATED?
Will Weber Field is located in Ervan Chew Park at 4502 Dunlavy, Houston, TX 77098
WHO DO I CONTACT IF I WOULD LIKE TO VOLUNTEER FOR THE LEAGUE AS A COACH?
Please email coaching@neartownll.org with your interest.
HOW LONG DOES THE SEASON LAST?
We will start practices in February and the season officially ends in May. Tournament teams would continue playing up to July, depending on the Division.
WHAT HAPPENS ON OPENING DAY?
We will kick off the season with a morning parade, introduce the teams & sponsors and throw out our first pitch. All team & individual pictures are taken immeditately after the ceremonies. If possible, all teams will have their first game of the season that day.
HOW MUCH DOES IT COST? WHAT DOES THE LEAGUE PROVIDE?
Early bird special: $200 per player + $50 per family for field improvement fund. Additional siblings that sign up enjoy a player fee discount. Each player will receive a team uniform of shirt, pants, & cap along with a team photograph. The league will also provide Coaches with an equipment bag containing community batting helmets, Little League-approved bats, catcher's gear, as well as practice & game balls.
WHAT EQUIPMENT DO WE NEED TO BRING OURSELVES?
Each player is responsible for providing their own baseball glove and cleats. It is highly recommended that each player bring their own batting helmet (for hygenic reasons) and a bat that is matched to their specific skill and strength.
CAN WE PICK OUR TEAM? CAN WE PLAY WITH OUR FRIENDS?
While we cannot guarantee the team of your choice at all levels of play (it is important to have similar levels of talent across a single Division's teams), we will always take into consideration special requests. Please communicate those to our Player Agent (player-agent@neartownll.org) by email after you have registered.
DO WE NEED TO HAVE PRIOR EXPERIENCE?
None is required - we are open to beginners as well as seasoned players. We are happy to find a team that is right for you!
We hope these answer your basic questions and look forward to having you and your family part of the Neartown Nation this spring!
NON-PROFIT 501(c)3 STATUS
NON-PROFIT 501(c)3 STATUS
Neartown Little League is a not-for-profit organization under section 501(c)3 of the Internal Revenue Service code. Contributions made to Neartown can be deductible for federal income tax purposes when supported by a receipt. Please consult your tax advisor regarding applicability to you.
Neartown Little League
PO Box 66193
Houston, TX 77266
If you have any questions about Neartown or
how you can support the kids in your community, please contact
Cris Bera
President
832-617-0655

Friday, February 8
Neartown Little League