Niles-Centerville Little League: Welcome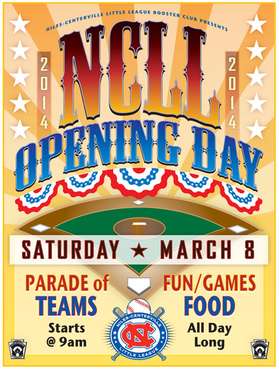 CEREMONY

:

All teams/players are expected to attend and participate in the Opening Ceremony regardless if they have a game at NCLL on Saturday.

PARADE OF TEAMS:

All Teams need to meet in the parking area near the snack shack/batting cages at 8:30am to begin staging for the parade.

PLAYERS SHOULD BE IN FULL UNIFORM. If you have a team banner/pennant...bring it!

Teams will line up next to the batting cages starting with Tball to Seniors in alphabetical team name order

.

(Someone will be there to assist with this process).

SEATING ON FIELD:

Team Managers/Team Parents...

The players will sit as a team around the infield on the Minor field during the ceremony so bring a tarp big enough for everyone to sit on…the ground could be wet.

Parents, family and friends are all invited to share in the Opening Day festivities. Seating for these guests will be in outfield and along the fence lines. We recommend bringing a chair or blanket to sit on as the fields may be wet/damp.

PARKING IS VERY LIMITED

...please plan accordingly.

We ask you are respectful of our neighbors and do not block any driveways, crosswalks, etc. The Orangewood Drive outer parking lot will be closed until after the Opening Ceremony...DO NOT BLOCK the parking lot entrance as there MUST be enough access for emergency vehicles to get through if necessary.

HANDICAP PARKING

..if you have someone who is handicapped (must have a valid placard), please find an NCLL Board Member and we will allow them to park in the inner gravel parking lot.

SNACK SHACK/GRILL:

The Snack Shack WILL BE OPEN and serving food!!! YAY!

Team Parents...snack shack tickets can be purchased after the Opening Ceremony.

Only Managers and Team Parents are allowed to purchase them.

Snack Shack tickets can also be purchased prior to Saturday…contact Kerri Redditt at 909-1401 to arrange a meeting time.

MERCHANDISE

:

We are excited to announce the 2014 NCLL Spirit Wear has arrived and it looks GOOD!!

We have added some NEW items so be sure to stop by the Merchandise Shed and check it out.
We will also be selling Giants and A's Little League Day tickets at the Merchandise Shed…but don't wait, tickets are limited and we usually sell out on Opening Day!

Remember…NCLL NOW ACCEPTS VISA/MC in the Snack Shack as well as the Merchandise Shed ($10 minimum purchase required)
We will have games on Saturday so after the ceremony/festivities...grab something to eat from our famous NCLL Snack Shack and Grill and hang out for a fun day of baseball.
We look forward to seeing everyone this Saturday! Let's play some baseball!
NCLL Board of Directors
District 14 Advanced Mechanics Umpire Clinic
Friday, February 28th @ 7pm In the Classroom
Location: Olivera Elementary School (Fremont)
Saturday, March 1st @ 8am - 4pm on the field (rain out)
Sunday, March 23rd @ 8am - 4pm on the field
Location: Patterson Elementary School (Fremont)
All new plate umpires should attend or anyone wanting additional training.
District 14 50/70 and 90 Foot Umpire Mechanics Clinic
Sunday, March 9 @ 1pm – 4:30pm
Location: NCLL
All "experienced" Minor A, Major, Junior coaches & parent umpires should attend this clinic.
NCLL Junior Umpire Clinic
Sunday, March 16th 1pm-4pm
Location: NCLL Fields
All teenagers wanting to participate in the Jr. Umpire program MUST attend. This clinic will also be open to other teenagers from the district.