RiverBandits Baseball: Welcome
Wednesday, October 31
The Napoleon River Bandits are currently fundraising for the upcoming 2019 season. If you are interested in finding a way to help, please check out the Donate link on the side of the page. Also, make sure you click on the Support Our Sponsors link at the bottom of the page and check out who has already made an impact on the 2019 season!
2018 Great Lakes Regional Website!
Find everything you need to know HERE!
2013 Great Lakes Regional Champions!
Witness the last out & Dog Pile HERE!
2013 Ohio State Champions!
Witness the last out & Dog Pile HERE!
Tuesday, June 20
Sunday, April 2
River Bandits to Host National Regional in 2017 and 2018
The National American Legion Headquarters in Indianapolis, In has awarded Napoleon Post 300 as the HOST for the 2017 and 2018 National Great Lakes Regional Tournament! Napoleon will be the first team in Ohio to host this tournament since 2008. Previous Posts in Ohio to host this premier tournament are:
1987: Steubenville
1992: Steubenville
1998: Lancaster
2001: Lancaster (Napoleon won and advanced to the World Series in Yakima, WA)
2004: Cincinnati
2008: Chillicothe
Games will be played at Mercy Field in Holland, Ohio. National Headquarters have set certain parameters when it comes to field specifications. Lights, field dimensions, sizeable press box area, ample permanent seating and hotels are just a few of the requirements that need to be met. Mercy Field meets all of the specifications and it also is an all turf field which was a huge determining factor in getting the bid.
"On behalf of Post 300, we are extremely excited about having the opportunity to showcase American Legion baseball in Northwest Ohio. We will obviously want this to be a first class experience for all of the teams who will be participating," states Randy Bachman, General Manager of the Napoleon River Bandits. The winner of this tournament will advance to the American Legion World Series in Shelby, NC
Welcome to River Bandits Baseball

Since 1998, the River Bandits Baseball program has been committed to excellence... top-shelf players, exceptional staff, and consistent results. The River Bandits have become one of the most well-respected American Legion Baseball programs in the United States. The outstanding results of the program are a reflection of everyone involved, past and present - their commitment, work ethic, character, and passion for the game of baseball.
District Champions: 99, 00, 01, 04, 05, 06, 07, 09, 10, 11, 13, 14, 17
OH State Champions: 00, 01, 11, 13, 17
Runners-Up: 99, 09, 10, 14
Regional Champions: 01, 13
Runners-Up: 11
Appearances: 00, 01, 11, 13, 14, 17
Connie Mack State Champions: 02, 04
World Series Appearances: 01, 13
The River Bandit tradition is never taken lightly... expectations are always high as the program continues to build upon the successes of the past. For River Bandit players, the commitment to participate is tremendous, as the typical summer season consists of 50-60 scheduled games within 7 weeks, including participation in several weekend tournaments,
The River Bandits' success is second to none, measured by the outstanding season results, the number of participants that have continued playing at the college level, as well as the professional level.
The River Bandits are sponsored by the American Legion Napoleon OH Post 300, for which their support is a direct influence on the program's success.
American Legion Baseball
Since 1925, the American Legion has sponsored a nationwide youth baseball program. During these past eight decades, millions of young players have enjoyed playing baseball. The American Legion, and their 2.8 million members, have raised millions of dollars each year for players to learn the importance of teamwork, discipline, leadership and good sportsmanship. The American Legion sponsors American Legion Baseball to give players an opportunity to develop their skills, personal fitness, leadership qualities, and compete at the highest levels.
Each year there is an average of over 5,000 American Legion Baseball teams in the US, Canada, and Puerto Rico, with more than 90,000 players, age 15 to 19. On average, 55 percent of all Major League Baseball players have participated in American Legion Baseball, and nearly 90% of all college players.
Annually, the American Legion National Headquarters spends over $1 million to operate and host 64 teams that qualify for the National Tournament. Each year 1,280 players and coaches on 64 teams compete at eight Regional Tournaments, with the Regional Champions advancing to The American Legion World Series. American Legion Baseball is the only amateur youth baseball program that funds 100% of the cost of hotels, transportation, meals, umpires, and baseballs for this National Tournament.

American Legion Code of Sportsmanship
I will:
Keep the Rules,
Keep Faith with my teammates,
Keep my temper,
Keep myself fit,
Keep a Stout heart in defeat,
Keep my pride under in victory,
Keep a sound soul, a clean mind, and a healthy body.
Monday, January 1
Grand Prize Winner
Congratulations to Shane Geer of Defiance on being the $250 Grand Prize winner in this year's Riverbandit Lotto Raffle!
2014 Great Lakes Regional
Bandits Headed Back to Great Lakes Regional
For the second consecutive year the Bandits qualify for the Great Lakes Regional
Follow the Napoleon River Bandits quest for a Regional Championship
on Twitter at @napoleonbandits or @legionbaseball. On the web at Great Lakes Regional Tournament.
2013 Regional Champions
Bandits Punch Their Ticket to Shelby, NC
2013 American Legion Great Lakes Regional Champions - Qualify for the AL World Series!!
Follow the Napoleon River Bandits quest for a World Series Championship
on Twitter at @legionbaseball. On the web at www.Legion.org/Baseball.
All games can be watched on ESPN3 HERE.
Follow LIVE play-by-play GameTracker, ESPN3, boxscores, photos & brackets HERE.
1st game for the Bandits is this Friday, August 16th @ 9:30 AM
Witness the 2013 Regional Championship Dog Pile HERE!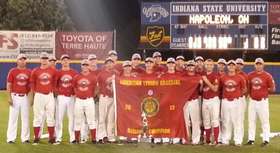 2013 Great Lakes Regional Champions