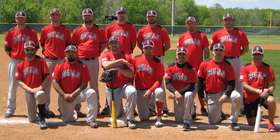 2013 Burleson Bulls
BURLESON BULLS BASEBALL CLUB




Welcome to the Bulls homepage. The Bulls are an independent semi-pro team that has played in several leagues throughout the Dallas/Fort Worth metroplex. Formerly the Kal Sox, the Bulls have won five league championships in past seasons (3-NABA & 2-FWABL). Please feel free to explore our website and sign our guestbook. Teams interested in scheduling an exihibition game or scrimmage should sign our guestbook to contact a team rep.



Tuesday, March 29


VISIT OUR FACEBOOK FAN PAGE!


Thank you for visiting our website. For updated information, schedules and photos of the team, please visit our Facebook fan page. This website will no longer be updated.