Monroe-Woodbury Little League: Welcome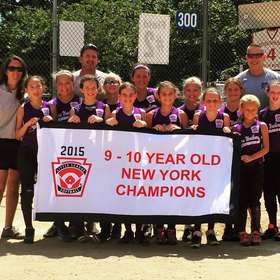 2015 9-10 Softball State champions !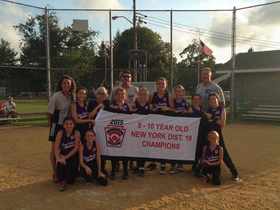 9/10 Minors Softball district champions
Front row,Genna Matise,Danielle Ryan,Maeve Cassidy... Back row...Brianna Roberts, Hannah Armstrong, Amanda Palmer, Kelsey O'Brien, Emma Lawson, Arianna Exarchakis, Maddy Bendix, Anna Paravati Manager Penny Roberts, coaches Pat Ryan and Jim O'Brien
The Monroe Woodbury 9-10 Girls Softball team has won Districts, Sections and STATES ! They are off to PA next weekend to claim the Regional Title for our district.
NO OTHER TEAM in softball OR baseball has done this amazing feat in our program.
Hello MWLL Families; We will be having a Send Off Parade/Pep Rally this Friday, 8/7, to honor our Minors Girls Team heading off to PA for the East Regional Tournament AND to acknowledge the achievements of our other District Championship Teams!
Please come out and support our teams! We will be raffling off 4 tickets to go see the New York City Football (soccer) Club at Yankee Stadium on 8/30/15 - Thank You to the Monroe Woodbury United Soccer Club for their support!
Additionally, we would like to arrange a caravan out to the tournament in PA for this coming Tuesday, August 11. The tournament site is approximately 2 hours away. We will meet at 7AM at the VFW field in Harriman. Game time is 10AM. We should be back in the area between 1 & 2pm. No car = No problem! We would love to have as many people as possible join us and can arrange for carpools! Children under 9 must be accompanied by a parent or guardian - all other unaccompanied minors must have their parent/guardian sign a permission form.
If you would like to join us please email Eric Dohman at Coacheric@optonline.net
Our online fundraiser is still going on and your support is greatly needed and appreciated - please go to http://www.gofundme.com/3uc4u6ewhk
To follow the tournament online you can go to the PA District 16/31 website and follow links to watch on your PC or download the App to watch the games pitch-by-pitch
_______________________________________________________________________________
Congratulations to our Majors District and Section Champions ! Julianne Wolfenhaut, Grace Coury Behind sign. Nicole Palmer, Rebecca Murphy, Alyx Sperling, Bella Cear, Kaelyn Salatto, Jessica O'Brien , Samantha Ryan, Abby Baier, Genna Nalback Coach Frank Palmer,Manager Jim O'Brien,Coach Pat Ryan
_______________________________________________________
Registration for the Harvest Cup Fall Ball Program is now open.
This program is run by District 19 little league and as such Space is limited and divisions will close as each age bracket fills up. Register now to avoid wait list.
The season runs from mid-September thru Late October.
PLEASE NOTE: Games will be played throughout Orange County. In the towns of: Warwick, Goshen, Pine bush, Middletown, Minisink Valley, Chester, Montgomery, Washingtonville and Monroe.
The schedule is comprised of 6 weekend games beginning on September 12th, plus a couple of week night games on various nights of the week (daylight permitting).There will be a single elimination tournament at the end of the season for competative divisions.
Divisions for Fall Ball are as follows:
INTERMEDIATE (50/70): Boys, age 13
MAJOR BOYS: 11-12
MINOR BOYS: 9-10
SENIOR/JUNIOR BOYS: 13-16
MAJOR GIRLS: 11-12
MINOR GIRLS: 9-10 S
ENIOR/JUNIOR GIRLS: 13-16
Program availability for player's ages 5-8 (girls & boys) will be dependent upon overall enrollment.
PLEASE NOTE: All ages are "league-age" which may differ from "actual age", and it's the player's league age for 2016. Example: If your child is currently league age 9 for this season, he/she will be league age 10 for The Fall Ball season.
NOTE: This will give you his/her current league-age, so you will need to ADD one year to get their correct league-age for Fall Ball.
If you are still unsure, please contact us @ mwlittleleague@hotmail.com
Please use the following link to get your child's current league-age: http://www.littleleague.org/leagueofficers/Determine_League_Age/League_Age_Calculator.htm
NOTE: PLEASE MAKE SURE YOU ARE REGISTERING FOR THE CORRECT PROGRAM (scroll down to select softball or baseball). IF THE PROGRAM YOU WANT IS NOT SHOWN, THEN YOU ARE NOT ELIGIBLE FOR THAT PROGRAM OR IT IS ALREADY FULL! DO NOT REGISTER FOR A DIFFERENT PROGRAM BECAUSE THE ONE YOU WANTED IS NO LONGER AVAILABLE
__________________________________________________________________________________
Please click the link below to recieve up to date rain outs for you child's game. Instant messages will be sent via text or email directly to your cell phone.....
Rainout announcements can also be found on our Facebook page.
---
Questions can be directed to:

mwlittleleague@hotmail.com
Remember all league members are volunteers and as such assitance is limited.
Your patience is greatly appreciated.
Our mailing address is PO Box 1133, Monroe, NY 10949.
___________________________________________________________________________________
The Monroe-Woodbury National team won the Majors Division 11-12 yr old District 19 Championship on 7/10/15 beating the undefeated Montgomery White team. Our boys took the longest path to victory losing their first game to the very same Montgomery White team and then winning 9 straight games from the losers bracket including the final two flag games in Montgomery in dramatic fashion.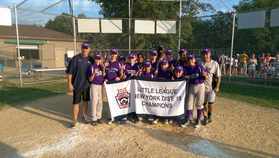 2015 Majors Baseball Champions
Click here to connect with the MWLL on Facebook: