Monroe-Woodbury Little League: Welcome
Registration closes 11/30/15
Monroe-Woodbury Little League
Donations Received: $ 0
$0
$ 1,000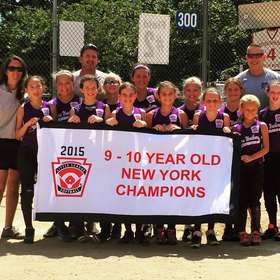 2015 9-10 Softball State champions !
Photo: Front row,Genna Matise,Danielle Ryan,Maeve Cassidy... Back row...Brianna Roberts, Hannah Armstrong, Amanda Palmer, Kelsey O'Brien, Emma Lawson, Arianna Exarchakis, Maddy Bendix, Anna Paravati Manager Penny Roberts, coaches Pat Ryan and Jim O'Brien
REGISTRATION CLOSES ON 11/30/15
PLEASE USE THE REGISTRATION TAB IN THE MENU BOX TO THE LEFT FOR FURTHER INFORMATION .
Division - Ages - Game Days - Times :
(Weeknight games start @ 5pm - Saturday games are from 9am thru 2pm)
Mighty Mites Softball & Baseball Age 4 - Game Days on Saturday Mornings
Mighty Mashers Baseball Age 5 - Game Days on Saturday Mornings
Rookies - Baseball Age 6 Plays on Monday and Saturday Mornings
Minors A - Baseball Age 7 Plays on Monday and Saturday Mornings/Early afternoons
Minors AA - Baseball Age 8 - Plays on Thursday and Saturday Mornings/Early afternoons
Minors AAA - Baseball Age 9 Plays on Wednesday and Saturday Mornings/Early afternoons
Minors AAAA - Baseball Age 10 and 11 Plays Wednesday & Saturdays
Majors - Baseball Age 11 or 12 Plays on Mondays & Thursdays
Intermediate 50/70 - Baseball Age 13 Plays Tuesday, Thursday & Saturdays
Seniors - Baseball Plays Monday thru Friday Evenings/Saturday Ages 14-16
Minors A - Softball Ages 5 & 6
Minors AA - Softball Ages 7 & 8
Minors AAA - Softball Ages 9 & 10
Majors - Softball Ages 11 & 12
Seniors - Softball Ages 13 - 16
Player fee's vary by division, the total cost will be displayed prior to submitting payment. Game days and times are subject to change......
Please do not register your child unless you are absolutely sure that they can committ to making games and practices.
Please use the following link to get your child's current league-age:
http://www.littleleague.org/leagueofficers/Determine_League_Age/League_Age_Calculator.htm
Note: Please make sure that you are registering for the correct program.
(scroll down to select Softball for Girls or Baseball for Boys).
If the program you want is not shown, then either your child is not eligible for that program or it is already full and has been closed.
Please do not register for a different program if the one you wanted is no longer available.

The league reserves the right to place players based upon Enrollment, Roster availability, Division structure and player Skills Evaluation.
_____________________________________________________________
Please click the link below to recieve up to date rain outs for you child's game. Instant messages will be sent via text or email directly to your cell phone.....
Rainout announcements can also be found on our Facebook page.
---
Questions can be directed to:
mwlittleleague@hotmail.com
Remember all league members are volunteers and as such assitance is limited.
Your patience is greatly appreciated.
Our mailing address is PO Box 1133, Monroe, NY 10949.
___________________________________________________________________________________
The Monroe-Woodbury National team won the Majors Division 11-12 yr old District 19 Championship on 7/10/15 beating the undefeated Montgomery White team. Our boys took the longest path to victory losing their first game to the very same Montgomery White team and then winning 9 straight games from the losers bracket including the final two flag games in Montgomery in dramatic fashion.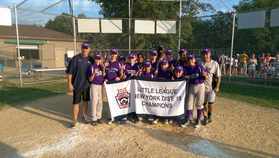 2015 Majors Baseball Champions
Click here to connect with the MWLL on Facebook: