Monroe-Woodbury Little League: Welcome
Monroe-Woodbury Little League
Donations Received: $ 0
$0
$ 1,000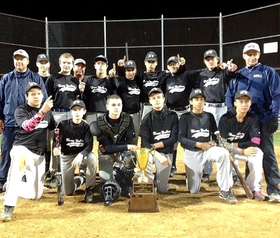 Congratulations to our 2014 District 19 Harvest Cup Seniors Division Champions
Weather Forecast
Congratulations to our 2014 District 19 Spring Champions !
Back row: Devon Conlon, Jessica O'Brien, Samantha Ryan,
Nicole Palmer,Victoria Borowski, Madison McGee.
Front row: Alexandra Sperling, Kaelyn Salatto,
Nicole Conway,Cymonne Rios,
Ashley Scheck, Jenna Walsh, Kiley Kirkpatrick.
***********************************************************************************************
REGISTER NOW for spring 2015
avoid being placed on a wait list or paying a late fee.
Please use link on menu bar to the left
$25 Family Discount - for 2 or more registrations
Team placement depends upon overall registration demographics and roster fulfillment requirements.
Registrations received after 12/8/14 will be charged a $65 Late fee and may be placed on a waiting list.
Please click on the link below to recieve up to date rain outs for you child's game. Instant messages will be sent via text or email directly to your cell phone.....
Rainout announcements can also be found on
our Facebook page.
---
Contact Info:
Questions can be directed to: mwlittleleague@hotmail.com
All league members are volunteers
and as such assitance is limited.
Your patience is greatly appreciated.
Our mailing address is PO Box 1133, Monroe, NY 10949.
---
Click here to connect with the MWLL on Facebook: