Monroe-Woodbury Little League: Welcome
Monroe-Woodbury Little League
Donations Received: $ 0
$0
$ 1,000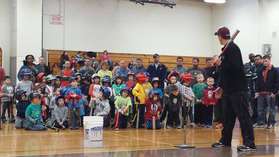 Indoor Training
2016 Spring Registration has CLOSED.
Spots may open - if you would like your child to be wait listed
Please email us @: mwlittleleague @ hotmail.com
Be sure to include childs full name, date of birth and Address.
(Please note: you must reside within Monroe Woodbury School district)
__________________________________________________________________________________
Registration for the Spring 2016 season is open from 9/1/15 thru 11/31/15.
To properly run this league, we need your assistance in timely and accurate registration.
Late registrants have a direct and negative effect on properly administering the league.
We plan the team count, roster allocations, field usage, maintenance resources, uniform and equipment orders all based on the amount of registrants that we receive.
The League has a "late fee" to offset the additional expenses and workload that result from late registrants, and we believe it helps to serve as a deterrent to late registration.
Any registrations received after midnight on 11/30/15 will be charged a $50 late fee.
Late registrations will only be taken between 12/1/15 and 12/31/15.
These registrations would be taken as a wait list player, and those players will only be placed onto teams as spots are available and/or if new teams can be made.
_________________________________________________________________________________
Happy New Year MWLL Players & Families,
Its time for evaluations/skill assessments !
Participation is critical to ensure equitable player division placement and to establish guidelines for drafting fair and balanced teams.
Players must wear sneakers, bring their glove, batting helmets and bat.
*************************************************************************************************
Softball Evals will be held on Friday 01/08/2016 @ Central Valley Elementary School Gym from 6:15pm until 7:45pm. All girls little league age 9 (born 2006) and older are required to attend.
Softball make ups are 1/10/16 from 4:30 - 5:30pm at the Monroe Woodbury Middle School
**************************************************************************************************
Baseball Evals will be held on Sunday 1/10/16 @ Monroe Woodbury Middle School Gym.
Only Baseball players who will be age 9 years old and above - as of midnight 8/31/16 are required to attend..
Session times are by age: (Please arrive at your scheduled time)
Please check your registration receipt to confirm division/time your child should attend.
9 Year olds - AAA - 11:30am - 12:30pm
10 Year olds - AAAA - 12:30pm - 1:40pm
11 Year olds - AAAA/Majors - 2:00pm - 3:00pm
12 Year olds - Majors - 3:00pm - 4:00pm
13 year olds - Intermediate/Seniors - 4:00pm - 4:30pm
14-16 Year olds - Seniors - 4:30pm - 5:30pm
Most divisions have multiple aged players. The league reserves the right to place players based upon roster availability, division structure, player skills evaluation/assessments and overall enrollment.
-------------------------------------------------------------------------------------------------
Please click the link below to recieve up to date rain outs for you child's game. Instant messages will be sent via text or email directly to your cell phone.....
Rainout announcements can also be found on our Facebook page.
---
Questions can be directed to:
mwlittleleague@hotmail.com
Remember all league members are volunteers and as such assitance is limited.
Your patience is greatly appreciated.
Our mailing address is PO Box 1133, Monroe, NY 10949.
--------------------------------------------------------------------------------------------------

Refund policy:
In an effort to provide fairness and consistency the MWLL Board of Directors
adopted the following guidelines for the refunding of registration fees:
Drop, withdraw, or be found ineligible to play in the Monroe Woodbury Little League
on or after 1/1/16 there will be No Refunds.
To request a refund, a signed letter of withdrawal must be mailed to:
Monroe Woodbury Little League P.O. Box 1133 Monroe N.Y. 10949
or Emailed to: mwlittleleague@hotmail.com
All refunds will be issued within 30 days - less a 25% processing fee.
___________________________________________________________________________________
The Monroe-Woodbury National team won the Majors Division 11-12 yr old District 19 Championship on 7/10/15 beating the undefeated Montgomery White team. Our boys took the longest path to victory losing their first game to the very same Montgomery White team and then winning 9 straight games from the losers bracket including the final two flag games in Montgomery in dramatic fashion.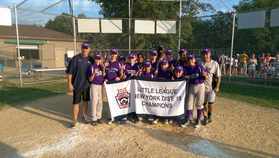 2015 Majors Baseball Champions
Click here to connect with the MWLL on Facebook: