Monroe-Woodbury Little League: Welcome
2014 Spring Registration is closed - Please email: mwll@hotmail.com to register for waitlist
WINTER WORKOUTS
are free to all registered MWLL players
BASEBALL/SUNDAYS
Hitting 1/12, 1/19, 1/26
Fielding 2/2, 2/9
Pitching & Catching 2/16, 2/23, 3/2
Location: Monroe Woodbury Middle School Gym
(please bring bat, helmet and Glove)
4-6 yr ***baseball AND softball 12:15 - 1:15pm
7-8 yr olds baseball only 1:20 - 2:20pm
9-10 yr olds baseball only 2:25 - 3:25pm
11 + yr olds baseball only 3:30 - 4:45pm
---
FIRST SESSION IS 1:30 TO 2:30
SECOND SESSION IS 5:00 TO 6:00
Hitting 1/25, 2/1, 2/8,
Infielding & Outfielding 2/15, 2/22
Pitching & Catching 3/1, 3/8, 3/15
Location: Frozen Ropes Chester
(please bring bat and helmet)
These clinics are free to all registered MWLL players.
---
Please click on the link below to recieve up to date rain outs for you child's game.Instant message will be sent via text directly to your cell phone.....
---
Contact Info
All questions can be directed to our league e-mail, mwlittleleague@hotmail.com,
or addressed by phone to the hotline 845-915-4900
Our mailing address is PO Box 1133, Monroe, NY 10949.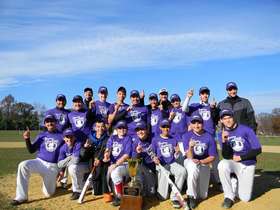 CONGRATULATIONS TO THE SENIORS DIVISION HARVEST CUP TOURNAMENT CHAMPIONS !
Monday, March 25
2014 Schedules and Standings to come
Click here to connect with the MWLL on Facebook:
The MWLL reserves the right to place players based upon evaluation scores, division enrollment and roster requirements. Any child that has been registered after 11/24/13 could be placed on a waiting list and placement on a team will depend upon division enrollment and vacancies. There is no guarantee that wait listed players will be placed