Moreno Valley Youth Federation: Welcome
Welcome To The Home of Moreno Valley Youth Federation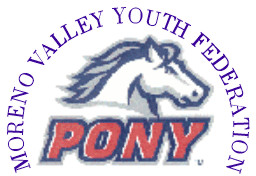 MORENO VALLEY PONY BASEBALL AND SOFTBALL!
---
We will be accepting late sign ups on Saturday, September 13, 2014 from 10 a.m. - 11 a.m. at Morrison Park.
Space is limited in all divisions for baseball and softball with Shetland and Mustang baseball being closed.
There will be a $20 late fee added to all late sign ups.
Softball players: This is your last chance to sign up for the Tuesday night clinics, so if you haven't signed up yet, please come down on Saturday from 10 a.m. - 11 a.m.
4 years $65
5 – 6 years $75
7 – 8 years $85
9 – 10 years $95
11 – 12 years $95
13 – 14 years $95
15 – 19 years $130
*Late fee of $20 will be added
on to each registration
(Mustang and Shetland division is now closed, Space is limited in all other divisions)
---
Mandatory Team Parent Meeting September 9th 6:30pm at Moreno Christian Assembly Church
Please make sure that your team representative has all Coaches Information Sheets filled out and ready to turn in at this meeting
Uniforms should arrive by September 11th. More information to come soon about when you can come pick them up
---
Baseball Song by Kenny Rogers
Monday, March 11
Moreno Valley Youth Federation