Monte Vista Cross Country: Welcome

MONTE VISTA CROSS COUNTRY: MVXC 2014!
"Coming together is a beginning. Keeping together is progress. Working together is success" Henry Ford, American Industrialist



2014: MVXC Pre-season News:
Alumni show up in force for the 9th Annual Alumni Run August 9th!
Once again, MVXC alumni from many graduating classes return to Oak Hill Park for a great social event and of course, a chance to say hello to the Eliminator Hill once more. Great efforts by the alumni and current team make for a fun morning. Over 50 runners raced today. The Alumni Boys rolled past the current team boys, while the Current Team Girls had too much depth for the alumni girls. Results are now posted on the "Alumni News" page!
Images from the 9th Annual Alumni Race held August 9th at Oak Hill Park

---
Interested in joining the Cross Country team? Check out the Team News page for important information for all new and returning runners. New runners should register for XC Stats right now! That is how we will communicate with you and your parents during the summer and upcoming season.

All athletes should note these important dates:

Aug 4th: Sports forms due. Turn in at Monte Vista's main office. Click here for the forms and more info. NOTE: you cannot join the team on Aug 18th if you are not cleared by the office!

Aug 18: First day of official practice. Practice will be at 6pm for the first week. Once school starts, we will meet at 3:30 each day (except Mon. Aug 25 when practice will be at 6pm). Meet at the track!

Aug 27: Mandatory Parent meeting at 7 pm in MV theater - BE THERE!
Sept 2: 31st Annual Monte Vista Invitational - Coaches - click here for more information! Parents of MV students: please sign up now for a volunteer job on Sign Up Genius. We need dozens of parents to help run this meet.
Sept 6: Mt Diablo "Run to the top" Challenge. You must sign up to participate. Instructions and race details.
---
It's a sea of red and black as the Mustangs enjoy the HSU Distance Running Camp! Nineteen runners make
the trip this year, along with Coach Mandee and Coach Bhavik.

---
HIGHLIGHTS FROM THE 2013 CROSS COUNTRY SEASON:

Photos from the North Coast Section Meet and the CIF State Meet



---
MVXC Coaching Staff for the 2014 Season
Head Coach & Varsity Coach: Mike Davis mike.davis@sbcglobal.net 925-437-8360
Girls Team Coach: Mandee Starn mpstarn@aol.com
Asst Coach: Bhavik Kanzaria
Asst Coach: Brooke Falvey

---
PHOTO'S?
Yeah, we got THOUSANDS of 'em! Access the
MVXC Photobucket site
to find this years photos as well as previous seasons.
---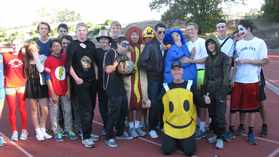 HAPPY HALLOWEEN! MVXC PRACTICE 10-31-2013