Monte Vista Cross Country: Welcome

MONTE VISTA CROSS COUNTRY: MVXC 2014!
"Coming together is a beginning. Keeping together is progress. Working together is success" Henry Ford, American Industrialist



2014: MVXC Pre-season News:

Over 50 runners show up for the 2nd day of the Summer Running Club July 2nd. Will you join us???

---


Interested in joining the Cross Country team? Check out the Team News page for important information for all new and returning runners. Summer Running information, running camp info, the 300/200 mile club info, and a draft fall XC schedule are provided. Go to the Summer Running page for more information on our Mustang Running Club this summer. New runners should register for XC Stats right now! That is how we will communicate with you and your parents during the summer and upcoming season.

All athletes should note these important dates:

June 30: Summer running club starts. 6pm, M-W-F. Meet in the main MV parking lot near the east entrance of Oak Hill Park.

July 27 - Aug 1: HSU Running Camp. Open all to all returning runners. See Team News page for more info.

Aug 2: Sports forms due. Turn in at Monte Vista's main office which is open to receive sports forms from 9-11 am on Tuesdays, Wednesdays, and Thursdays. Click here for the forms and more info.

Aug 9: The Ninth Annual Alumni Race. 2 miles, Oak Hill Park. 9am. Alumni vs the Current Team. Visit the alumni news page for more info.

Aug 18: First day of official practice

Aug 23: Mt Diablo "Run to the top" Challenge.

Aug 27: Parent meeting at 7 pm in MV theater.

Sept 2: 31st Annual Monte Vista Invitational. Coaches - click here for more information! Parents of MV students: please sign up now for a volunteer job on Sign Up Genius. We need dozens of parents to help run this meet.




Summer club trail runners on Saturday July 5th - Moraga Watershed trailhead.


---
HIGHLIGHTS FROM THE 2013 CROSS COUNTRY SEASON:

Photos from the North Coast Section Meet and the CIF State Meet



---
MVXC Coaching Staff for the 2014 Season
Head Coach & Varsity Coach: Mike Davis mike.davis@sbcglobal.net 925-437-8360
Girls Team Coach: Mandee Starn mpstarn@aol.com
Asst Coach: Bhavik Kanzaria
Asst Coach: Brooke Falvey

---
PHOTO'S?
Yeah, we got THOUSANDS of 'em! Access the
MVXC Photobucket site
to find this years photos as well as previous seasons.
---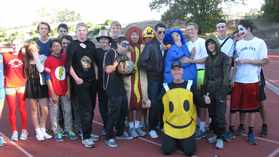 HAPPY HALLOWEEN! MVXC PRACTICE 10-31-2013